Although recent years have seen a wealth of gay content on the New York stage, "Fun Home" breaks fresh ground as the first Broadway musical to feature a lesbian protagonist.
The advance buzz on the musical, which is currently in previews at Circle in the Square Theatre, has been quick to emphasize that fact. In reality, though, such a sound bite oversimplifies the show's subversive qualities. Based on out artist Alison Bechdel's graphic memoir of the same name, "Fun Home" is actually a compelling look at two sides of the queer experience, with a complex, multi-faceted message about family relationships.
Keeping the non-linear structure of Bechdel's novel, "Fun Home" pairs Alison's adolescence and subsequent coming out story with the darker journey of her closeted gay father, Bruce, who commits suicide after a string of secret affairs with younger men. Three actresses — Sydney Lucas, Emily Skeggs and Beth Malone — portray Alison as a child, a college student and a middle-aged woman, respectively. Meanwhile, the show's second act is a dramatic tour de force for Tony Award-winning actor Michael Cerveris ("Assasins"), who plays Bruce.
From left: Skeggs, Malone and Lucas in "Fun Home."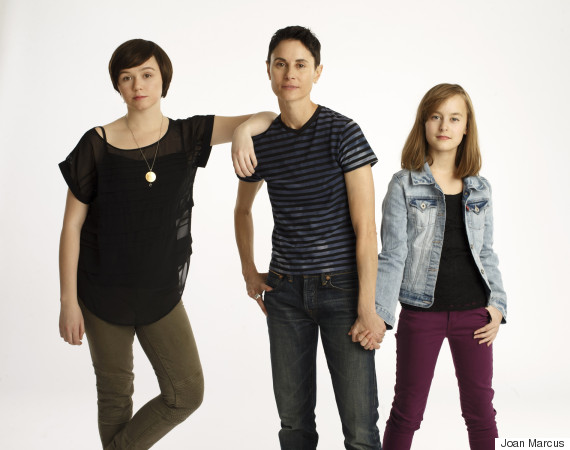 The musical, which is directed by Sam Gold, played to sold-out audiences and nabbed sterling reviews when it opened Off Broadway at New York's Public Theater in 2013; it was also a finalist for the 2014 Pulitzer Prize for Drama.
So while "Fun Home" couldn't be further from the top hats and jazz hands of the traditional, feel-good Broadway musical, the cast and creative team are confident their work will find a captive audience, given the universality of the show's coming-of-age themes.
"With any show you do, there's a concern about whether or not an audience will embrace it," Lisa Kron, who penned the book and lyrics, told The Huffington Post in an interview. "If we start to have nervousness around that question, it's not going to do anything for us."