President Obama believes the review the Pentagon has set up is the "right approach" to allowing transgender troops to serve in the U.S. military, White House Press Secretary Josh Earnest said Thursday.
In an exchange with ABC News' Jonathan Karl, Earnest offered the White House's endorsement for the first time of the 180-day review process at the Pentagon geared toward lifting the medical regulation prohibiting openly trans people from serving in the armed forces.
"What is relevant here is the way in which the policy can be successfully implemented," Earnest said. "And that's exactly what the Department of Defense is reviewing. But they're reviewing the implementation of this policy with an eye toward, with a bias in favor of, lifting the ban. And the President certainly does believe that that's the right approach."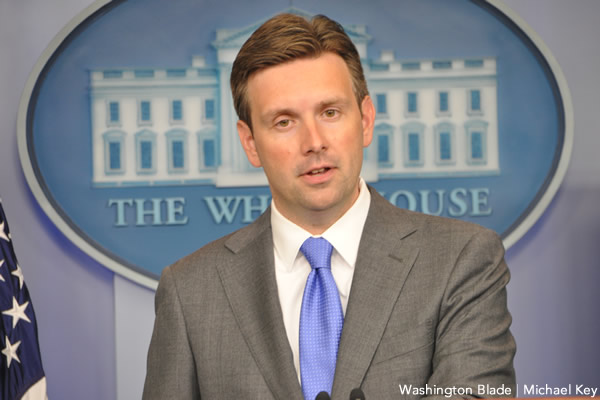 Earnest comments on the working group process leading to open service being the "right approach" came after repeated questions from Karl on whether Obama wants openly transgender service in the U.S. military as the end of the result of the review.
"I guess my point is that's not an irrelevant question when you're the Commander-in-Chief; that the practicality of implementing this policy makes a difference," Earnest said. "And so that's exactly what the Department of Defense is looking at. I noted in their statement that they have said that they would conduct this review with a bias in favor of changing this policy. The president certainly supports that approach."
Also during the briefing, Earnest took a question on the Equality Act, which was being introduced on Capitol Hill during a news conference simultaneous to the White House briefing.
Earnest said Obama believes all Americans should be treated equally under the law, but stopped short of endorsing the bill, saying the legislation is under review.
"I can tell you that we applaud the efforts of members of the House and Senate to put forth comprehensive legislation to fight discrimination," Earnest said. "And while we're going to review the language that they've put forward. But while we do, let me just say that the administration shares the goal of ensuring that all Americans are treated equally under federal law. And we believe that legislation is a good next step in the right direction."