Pegasus Theater Company is taking Tapas, its 9th Annual New Short Play Festival, on the road. We'll be serving up 11 performances of 7 tasty short plays by Northern California playwrights in 4 different towns over the course of 5 weekends.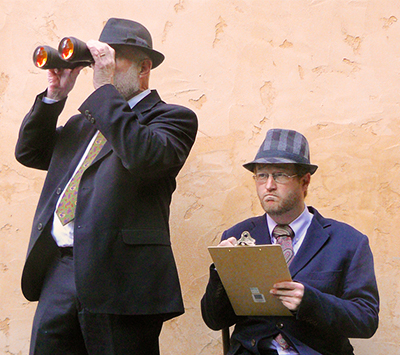 Sounds confusing? Here's the roadmap to the places where Tapas will be presented, including the dates and times of the performances:

June 12 & 13, at 8 pm, and June 14 at 2 pm, at the Jenner Community Center, 10398 Highway 1, Jenner. (Behind the gas station in Jenner.)
Map: Jenner Community Center
Map: Parking in Jenner

June 19 & 20 at 8 pm (no Sunday matinee), at the Graton Community Club, 8696 Graton Rd. in downtown Graton.
Map: Graton Community Club

June 26 & 27 at 7:30 pm (yes, 7:30), and June 28 at 2 pm, at the Cloverdale Performing Arts Center, 209 N. Cloverdale Blvd., Cloverdale.
Map: Cloverdale Performing Arts Center

July 4th weekend: No Tapas performances so we can all celebrate our Independence!

July 10 & 11 at 8 pm, and July 12 at 2 pm, at the Mt. Jackson Masonic Hall, 14040 Church Street (entrance on Third St.), in downtown Guerneville.
Map: Mt. Jackson Masonic Hall

You can come to Tapas at the town nearest you. Or you can take a drive on a summer day to another town well worth visiting: beautiful Jenner where the River meets the sea; Graton with its award-winning restaurants; Cloverdale with its new, fine theater; or downtown Guerneville, the heart of the Lower River. Whichever venue you choose, you'll be treated to the same 7 tantalizing plays on offer in Tapas, Sonoma County's longest-running new short play festival.

Here are the 7 plays, the playwrights, and the directors.
Cherry by Scott Lummer, directed by Alexis Evon Christenson
Surveillance by Scott Kersnar, directed by Darlene Kersnar
The Pitch by Tod Golding, directed by Matt Cadigan
Choosing an Avocado by Carol Keig, directed by Crystal Carpenter
Finding Love @.com by Cary Pepper, directed by Beulah Vega
The Night Before by Colin Johnson, directed by Nadja Masura
Critics Choice by L.H. Grant, directed by Rusty Thompson
The cast members include: Alexis Evon Christenson, Nick Christenson, Jim Maresca, Angelina Martin, Nadja Masura, Devin McConnell, Paul Menconi, Angela Squire, and Rusty Thompson.
For reservations for Tapas performances in Jenner, Graton and Guerneville, call (707) 583-2343 or reserve online here. For tickets to the Tapas performances in Cloverdale, go to www.cloverdaleperformingarts.com or call (707) 894-2214.
Ticket prices for the performances at Jenner, Graton and Guerneville are $18 general admission and $15 for seniors and students. Ticket prices at Cloverdale are $18 general admission and $12 for students.
The Tapas plays contain adult content.