The LGBTQ Victory Fund is "the only national organization dedicated to electing openly LGBTQ people who can further equality at all levels of government."
That makes it one of the most important LGBTQ organizations in the world. The reason it is so important to elect more members of the LGBTQ community is capsulized in what former Rep. Barney Frank often said: "If we are not at the table we will be on the menu." It has been shown again and again for every minority and interest group, people don't pay attention to you if you are not in the room. The Victory Fund helps us to be in the room.
The Victory Fund was founded in 1991 by LGBTQ activists and donors who recognized the success of EMILY's List at attracting attention and support for women candidates for public office. At that time there were fewer than 50 openly LGBTQ elected officials across America at any level of government. Today there are over 500. That number is still minuscule when pitted against the hundreds of thousands of elected officials at every level of government from school boards, to county councils, to state legislatures, to Congress. So we have a long way to go before we see any level of equality and a seat at the table in every elected body.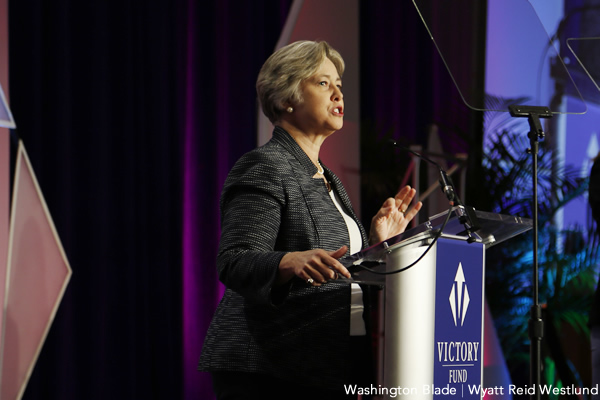 Last Sunday, the Victory Fund held its annual national brunch and it was a success. They start off this crucial election year with a new president and CEO, Annise Parker. This is the first time in its history that VF has been led by a person elected to office in their own right. Parker served her community of Houston for 18 years culminating with six years as mayor. In 2010, Time magazine named Mayor Parker one of the 100 most influential people in the world and in 2014 she was named top U.S. mayor and seventh ranked world mayor by City Mayors Foundation. The Victory Fund is lucky to have her as its leader and her keynote speech on Sunday showed why. She understands the rigors of running and knows what candidates will go through when they throw their hat in the ring.
The 2018 elections may be the most crucial in decades. We will be voting to take back our democracy from the ultra-right wing of the Republican Party now running and destroying it. The Victory Fund is non-partisan. Their criteria for winning an endorsement include being openly LGBT; demonstrating support of federal, state or local efforts to advance LGBTQ civil rights via the legislative or regulatory process; and demonstrated support of federal, state and local efforts to safeguard privacy and reproductive freedom.
At the sold-out brunch, attendees heard some rousing speeches. They heard first from Maryland State Sen. Rich Madaleno, who is running for governor and could become the nation's first openly gay elected governor and his running mate Luwanda Jenkins. Then from Virginia Sen. Mark Warner (D-Va.) who was there to speak and introduce Virginia Del. Danica Roem, the first transgender person elected and seated in a state legislature. Roem brought the crowd to their feet and credits Victory Fund with playing a crucial role in her election.
As we head into the midterm elections on Nov. 6, we have strong LGBTQ candidates everywhere in the nation. The Victory Fund endorsed and will continue endorsing candidates as they apply over the next few months. You can find the list of currently endorsed candidates on their website and make a donation to their campaign. But know when you click on a candidate's picture the first donate button you will see at the top right is a contribution to the Victory Fund.  That is great if it is what you intend. But if you want to make a donation directly to the specific candidate look for the second 'donate to candidate' button.
We have a chance this year to elect many more LGBTQ candidates across the nation at every level of government and the Victory Fund is crucial to helping us to do that. They help candidates learn how to run a campaign and then help them raise the money to do it successfully. As we fight for full equality we must continue to support the Victory Fund and keep it strong.