The Human Rights Campaign and the National LGBTQ Task Force are among the co-sponsors of protests against President Trump's "zero tolerance" immigration policy that are scheduled to take place across the country on Saturday.
A #FamiliesBelongTogether rally is scheduled to take place in Lafayette Square across from the White House. Other rallies and protests are scheduled to take place in Baltimore; Alexandria, Va.,; Dover, Del., and in hundreds of other cities and towns across the country.
The events will take place against the backdrop of growing outrage over Trump's "zero tolerance" immigration policy that includes the separation of more than 2,000 immigrant children from their parents.
Trump on June 20 signed an executive order that ended the separations.
Attorneys general from D.C., Maryland, Virginia, Delaware, California, Washington, Oregon, New Mexico, Minnesota, Iowa, Illinois, North Carolina, Pennsylvania, New Jersey New York, Rhode Island, Massachusetts and Vermont on Tuesday filed a lawsuit that seeks to force the Trump administration to reunite immigrant children with their parents. A federal judge in San Diego on Tuesday ruled all of them must be reunited within 30 days.
U.S. Rep. David Cicilline (D-R.I.) told the Washington Blade after he visited South Texas on June 17 there is no policy in place that specifically addresses the needs of LGBT immigrant children who are in custody.
"HRC will be sponsoring the rally in D.C. on June 30 and will also be mobilizing our 3 million members and supporters for the other rallies around the country as we stand united in condemning this administration's unconscionable actions," HRC Government Affairs Director David Stacy told the Washington Blade last week.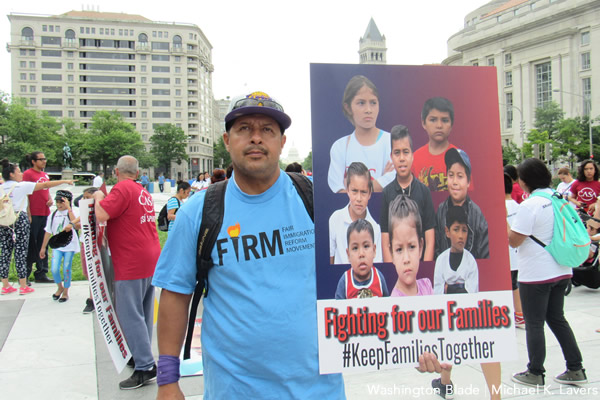 Stacey Long Simmons, director of the Task Force's Advocacy and Action Department, on Tuesday said her group is supporting the #FamiliesBelongTogether protests because "ripping children away from their parents is inhumane." She also noted to the Blade that former first lady Laura Bush is among those who have publicly criticized the policy.
"Trump's policies have jeopardized the lives and emotional well-being of nursing infants, toddlers, and other children by forcing them away from their parents, ignoring the needs of unaccompanied minors and locking these children up like dogs in cages," said Simmons.
Other LGBT advocacy groups across the country are also supporting the protests.
Rabbi Sharon Kleinbaum of Congregation Beit Simchat Torah in New York, which is the world's largest LGBT synagogue, earlier this week traveled to the U.S.-Mexico border in Texas.
Capitol police on Jan. 18 arrested Kleinbaum and other immigrant rights advocates during a protest at the Russell Senate Office Building. Kleinbaum in a statement she sent to the Blade on Monday said she believes "God demands of us to put our bodies on the line for as long as it takes to protect the vulnerable, to protest evil and injustice and to non-violently take action that brings redemption to this world."
"I will not be silent and our congregation will be wherever we need to be to joyously bring God's vision of justice to our world," she said.
Equality Florida has also encouraged its supporters to take part in the #FamiliesBelongTogether protests.
"Equality Florida adds its voice to the overwhelming public outcry against the Trump administration's policy that has torn more than 2,300 traumatized children, toddlers and infants from asylum-seekers and immigrant parents who believed the words inscribed on the Statue of Liberty," said Nadine Smith, the group's CEO, on Tuesday.