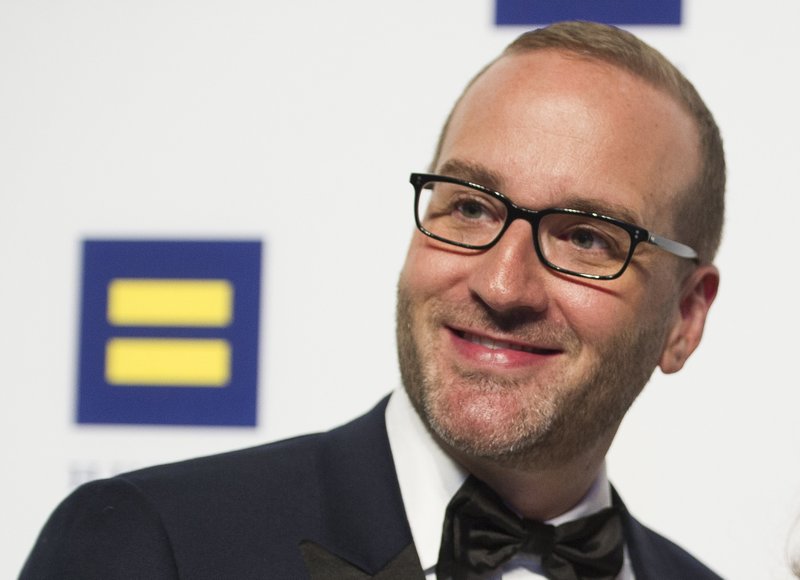 Chad Griffin, the influential LGBTQ activist who helped turn the Human Rights Campaign into a powerful political force, announced Thursday that he is stepping down as the organization's president.
Griffin's announcement follows a midterm election in which the group invested heavily in Democratic campaigns. The capstone for the organization came this week, when Rep. Kyrsten Sinema, D-Ariz., won a close Senate race, becoming the first openly bisexual person elected to the Senate.
Griffin has spent seven years at the helm of HRC, steering the organization through the landmark Supreme Court ruling in favor of gay marriage nationwide and the repeal of a North Carolina law that required transgender people to use restrooms matching their birth certificates. Former North Carolina Gov. Pat McCrory, who was defeated after signing the "bathroom bill," called HRC a more powerful advocacy group that the National Rifle Association.
Griffin informed staff at HRC of his decision to step down Thursday.
Sen. Kamala Harris, D-Calif., who has worked closely with Griffin, praised his leadership of the nation's largest gay rights advocacy group through a time of enormous change for the LGBT community.
"History will show that Chad was a leader in the moment he was needed to lead," Harris said in an interview.
Griffin hasn't said what he plans to do next. He is expected to stay at HRC until the organization names a new president; that process could take several months.
A prolific fundraiser with deep political ties, Griffin probably will become one of the most sought after advisers for Democrats preparing to undertake White House campaigns.
"Every person in the Democratic Party who is thinking of running for president is going to call Chad," said Dan Pfeiffer, a White House adviser to President Barack Obama and longtime friend of Griffin.
Harris, who is considering a 2020 presidential campaign, demurred when asked if she would hire Griffin, saying only that she hadn't made a decision on entering the race.
During Griffin's tenure, HRC invested heavily in campaign work across the country, including a $26 million effort to send staff to all 50 states during the midterms. The organization said it registered more than 32,000 new voters since the 2016 election.
Griffin's supporters credited him with plunging HRC more deeply into the political arena and pushing Democratic politicians in particular to do more than just pay lip service to gay rights issues.
"It really wasn't enough for him for elected officials and candidates to respect the LGBTQ community," said Kristina Schake, Griffin's former business partner. "He wanted them to fear them — to fear the power of their vote."
Griffin, 45, got his start in politics working in President Bill Clinton's White House press office. Before joining HRC, he was co-founder of the American Foundation for Equal Rights, an organization that challenged the California law banning same-sex marriage. That effort was a precursor to the Supreme Court's verdict on gay marriage nationwide.
___