The mayor of a Mexican border city that has provided assistance to LGBTI migrants says President Trump's continued demands for a border wall is a political "tactic."
Jesús Antonio Pujol Irastorza told the Washington Blade on Jan. 23 during an interview at his office — less than a mile south of the Nogales port of entry — that his administration is "prepared for issues of violence," referring to one of Trump's justifications for a border wall.
"It is a tactic to go to certain people who want to build this wall…to say, look Congress, look Senate, we need to build this wall because groups of 5,000, 10,000 people who want to stay in the country are coming," added Pujol.
Official statistics indicate 233,000 people live in Nogales, which is in Mexico's Sonora state. The city borders Nogales, Ariz.
Daniel Hernández, one of four openly gay members of the Arizona Legislature, represents Nogales, Ariz., in the Arizona House of Representatives. The two cities are collectively known as Ambos Nogales or Both Nogales.
"It is practically one city divided by the border," said Pujol. "Many have relatives, friends who live there, and many people live there and then come to work here."
Pujol, who is a member of President Andrés Manuel López Obrador's leftist National Regeneration Movement (MORENA) party, was elected on July 1, 2018.
A group of roughly 45 LGBTI migrants from Honduras, Nicaragua, Guatemala and Mexico arrived in Nogales last November from Tijuana. Pujol's administration provided them with food, clothing, blankets and rooms in two hotels near the border and access to one of the four migrant shelters in the city.
"We received them like any other migrant, like any other person who comes, seeks help," Pujol told the Blade. "We received them, we took care of them."
Pujol said many of the migrants with whom he spoke said they had relatives or friends in the U.S. He told the Blade some of them said they had suffered racism and other discrimination in their home countries or states, but he added most of them migrated because of a lack of economic opportunities.
"They are looking for better opportunity," said Pujol. "[It is] practically the same reason for any migrant who wants to go to the U.S."
A group of 16 transgender and gay migrants from Central America asked for asylum in the U.S. at the Nogales port of entry in August 2017. LGBTI Guatemalans, Hondurans and Salvadorans were among the thousands of migrants who arrived in Tijuana last November with hopes of seeking asylum in the U.S.
U.S. Army troops who were deployed around Nogales installed concertina wire with razors on top of the border fence in anticipation of the migrants' arrival. Shipping containers temporarily blocked two of the six vehicle lanes on the U.S. side of the Nogales port of entry.
Pujol spoke with the Blade two days before the Trump administration announced it will begin its controversial pilot "remain in Mexico" program that will force some migrants who ask for asylum at the San Ysidro port of entry south of San Diego to remain in Mexico as they await the outcome of their cases.
The first asylum seeker who was sent back to Mexico under the program arrived in Tijuana on Tuesday. The partial federal government shutdown over Trump's demands for border wall funding ended on Jan. 25.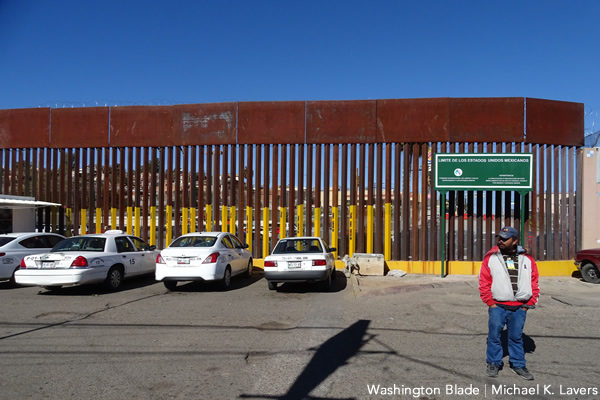 Pujol acknowledged some Nogales residents have criticized "the president of the United States for his comments that he makes" against migrants and Mexicans. Pujol also told the Blade the Trump administration's decision to deploy troops and install razor wire along the border fence is "a tactic of intimidation."
"We here on the border are already used to Border Patrol, to U.S. Customs and Border Protection officers on the border," he said, noting Mexicans who want to enter the U.S. sometimes have to wait hours at the Nogales port of entry.
Pujol told the Blade his city is also "used to receiving" migrants, but not in the large numbers that have arrived in Tijuana over the last year. Pujol added Trump's policies have not deterred them from traveling to the border.
"They are not afraid of what has been happening with the wall, with the new barbed wire," said Pujol.