People with HIV/AIDS in Venezuela are dying because of an acute lack of available antiretroviral drugs in the country, according to service providers and activists with whom the Washington Blade has spoken in recent days.
César Sequera, founder of Alianza Lambda de Venezuela, a Venezuelan LGBTI advocacy group, told the Blade on Feb. 8 during a telephone interview from the country's Vargas state that he has been able to obtain antiretroviral drugs from non-governmental organizations or from donations he received from outside the country. Sequera, who is also a priest at an Anglican church outside of the Venezuelan capital of Caracas, acknowledged "there are other people who aren't receiving them."
"The situation is critical and alarming," he told the Blade.
Hendriel Briceño, a 26-year-old public university professor who lives in Caracas, tested positive five years ago.
He told the Blade during a WhatsApp interview on Feb. 8 that he did not take antiretroviral drugs for a year "because there weren't any." Briceño said he currently has a month's supply.
"We have a very serious situation," said Eduardo Franco, secretary of Red Venezolana de Gente Positiva, a Caracas-based HIV/AIDS advocacy group, during a telephone interview on Monday.
Sequera, Briceño and Franco all told the Blade that Venezuela's worsening economic and political crises have further exacerbated the country's HIV/AIDS crisis.
A report from the International Council for AIDS Service Organizations (ICASO), Aid for AIDS International, Global Development and three Venezuelan organizations — Asociación Civil Impacto Social, Alianza Venezolana para la Salud and Sociedad Venezolana de Salud Pública — cites statistics from the Pan-American and World Health Organizations, the Venezuelan Ministry of Health and other agencies that note 25,000 more people died from HIV between 2010-2018. The statistics also indicate the number of people with HIV increased from 97,000 to more than 120,000 during the same period.
PAHO, WHO and UNAIDS representatives traveled to Caracas last June in order to observe the Venezuelan government's efforts to combat HIV, tuberculosis and malaria. The organizations subsequently announced a plan to combat the diseases that includes input from Venezuelan health care providers, NGOs and government representatives.
"The plan was subsequently presented to the national authorities who gave approval of the document, as well as to State coordinators, the Venezuelan Society of Infectious Diseases, Pulmonology, Pediatrics and Gynecology/Obstetrics," reads the plan of which the Blade obtained a copy.
The Global Fund board of directors on Sept. 24, 2018, approved $5 million "to help alleviate the gaps in the provision of HIV treatment in Venezuela."
The PAHO Strategic Fund received $4.9 million to purchase antiretroviral drugs. Venezuelan NGOs received the remaining $100,000 from UNAIDS in order to oversee the distribution of the medications to people with HIV/AIDS.
The first shipment of the antiretroviral drug Tenofovir, Lamivudine and Dolutegravir (TLD), which contained 100,000 bottles, arrived in Venezuela on Dec. 23, 2018. A second shipment of TLD with 200,000 bottles arrived in the country on Jan. 16.
Red Venezolana de Gente Positiva and more than two dozen other Venezuelan HIV/AIDS service and advocacy organizations in a Feb. 4 letter to Health Minister Carlos Alvarado said none of the bottles from the two shipments had been distributed from a warehouse that is located on a military base in Miranda state. The letter also notes "millions and millions of pills of antiretroviral drugs are stored and withheld without justification" at the warehouse.
"Venezuelan civil society organizations working on HIV are writing to you to demand your urgent intervention in the release and delivery of antiretroviral medicines that will save the lives of more than 70,000 people living with HIV and AIDS in Venezuela," reads the letter.
U.S. Sen. Marco Rubio (R-Fla.) on Feb. 6 wrote in a tweet that "apparently (President Nicolás) Maduro is blocking $5 million Global Fund shipments of HIV and AIDS medicine from Venezuela."
"This is a death sentence to those who depend on anti-virals (sic) for survival," said the Florida Republican.
A Rubio spokesperson on Monday told the Blade she did not "have any additional information" about the antiretroviral drug shipment.
The Venezuelan government has said a lack of working trucks has prevented it from distributing the drugs throughout the country.
ICASO Executive Director Mary Ann Torres, who is originally from Venezuela, on Tuesday told the Blade during a telephone interview from Toronto the Venezuelan Ministry of Health indeed only a handful of trucks that are working. She said officials distributed some of the drugs in Valencia, a city in Carabobo state, after the open letter to Alvarado and Rubio's tweet.
'The government doesn't care'
Venezuela, which has the world's largest known oil reserves, was once Latin America's most prosperous country. Venezuela's worsening economic and political crisis has prompted millions of Venezuelans to migrate to neighboring Colombia and other countries in recent years.
Juan Guaidó, president of the Venezuelan National Assembly, last month declared himself president after the country's disputed presidential election that took place in May 2018. The U.S. is among the countries that have officially recognized Guaidó as Venezuela's interim leader.
Briceño said he has seen well-dressed people in Caracas "picking through the garbage" for food.
One source who asked the Blade not to identify them by name because of safety concerns said three condoms and a bottle of lubricant costs a month's salary for someone who is making minimum wage. Madonna Badillo, a transgender woman of indigenous descent who lives in the Colombian city of Maicao, which is a few miles from the country's border with Venezuela on the Guajira Peninsula, told the Blade last March during an interview at her home that Venezuelan women sell their hair to wigmakers for less than $10 "out of necessity."
"One of the things I have seen is the government doesn't care," Torres told the Blade. "It's a mixture of bad policies. It's a mixture of ideology over evidence."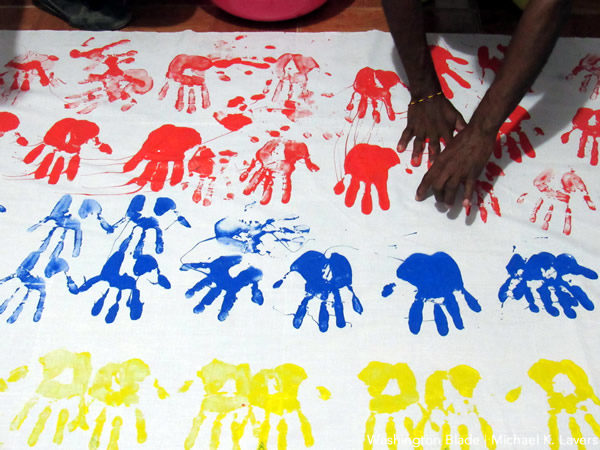 Torres said other issues that have contributed to the crisis include corruption and the mismanagement of Venezuela's nationalized oil and mining industries.
"It's not about sanctions," she told the Blade. "It's about the mismanagement of a country and a government that is over-powerful and over-present everywhere. They have left the infrastructure to be destroyed completely. You see pictures of the hospitals and you understand why health is the way it is. Everything is falling apart."
Sequera noted some Venezuelans still support Maduro, despite the deepening crisis. He also told the Blade there will be "a civil war" in the country if the U.S. stages a military intervention to oust Maduro.
"The entire population will come out on the street," said Sequera.
Humanitarian aid is 'urgently needed' in Venezuela
Rubio is among those who have sharply criticized Maduro for preventing humanitarian aid from the U.S. from entering Venezuela. Media reports note Guaidó on Tuesday told supporters at a Caracas rally the aid would be brought into the country on Feb. 23.
Torres told the Blade that humanitarian aid is "urgently needed" in Venezuela. She also said the country needs to be completely rebuilt.
"The problem is the reconstruction won't start with Maduro in power just because he doesn't accept there is a problem," said Torres.