US Education Secretary Betsy DeVos refused to directly answer a question about whether she opposed LGBT discrimination in schools at a House hearing on Tuesday (26 March).
Representative Mark Pocan asked notoriously anti-LGBTI DeVos: 'Do you think it's all right for a school to discriminate based on someone's sexual orientation or gender identity?'
'We have laws that cover … discriminatory efforts and our office for civil rights has continued to be very diligent in investigating any allegation of discrimination and will continue to do so' DeVos replied.
When pushed for a 'yes or no answer' by Pocan, DeVos finally said 'we follow the law'.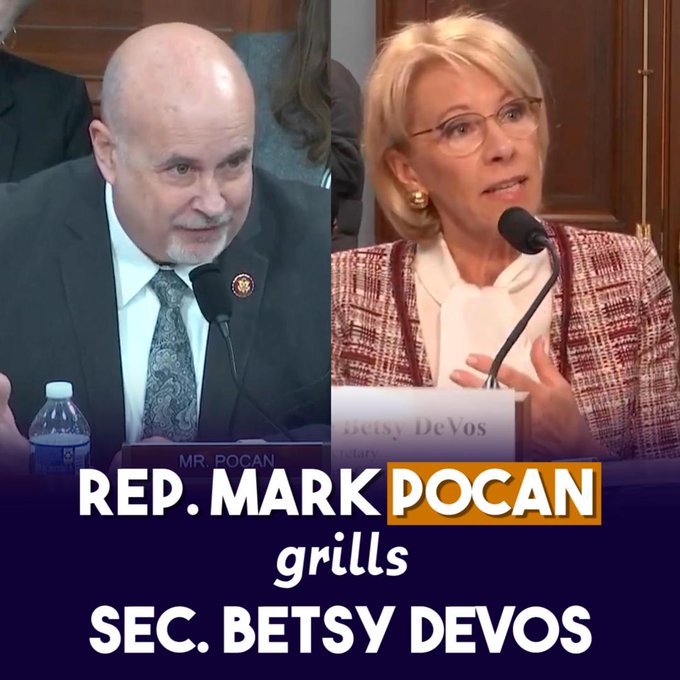 Betsy DeVos is an embarrassment y'all. Listen to this: 5,7742:08 PM – Mar 26, 20192,577 people are talking about thisTwitter Ads info and privacy
DeVos has long come under fire for the education department's anti-LGBTI policies.
In early 2017, her department rescinded federal guidelines designed to protect transgender students.
What's more, the Human Rights Campaign last year found only 26% of LGBTQ students felt safe in classrooms.
Tuesday was not the first time DeVos was put on the spot over LGBTI rights.
At a Senate hearing in 2017, DeVos also tried to dodge questions from Senator Jeff Merkley.
He asked whether schools that receive funding from the federal government would be punished if they allowed discrimination against LGBT students to occur.
'Schools that receive federal funds must follow federal law,' DeVos said.
DeVos' family also has a long-standing history of supporting anti-LGBTI causes.
Through family foundations, they funded anti-LGBTI campaigns and organizations.
The benefactors include Focus On the Family. The organization's website states 'homosexual strugglers can and do change their sexual behavior and identity'.
They received a $10 million (€9.34 million, £7.98 million) donation from the DeVos family.