U.S. Immigration and Customs Enforcement this week again defended the treatment of its detainees amid allegations that a dozen gay men and transgender women suffered abuse while they were being held at an ICE detention center in New Mexico.
The American Civil Liberties Union of New Mexico, the Santa Fe Dreamers Project and Las Americas Immigrant Advocacy Center in a March 25 letter to ICE and the Department of Homeland Security said the gay and trans detainees suffered "rampant sexual harassment, discrimination and abuse" at the Otero County Processing Center in Chaparral, N.M.
Otero is located roughly 30 miles north of El Paso, Texas, which is on the U.S.-Mexico border. Management and Training Corporation, a Utah-based company that operates two dozen private prisons across the country, operates Otero.
"People detained at Otero report that guards bark transphobic commands like, 'Walk like a man! You better sit like a man!'," reads the letter, which was also sent to Otero Warden Dora Orozco. "They force transgender women to bathe and sleep in units with men who sexually harass and threaten them. Some of the men even intrude on women while they are bathing in the shower, leering at them and offering to 'help' them bathe. Other men ask women for sex while they try to sleep."
The letter notes guards "subject the gay men and transgender women to frequent pat-down searches." It also says the dozen gay and trans detainees "cannot eat in the cafeteria or walk through the detention center without enduring homophobic and transphobic slurs from other detained people, which the guards do not address."
The letter notes medical staff do not provide the detainees with "necessary medical care," noting trans women have been told that ICE "won't give you hormones." The letter also notes guards have placed the inmates into solidary confinement after they complained about the conditions.
"Moreover, about two weeks ago, the guards separated all of the transgender women and gay men and reassigned them to housing units with cisgender, heterosexual men," reads the letter, which says the facility may not be in compliance with the federal Prison Rape Elimination Act.
"PREA requires Otero to consider several factors when assessing risk and making housing decisions," says the letter. "After ICE reassigned her to an all-cisgender, heterosexual male barracks, one woman told us, 'I am afraid to be with them [the men] because I feel like all their eyes are on me.'"
A 20-year-old gay man from Honduras who was detained for three months at Otero said in a press release the ACLU of New Mexico, the Santa Fe Dreamers Project and Las Americas Immigrant Advocacy Center released on March 22 that he "was repeatedly groped while I slept, asked to perform sexual favors in exchange for food, and verbally insulted by other detainees."
"When I complained, I was thrown into solitary confinement for five days and threatened with further punishment if I complained again," said the man. "Now that I am released from custody, I am free to speak up because I do not fear retaliation."
ACLU of New Mexico Staff Attorney Kristin Greer Love in the press release said the detainees "fled persecution and violence in their home countries only to be met with humiliating and degrading treatment by guards and medical staff at Otero."
"This kind of treatment is an affront to their dignity and a danger to their safety and well-being," she added.
The ACLU of New Mexico, the Santa Fe Dreamers Project and Las Americas Immigrant Advocacy Center have requested a meeting with Orozco and ICE officials. The groups are also calling upon the Department of Homeland Security's Offices of Inspector General and Civil Rights and Civil Liberties and the ICE Prevention of Sexual Assault Coordinator to investigate the allegations.
ICE spokesperson Leticia Zamarripa on Thursday did not comment on the Otero detainees' specific allegations when she spoke with the Washington Blade.
"Comprehensive medical care is provided from the moment detainees arrive until they leave ICE custody," said Zamarripa. "All ICE detainees receive medical, dental and mental health intake screening within 12 hours of arriving at each detention facility, a full health assessment within 14 days of entering ICE custody or arrival at a facility, and access to daily sick call and 24-hour emergency care."
Zamarripa said ICE spends more than $250 million a year "on the spectrum of healthcare services provided to detainees. She also pointed the Blade to a 2015 directive that requires personnel to, among other things, provide trans detainees with access to hormone therapy and other trans-specific health care.
"ICE is committed to ensuring that those in our custody reside in safe, secure and humane environments and under appropriate conditions of confinement," Zamarripa.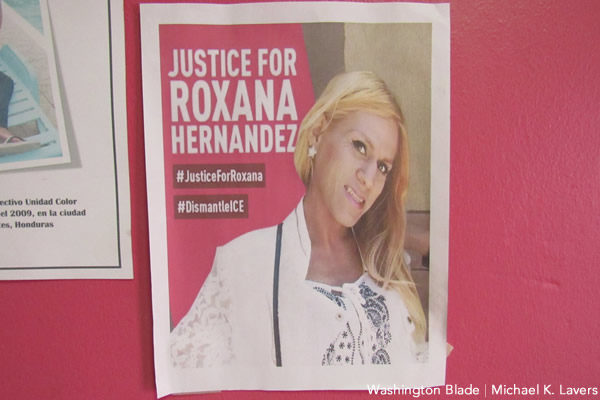 Activists have long criticized ICE over the treatment of LGBT detainees at its facilities.
An autopsy for which the Transgender Law Center asked indicates Roxsana Hernández, a trans woman with HIV from Honduras, was beaten before she passed away in ICE custody in New Mexico on May 25, 2018.
Many of the nine LGBTI migrants from El Salvador and Honduras with whom the Blade spoke at Casa Ruby in D.C. earlier this week said they spent a week in cold holding cells, known as "hieleras," which is the Spanish word for "freezers," after they crossed the Rio Grande from Mexico and were taken into custody in Texas. U.S. Rep. David Cicilline (D-R.I.) told the Blade last June after he visited South Texas the Trump administration did not have a policy in place that specifically addressed the needs of LGBTI migrants who had been separated from their parents once they entered the U.S.
"When ICE officials drafted their own policies, they recognized that transgender and gay immigrants are among the most vulnerable people in their custody," said Santa Fe Dreamers Project Staff Attorney Hector Ruiz in the press release. "But the way staff are treating these people shows a complete disregard for their humanity."