A 29-year-old LGBTI journalist has been murdered while reporting on 'dissident republican activity' in Londonderry, Northern Ireland.
A masked gunman allegedly shot Lyra McKee to death while she covered riots in Londonderry – also known as Derry – on Thursday (18 April).
Police said a group known as the New IRA 'are likely to be the ones behind this'.
Cell phone footage shows a masked gunman crouching down and opening fire with a handgun at about 11pm. McKee was wounded as she stood by a police SUV according to police.
'A single gunman fired shots in a residential area of the city and as a result wounded Ms McKee. Officers quickly administered first aid before transporting her in the back of a landrover to hospital,' said Assistant Chief Constable Mark Hamilton.
'Tragically she died from her injuries. At this stage we believe her murder was carried out by a violent dissident republican.'
Hamilton appealed for witnesses to share information with police.
Assistant Chief Constable for District Policing Mark Hamilton | Photo: PSNI
Not long before her murder, McKee tweeted a photo of the riots with the caption 'Derry tonight. Absolute madness'.View image on Twitter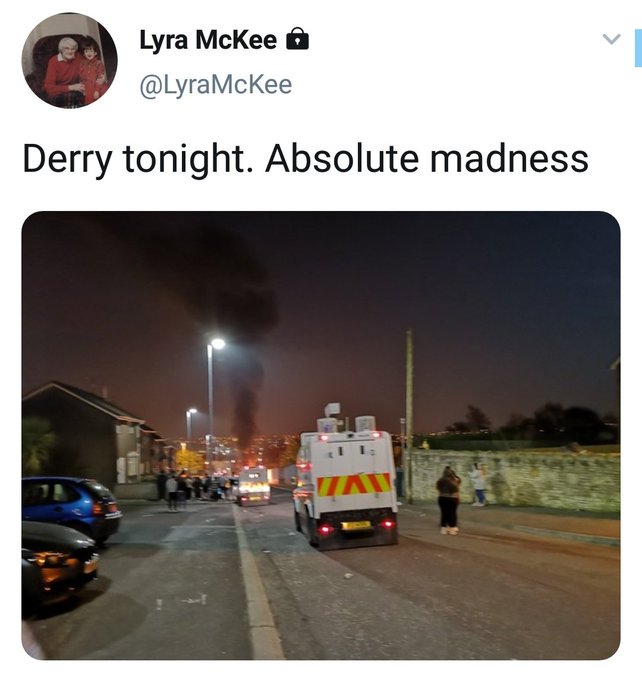 A journalist has been killed covering riots in Derry. Her name was Lyra McKee. She was 29. She recently signed a two-book deal with Faber, who called her a "rising star of investigative journalism". This is her last tweet, sent from the scene of the unrest.11.5K8:20 PM – Apr 18, 20197,187 people are talking about thisTwitter Ads info and privacy
A star on the rise, shot down
McKee lived in Belfast where she edited media trade publication, Mediagazer. Forbes named her on its 30 under 30 in media list in 2016.
She had published a non-fiction novella about The Troubles in Northern Ireland called Angels with Blue Faces. Publishing house Faber & Faber had also given her a two-book deal, of which the first book The Lost Boys was due for release next year.
The Government condemns in the strongest possible terms the fatal shooting of journalist and writer Lyra McKee in Derry. We are all full of sadness after last night's events.
We cannot allow those who want to propagate violence, fear and hate to drag us back to the past.3,1302:00 AM – Apr 19, 2019 · Dublin City, IrelandTwitter Ads info and privacy653 people are talking about this
The National Union of Journalists (NUJ) described McKee as 'one of the most promising journalists' in Northern Ireland.
Hundreds of people have paid tribute to Mckee, including British Prime Minister Theresa May who said she 'died doing her job with great courage'.

New IRA
Police reported an increased in 'dissident republican activity'. Officer carried out a raid at Londonderry's Creggan estate on Thursday night looking for weapons.
Law enforcement thought the estate to be a hotspot for the New IRA and police worried about violence breaking out to mark the anniversary of the 1916 Easter Rising.
Police blamed the New IRA for McKee's murder and a for bomb attack at the Derry City Courthouse last year.
Violence against journalists on the increase
McKee's has become the 7th journalist murdered while doing their job in 2019 and the first in the UK. This comes off the back that 2018 was one of the deadliest ever for journalists according to Reporters Without Borders (RSF).
Before her death McKee was actually due to speak at a World Press Freedom Day event for Amnesty International.
'Lyra was a great young journalist, whose commitment to truth was absolute and whose laughter could light up a room,' said Patrick Corrigan, Northern Ireland programme director of Amnesty International.
'The bitter irony was that Lyra was due to speak at an Amnesty International event at the Queen's Film Theatre in Belfast on 4 May about the dangers of reporting violent conflicts.'
Corrigan went on to say 'journalists put themselves on the frontline in the battle for truth every single day'.
'Every day, it becomes more dangerous for reporters to do their job on behalf of us all,' he said.
'Lyra McKee was one of those courageous seekers after truth, with a life ahead of her and so much to give.'
A vigil for McKee will be held at the Belfast City Hall at 6pm on Good Friday (19 April). There is also a vigil happening in Dublin at 4pm in Stephen's Green.