A new report published today (7 May) exposes the 'widespread failure' of police forces across the US to protect and serve trans people.
Policies are failing to modernize in what researchers describe as 'systemic neglect.'
The National Center for Transgender Equality (NCTE) worked with dozens of local and state groups to analyze how 25 of the nation's largest police departments treat trans people. For the most part, the results are in the red.W
Entitled Failing to Protect and Serve: Police Department Policies Towards Transgender People, the report points towards a recent, rather alarming survey.
Moreover, around 58% of trans people in the US have encountered law enforcement in the past year, and of those, they experienced harassment, abuse, or other mistreatment.View image on Twitter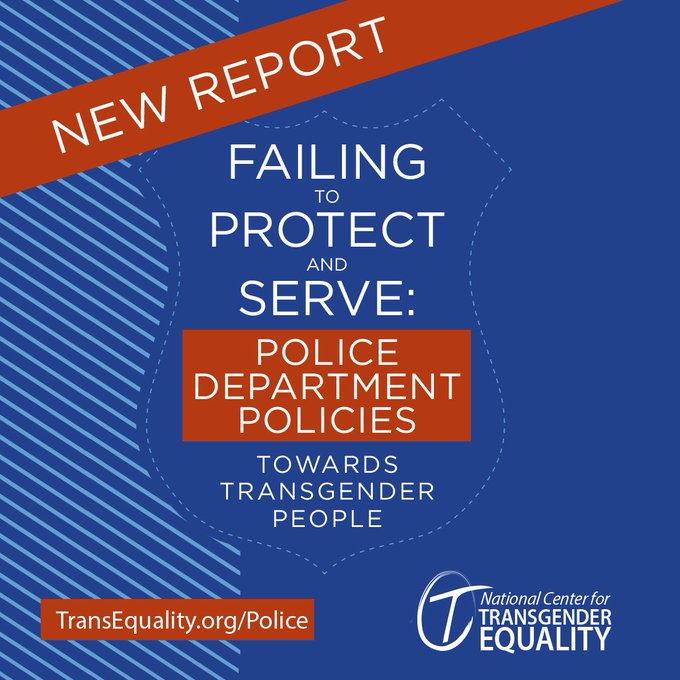 NEW: Violence facing trans people intensifies when police depts fail to protect & serve us. #WhoProtectsUs #FailingToProtect@TransEquality audited the 25 largest US police depts to learn:
they can improve &
how they're falling short.

THREAD
http://TransEquality.org/Police 246:02 AM – May 7, 201918 people are talking about thisTwitter Ads info and privacy
'As we make groundbreaking advancements towards transgender equality, many members of our communities continue to be affected by disproportionate contact with, and often by bias and abuse within, policing and the criminal justice system,' the report's introduction read.
NCTE scrutinize 25 police departments – from Atlanta to Boston, Chicago to San Francisco – across 17 criteria.
Several police departments across the US failed to protect trans citizens in an array of areas | Picture: NCTE
They range from bathroom access to respectful communication as well as search procedures to how trans-inclusive training is.
Furthermore, over a two-year period, NCTE researchers evaluated publicly available polices and practises.
What did they find?
Among the researchers' key findings:
No department explicitly requires regular training on trans interaction policies for all members across rank.
None of the departments required officers respectfully record the name currently being used by the individual.
No department explicitly provides for trans individuals to be transported along with individuals of the same gender identity.
Out of the sixteen departments with holding facilities, only four adequately address access to hormone medications.
Out of the sixteen departments with holding facilities, 10 failed to provide specific guidance on housing placement for transgender individuals.
A majority of departments (16 of 25) fail to provide search procedures for transgender individuals.
However, alongside the report, the NCTE also published a seperate model policy document. In it, they propose an array of policy changes to help guide reforms.
But even if police implemented all proposed policy, the report acknowledged 'it would not be enough to ensure that all transgender people are treated fairer by police.'
They added: 'It is clear that the issues facing transgender people can't be separated from broader issues of police reform and oversight.'