Ecuador has voted in favor of marriage equality in a landmark ruling today (12 June).
Confirming the hopes of local activists, the country's Constitutional Court ruled to legalize same-sex marriage in the country.
Today's ruling centered on whether the Inter-American Court Ruling of January 2018, which recognized same-sex marriage, compels Ecuador to legalize same-sex marriage. Judges voted by five to four in favor.
Postponing the decision
The highest court in Ecuador was due to issue its ruling on 4 June, but delayed until today, with judges saying they needed more time.
'The Constitutional Court, after meeting several hours, did not come to a decision regarding the consultation of Norma, referred by the criminal Court of the Provincial Courts of Justice of Pichincha, in the case of equal marriage.'
LGBTI rights in Ecuador
In 1998, Ecuador became one of the first countries in the world to constitutionally ban discrimination based on sexual orientation.
Article 67 of the Ecuadorian Constitution, adopted in 2008, recognized marriage as the union of a man and a woman.
However, Article 68 provides that stable same-sex couples shall enjoy the same rights and obligations as married couples, except for adoption. Civil unions became law in 2014.
The road to marriage equality
The South American country had started hearing arguments for and against marriage equality in April 2019.
A gay couple of 12 years is at the forefront of the movement trying to put pressure on authorities.
Efraín Soria and Javier Benalcázar have tried to legally marry for years. After the Civil Registry rejected their application for a marriage licence last year, they took the matter to the Provincial Court of Justice of Pichincha.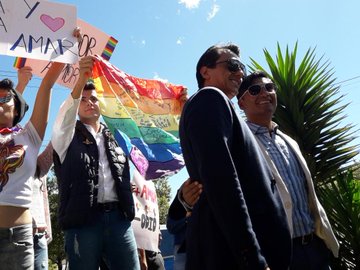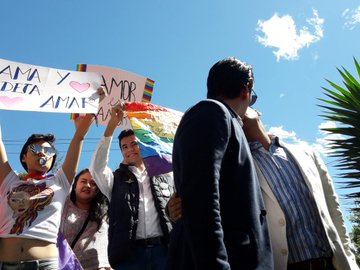 El debate sobre el #MatrimonioIgualitarioEC, ahora en la @CorteConstEcu, inició en 2018, cuando Efraín Soria y Javier Benalcazar fueron al Registro Civil para casarse. Su solicitud fue negada y se encuentra en la Corte de Pichincha pic.twitter.com/YDWqCWWqTF Vía @GYRivadeneira438:39 AM – Jun 4, 201958 people are talking about thisTwitter Ads info and privacy
Soria appeared before the Constitutional Court in March 2019.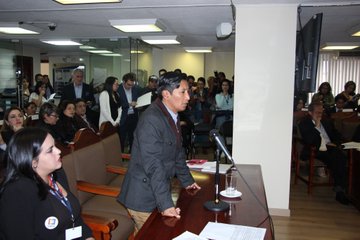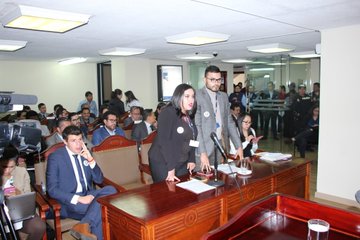 Corte Constitucional@CorteConstEcu
Toma la palabra Efrain Soria Alba y una de sus representantes Bernarda Freire de la Fundación PAKTA388:05 AM – Mar 29, 201915 people are talking about thisTwitter Ads info and privacy
A historic day for Ecuador
'Today is a historic day, not only for Efrain and Javier, but for Ecuador as a whole,' LGBTI activist Freddy Veloz Baez said after today's ruling.
'The Constitutional Court has stood on the right side of history and recognized that all Ecuadorians deserve the same rights, no matter our sexual orientation or gender identity.'
He furthermore added: 'This fight started in 2013 and could have never be achieved without all the couples that stood against bigotry and decided to protest the Government's lack of respect for their dignity and rights as citizens.
'There is still a long road ahead in order to end homophobia in our society, but today we celebrate. For all the couples that will be able to marry and for the future generations, this will be a day to be remembered.'
Activists in Ecuador
Pamela Troya and her partner Gabriela Correa were also among the first LGBTI activists campaigning for marriage equality in 2013.View image on Twitter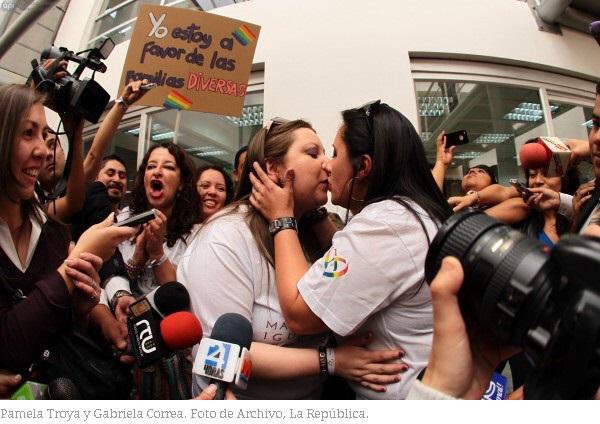 Esta foto es del 5 de agosto del 2013, cuando @Gaby3081 y yo nos presentamos al @RegistroCivilec para casarnos y nuestro pedido fue negado, empezando así un largo camino de lucha. Ahora, casi 6 años después, finalmente, estamos a muy poco de conseguir #MatrimonioIgualitarioEC 6351:16 PM – Mar 27, 2019210 people are talking about thisTwitter Ads info and privacy
'This picture was taken on 5 August 2013, when @Gaby3081 and I appeared at the @RegistroCivilec to get married and our request was denied, marking the beginning of a lengthy battle,' the activist wrote in March 2019.
She furthermore added: 'Today, nearly six years after that day, we're finally about to get marriage equality.'
Following today's ruling, she tweeted: 'I have no words, I don't know how to express it. This is unbelievable … we're going to get married.'View image on Twitter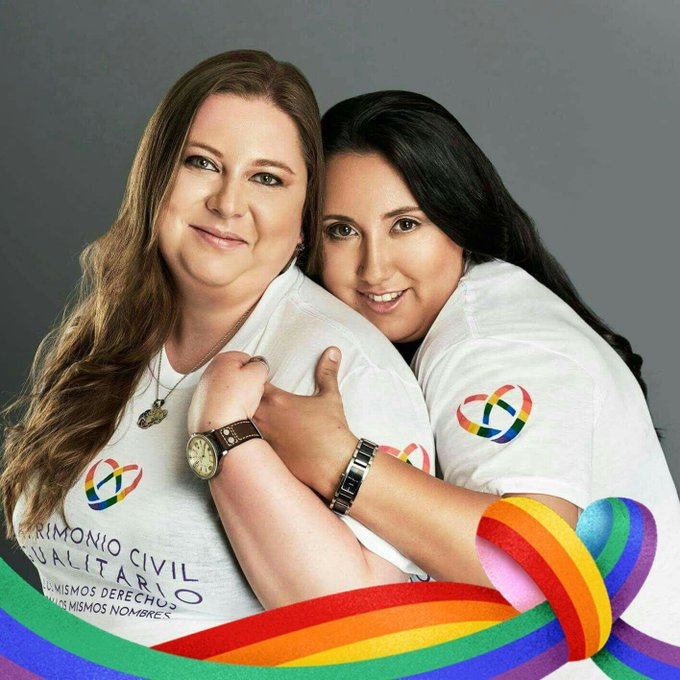 No tengo palabras, no sé cómo expresarlo. Esto es increíble. La @CorteConstEcu aprobó #MatrimonioIgualitarioEC y @Gaby3081 y yo nos vamos a casar 1,37312:34 PM – Jun 12, 2019539 people are talking about thisTwitter Ads info and privacy
The Inter-American Court of Human Rights ruling
The Inter-American Court of Human Rights ruled in January 2018 that countries should treat same-sex couples 'without discrimination'.
This court is an autonomous judicial institution based in the city of San José, Costa Rica. Most Latin American and a few Caribbean countries are among the members.
The ruling had a positive effect with Costa Rica vowing to legalize same-sex marriage. Courts in Ecuador also ruled that banning same-sex marriage was illegal.
After the ruling, a number of couples applied in courts to tie the knot. Eight same-sex marriage cases are currently ongoing in Quito, Guayaquil and Cuenca, according to El Comercio.