While Joe Biden doesn't drink alcohol, he spent yesterday afternoon (18 June) behind the Stonewall Inn bar in New York City buying a round of beers.
The presidential hopeful pulled out his credit card to cover the cost of 10 beers for crowds gathered at the historic Greenwich Village site.
It came on the same day that President Trump delivered a fierce kick-off to his own presidential bid in Orlando, Florida.
What happened?
Against a backdrop of Pride flags, 50th anniversary merchandise, and Gay Mountain bottles, Biden and his wife, Jill Biden, passed by Stonewall after two-fund raisers for his presidential campaign earlier in the day in Manhattan.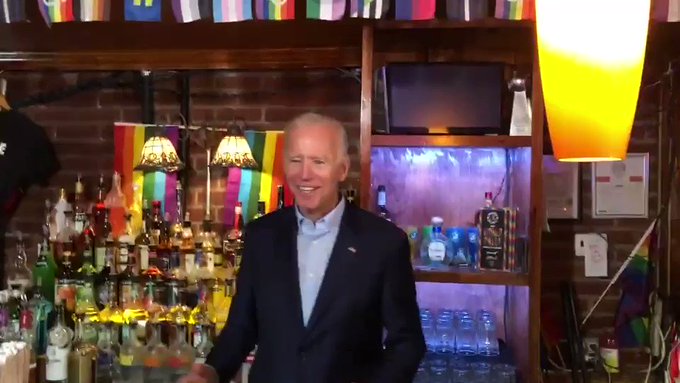 Stopped by @TheStonewallNYC to celebrate #PrideMonth & #WorldPride where the movement began 50 years ago.2,6851:16 PM – Jun 18, 2019641 people are talking about thisTwitter Ads info and privacy
As countless tweets show, Biden worked the room. He shook hands, took selfies, told stories, and even wrote on patron a note to excuse him from class.
Biden – just over a month into his bid – took the chance to color his campaign by showing his support for the LGBTI community.
He repeatedly told the story of his father, decades ago, saying of a gay couple: 'Joey, it's simple. They love each other,' according to the New York Times.View image on Twitter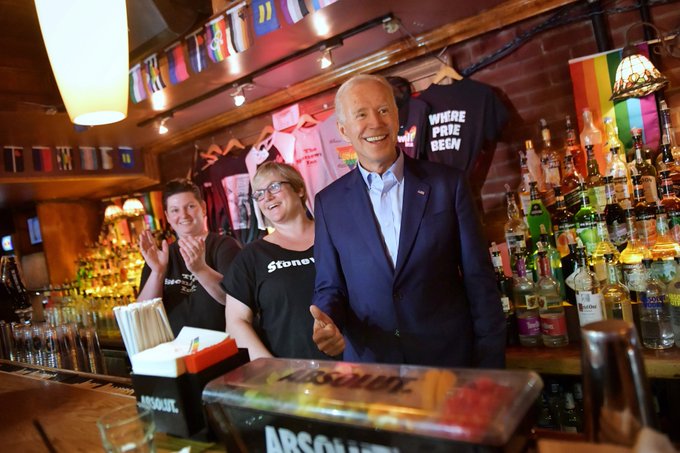 For all the hard-won progress, for as much as we can celebrate how much better things have gotten — this fight is not over.

We have to come together to stand up to abuses of power, ensure that everyone is treated with dignity, and fight for full equality.1,2601:40 PM – Jun 18, 2019530 people are talking about thisTwitter Ads info and privacy
Unlike her husband, Jill Biden was spotted holding a beer.
Following the visit, the contender tweeted: 'For all the hard-win progress, for as much as we can celebrate how much better things have gotten – the fight is not over.'
Allies on tap
Biden is the latest straight ally to swing by the Inn; a dimly-lit bar increasingly emerging as the it place to be for heterosexuals.
Only recently did pop singer Taylor Swift pop by the bar to sing a few songs ahead of her LGBTI anthem, You Need To Calm Down.
While Swift's visitation was highly documented by news outlets, Biden didn't advise the media ahead of his visit. What few reporters were gathered there, he said the country still had a 'long way to go' on LGBTI equality.
On workplace discrimination, he simply said: 'It's wrong. It's simply, simply wrong.'
Moreover, Biden wasn't the sole Democrat to pass by the Inn recently. Fellow candidate Beto O'Rourke showed his face in the bar last week.
Joe Biden: LGBTI voting record
Back in 1996, Biden voted in favor of the Defence of Marriage Act which defined marriage as between a male and female.
But tides changed. When asked by David Gregory about his views on marriage equality in 2012, he was positive.View image on Twitter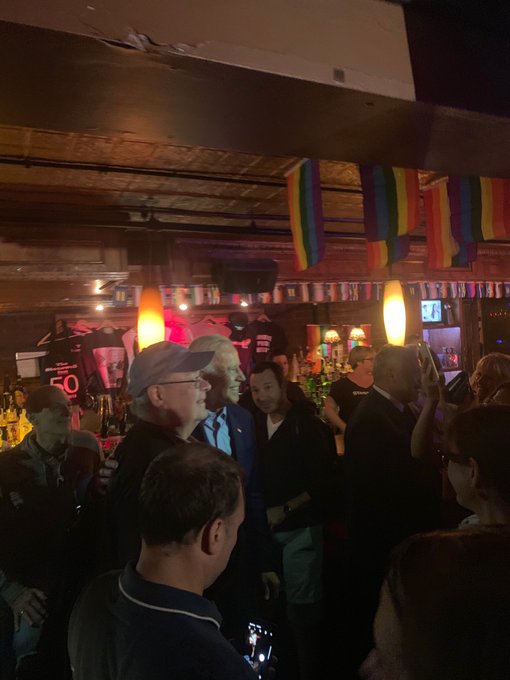 After his second fundraiser of the day today in NYC, @JoeBiden stopped by the historic Stonewall Inn, a campaign aide confirms. Was spotted inside taking photos with patrons.1,19111:38 AM – Jun 18, 2019533 people are talking about thisTwitter Ads info and privacy
This was big, considering he came out in favor of marriage equality before Obama did.
However, as he launched a bid as president decades later, Biden's campaign trail has been punctuated by multiple women who accused Biden of touching them in an overly familiar way.
Biden later released a video disputing the claims. He claimed he grabbed their shoulders or hugged in his desire to make a 'human connection.'