A former Air Force captain who is once again running against a Texas congressman whose sprawling district borders the U.S.-Mexico border on July 18 described the Trump administration's immigration policy as "a moral crisis."
"It's shortsighted at best," Gina Ortiz Jones told the Washington Blade during an interview at a Mexican restaurant near her home in San Antonio. "It's cruel at worst."
Jones in 2018 lost to U.S. Rep. Will Hurd (R-Texas) by 926 votes. She announced in May that she will challenge him again.
Hurd represents Texas' 23rd congressional district, which includes 40 percent of the entire U.S.-Mexico border. The U.S. Border Patrol Station in Clint, Texas, where hundreds of migrant children have been kept in crowded, unsanitary conditions, and the border cities of Eagle Pass and Del Rio are located within the district.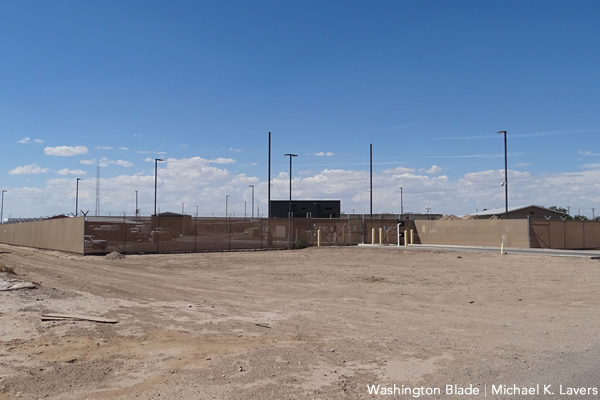 Jones said Del Rio Mayor Bruno Lozano, who is openly gay, recently told her his city loses $40,000 a day in revenue because of vehicles have stopped traveling to Del Rio because of long wait times to drive over the Del Rio International Bridge that separates it from Ciudad Acuña, Mexico. Jones also said Del Rio officials have tapped into their budget to help migrants who are in their city.
"It's an economic crisis," said Jones, referring to the Trump administration's immigration policy. "It's certainly a moral crisis when you think about what's happening in some of these detention centers and Texas 23 is on the frontline of this, I mean literally and figuratively."
'We obviously challenged a lot of assumptions'
Jones, 38, is a first-generation Filipina American whose single mother immigrated from the Philippines.
Jones and her sister grew up on San Antonio's West Side. Jones graduated from John Jay High School.
She was an intelligence officer in the Air Force during the Iraq war. Jones served under "Don't Ask, Don't Tell."
She would be the first openly LGBT person to represent Texas in Congress if she were to beat Hurd in November. The LGBTQ Victory Fund is among the organizations that have endorsed Jones.
"We obviously challenged a lot of assumptions about what it takes to win in Texas," she said. "926 votes is all that I came up short the last time."
Jones added her sexual orientation is "not something obviously that I have hidden or shied away from discussing, everything from my coming out story to how that experience allows me to identify with, empathize with communities that have been left behind."
"That's everything from our Dreamers to people who live in a rural area that feel like no one's paying attention to them, no one's looking out for them," she said.
Jones last month attended Del Rio's first Pride event. She was the grand marshal of the Eagle Pass Pride Parade that took place in October 2018.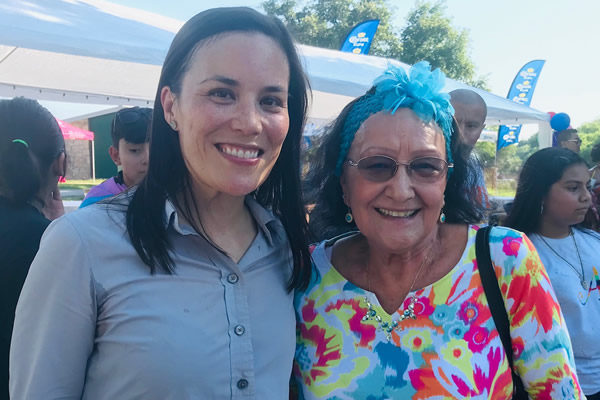 Jones acknowledged "we are much further along" on LGBT-specific issues in San Antonio and in El Paso, which is just outside Texas' 23rd congressional district. She conceded, however, the Texas Legislature remains hostile to LGBT rights.
"While we are making great progress, in the last session there were 20 some odd bills that were aimed at denying us rights," said Jones.
Jones said "elections matter" when the Blade asked her about passage of the Equality Act,which would add sexual orientation and gender identity to federal civil rights law, in the U.S. House of Representatives in May. Jones added it is "unfortunate" the Republican-controlled U.S. Senate "won't bring it up for a vote."
"That speaks to Sen. McConnell's leadership or lack there of," she said.
"So we're moving in the right direction," added Jones, referring to the Equality Act and the Democratic-controlled House. "People can see what is possible. For me it's just a reminder of what's at stake."
Jones also criticized Trump over the reinstatement of the ban on openly transgender servicemembers.
"The fight is not done on a number of fronts," she said.
Jones told the Blade that Hurd's stance on LGBT issues is among the reasons that prompted her to challenge him again. Jones pointed out Hurd, who is seen as a moderate Republican, has voted against the expansion of Social Security and Medicare and opposed an increase in the federal minimum wage.
Jones also told the Blade that Hurd supports a Justice Department lawsuit that says the Affordable Care Act is unconstitutional.
"My community is working class," said Jones. "I'm a product of this community … I served in countries where women and minorities are targeted, where governments disregard for conflict of interest has hollowed out their country. They attack institutions, so I can speak to the moment as well, but also understanding the impact of these votes on my community and how that makes it harder for people just like me to grow up healthy, get an education and serve our country."
"At the end of the day I look at what somebody does and not what they say," she added. "When I look at his voting record, it's a vote that has time and time again hurt the district."