A Pride parade in the Polish city of Bialystok was met with counter protests by far-right groups.
This was the first ever Pride event to take place in the north-eastern city on Saturday (20 July). About 800 people marched through the streets in support of LGBTI rights in Poland.
However, Catholic and nationalist groups began attacking the Pride parade by throwing bottles, stones and firecrackers at the marchers, Irish news-site RTE reports.
A number of violence clashes ensued, with riot police attempting to seperate the two groups.
Poland is overwhemingly Catholic, and while there has been progress with regards to LGBTI rights in recent years, the issue remains deeply polarising.


In Białystok today, the town's first ever Pride Parade was met with thrown stones and firecrackers. But the Parade made it through.

You can't stop the march of progress. We're coming for our rights.

Huge props to Tęczowy Białystok, the organisers. Photos by K. Kadziewicz.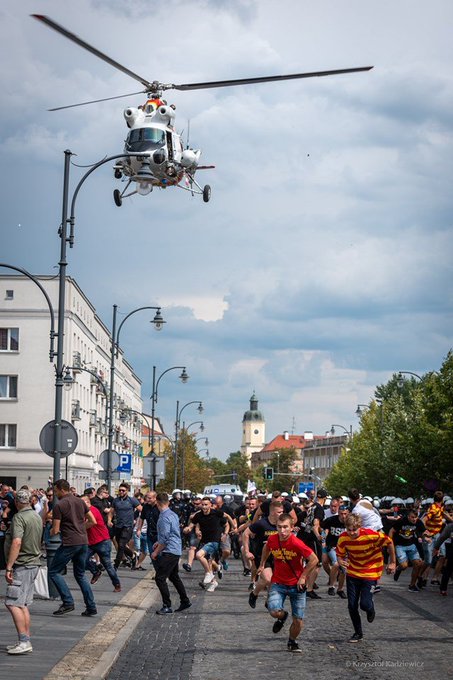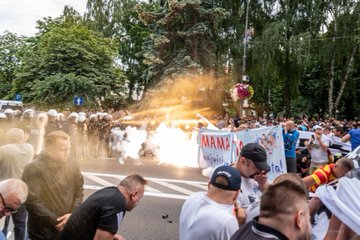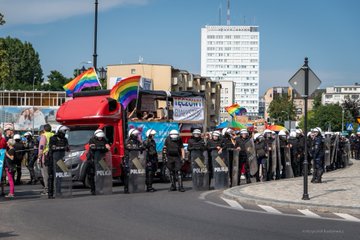 2951:48 PM – Jul 20, 2019Twitter Ads info and privacy165 people are talking about this
Violent clashes
During the Pride march, LGBTI rights supporters were carrying rainbow flags and banners with slogans such as 'love is not a sin'.
However, far-right groups were seen chanting and provoking attendees.
Videos taken of the march show riot police rushing the crowd to break up skirmishes. Videos also appear to show the groups attacking people on the street.
The right-wing groups reportedly organized over 40 counter-demonstrations against the Pride march.
First pride parade in białystok, Poland
-journalist attacked
-verbal and physical abuse
-burned lgbt flag
-people beaten up to the point they needed to seek medical help
-police force completely failed to protect anyone 35711:14 AM – Jul 20, 2019Twitter Ads info and privacy314 people are talking about this
The decision to hold a Pride parade in Bialystok was highly contested by local religious groups.
The debate over LGBTI rights in Poland was already highly divisive. This has become exaccerbated in recent weeks as the country prepares for its general elections which are due to take place in the autumn.
Earlier this month, several communities in Poland declaed themselves 'free of LGBTI ideology'.
Several days before this, Polish Catholic Bishops lashed out at Swedish retail giant Ikea after the company terminated an employee for homophobic comments.
Jaroslaw Kaczynski, the leader of the ruling conservative party, also condemned gay rights as a 'threat' in April.
The clashes at Bialystok is not the first time the country has seen Pride events marred by violence.
Last October, the city of Lublin, also in the east of Poland, saw violent clashes after far-right counter protestors attacked the city's first ever Pride march.
Przeciwnicy Marszu Równości szarpią i okradają płaczącą dziewczynę. Na nagraniu widać również jak gonią grupą jednego, samotnego chłopaka w różowej koszulce. Przez cały czas słychać "Wypier*alaj". #StopHomofobii #Białystok #MarszRówności 69710:19 AM – Jul 20, 2019Twitter Ads info and privacy377 people are talking about this
Many hurdlres to overcome
Poland's LGBTI community faces numerous hurdles in their fight for equality.
The country has become more LGBTI-friendly in recent years.
Lawmakers have introduced several laws to protect LGBTI people, and have allowed gay me to donate blood. There are also plans to pitch a bill that will draft a ban on conversion therapy.
However, many aspects of Polish society and politics remain staunchly conservative and the Catholic Church remains highly influential.
Due to cultural, religious and politocal pushback, marriage equality, legal protections in the area of gender identity, and adoption remain far off in the distance for the country.
In 2018, ILGA-Europe ranked Poland at 38 out of the 49 countries polled in an annual review of human rights for LGBTI people in countries in Europe and West Asia.