Established in Istanbul in 1890, Bomonti is Turkey's oldest modern brewery and produces one of the country's most popular lagers. The rainbow-coloured bottle was unveiled in an Instagram post by the head of Bomonti's branding agency, alongside the caption: "We did it!"
It's a bold move in a country which has been named the second-most restrictive on gay rights in Europe. Amnesty International previously told PinkNews in 2018 that Turkish LGBT+ people are "living in more fear than ever."
Although courts ruled in April that the two-year ban on Pride parades could technically be lifted, Amnesty reported in May that "appalling" violence had been used against students holding a Pride march in the capital city of Ankara. Authorities also stripped the scholarships of students detained in the march.
And on Sunday (June 30) another Pride rally in Istanbul ended with tear gas and rubber bullets.
This current political climate makes Bomonti's decision to embrace LGBT+ rights particularly significant — and while the commercialisation of Pride may be common in other countries, the Turkish LGBT+ community couldn't be happier to see the beer brand following suit.
@zekibaskaya said, "I'm shocked! but really excellent idea," @logolepsi said, "You've made us even more happy with rainbow marketing," and @benimadimsencer said: "We're so happy, so excited. For the first time in Turkey, a brand is investing in Pride and standing behind us like a door."

@bradleysecker said it was good to see a Turkish company embracing "the pink lira."View image on Twitter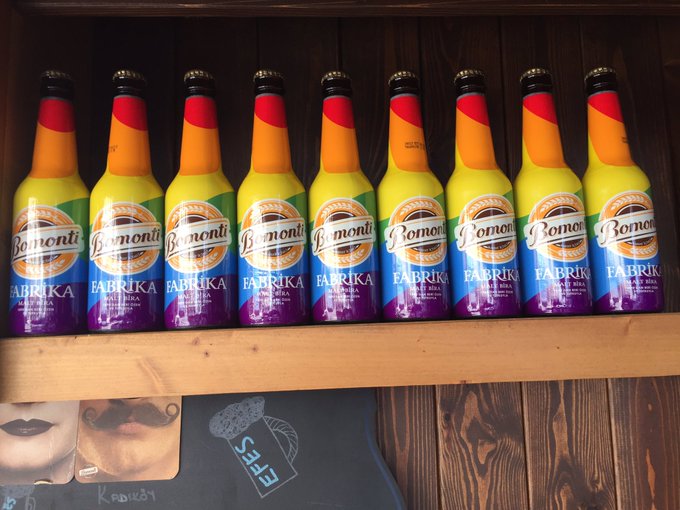 It's true, the #pride Bomonti beers do exist! The first time I've seen a Turkish company embrace the rainbow, and the pink lira. Yes pride has become more corporate, but in some cases it helps with visibility and has greater political and social umpf.2814:39 AM – Jul 2, 201947 people are talking about thisTwitter Ads info and privacy
There has been no official statement from government agencies as to whether the beer company has broken any local laws by producing the product.