Deputies at a Louisiana jail where a Washington Blade contributor who has asked for asylum in the U.S. remains detained on Friday reportedly used force against detainees in U.S. Immigration and Customs Enforcement custody who are protesting their prolonged detention.
The Blade, along with Mother Jones, received reports that indicate deputies at the Bossier Parish Medium Security Facility in Plain Dealing, La., struck the detainees and used pepper spray against them. The reports also indicate ambulances arrived at the jail after some of the detainees fainted.
Yariel Valdés González, a Blade contributor who is from Cuba, has been in ICE custody at the jail in northwestern Louisiana since May 3. Valdés spoke with the Blade more than half a dozen times on Friday through an app from City Tele Coin, a private telecommunications company that has a contract with Bossier Parish Medium Security Facility.
Valdés in a message he sent to the Blade at 11:42 a.m. said an "entire pod has not eaten" for two days. He also wrote 27 detainees in his pod did not eat breakfast on Friday.
"ICE is here and they suspended today's court hearings because of what is happening," said Valdés, who has not joined the hunger strike.
The Blade at around 1 p.m. used the City Tele Coin app to make a video call to Valdés.
Valdés, who said the phones that detainees use have been disconnected, said deputies were inside the pod while he was speaking with the Blade.
Valdés showed the Blade trays with uneaten food that had been placed on a table along a wall. The Blade during the call heard detainees talking loudly with each other, but many of them were sitting on benches and watching an episode of "The Jerry Springer Show" on television, according to Valdés, when the call ended.
Valdés in a message he sent to the Blade at 4:13 pm. said "all the deputies came here and said they don't care if we didn't eat." Valdés in a message he sent to the Blade at 5:49 p.m. described the situation as "very tense."
"More than 20 (detainees) are in the hole because they began to scream 'freedom' and make noise," he told the Blade. "They took two right now because they were making a complaint video."
Valdés sent the Blade the phone number of the mother of a Cuban man who said he has been in ICE custody at Bossier Parish Medium Security Facility for more than 13 months. The man's mother, who lives in Miami, sent the Blade two videos in which her son and other Cuban detainees talk about why they have decided to participate in the hunger strike.
"Freedom," they chanted at several points in the video.
ICE spokesperson denies detainees on hunger strike
Valdés in a message he sent to the Blade at 5:52 p.m. said he and his fellow detainees "don't know why we are on lockdown."
"We suppose it is because of the actual situation, because the ICE spokesperson did not explain because the prison is on lockdown and they are keeping us without telephones," he said.
ICE Southern Region Communications Director Bryan D. Cox told the Blade in an email "there are currently no ICE detainees in hunger strike status at the Bossier Parish facility."
"I am not aware of any lockdown," said Cox.
Cox referred to the Blade to the Bossier Parish Sheriff's Office "on the chance there may be an incident I'm unaware of separate from ICE detainees housed there."
A man who answered the phone at the Bossier Parish Sheriff's Office transferred the Blade to the jail. A man who answered the phone at Bossier Parish Medium Security Facility said, "as far as I know we're not allowed to give out information" to the media.
"An ICE official just spoke with us and they know it," Valdés said in his 5:49 p.m. message to the Blade.
Lieutenant Bill Davis of the Bossier Parish Sheriff's Office told Mother Jones a "small disturbance" among a group of roughly 30 ICE detainees prompted the lockdown that he said lasted a few hours. Davis told Mother Jones deputies used pepper spray to "deescalate" the situation, even though the detainees were not physically violent. Mother Jones reportedDavis denied deputies used physical force against the detainees, but he did confirm an ambulance transported one of them to a local hospital because he suffered "anxiety attack issues."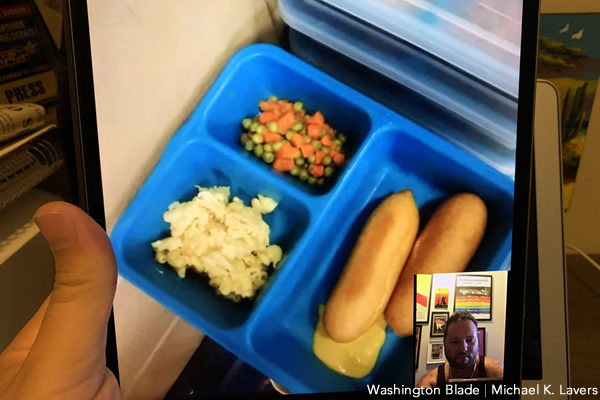 Valdés has asked for asylum based on persecution he said he suffered in Cuba because he is a journalist.
Valdés legally entered the U.S. on March 27 through the Calexico West Port of Entry between Calexico, Calif., and Mexicali, Mexico. He was detained at Tallahatchie County Correctional Facility, a privately-run prison in Mississippi, before ICE transferred him to Bossier Parish Medium Security Facility.
Valdés on July 23 appeared before Judge Grady A. Crooks. A second hearing to consider additional evidence in his case is scheduled to take place on Sept. 6.
Cuban authorities routinely harass and detain journalists who work for independent media outlets.
The Cuban government on May 8 refused to allow this reporter into the country after his flight from Miami landed at Havana's José Martí International Airport. A Cuban asylum seeker at Bossier Parish Medium Security Facility who appears in one of the videos the Blade obtained on Friday said he and other detainees on hunger strike are seeking refuge from the "Fidel Castro's dictatorship."
Valdés has previously described the conditions at Bossier Parish Medium Security Facility as a human rights violation, with inadequate food and a lack of privacy. Valdés has also told the Blade that some of the Cuban asylum seekers with whom he is have been in ICE custody for nearly a year.
"The Cubans here who are also seeking protection from the U.S. government welcomed me to the Bossier Parish Medium Security Facility with an ironic surprise," wrote Valdés in an op-ed the Blade published on July 9. "They opened their arms and told me, "Welcome to hell!'"