After mass shootings in El Paso, Texas, and Dayton, Ohio, that together killed at least 30 people over the weekend, a lawmaker in Ohio blamed the massacres on "homosexual marriage," "drag queen advocates" and "snowflakes, who can't accept a duly-elected President," among other things.
Candice Keller is a Republican state representative from Middletown, a small city 30 miles south of Dayton, where a gunman killed at least nine people and wounded 27 others early Sunday. In a now-deleted Facebook post, she wrote: "After every mass shooting, the liberals start the blame game. Why not place the blame where it belongs?"
The post listed reasons Keller thought the United States is grappling with mass shootings, including "the breakdown of the traditional American family," "homosexual marriage," "fatherlessness," "the ignoring of violent video games," "professional athletes who hate our flag and the National Anthem," "the relaxing of laws against criminals," "recreational marijuana," "Obama" and Democratic members of Congress, among others.
No, m'am. The blame belongs to the evil man who killed those people.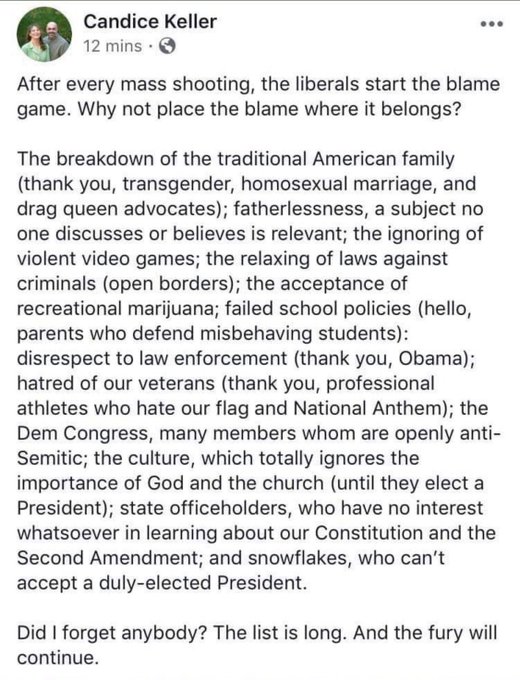 5715:20 AM – Aug 5, 2019Twitter Ads info and privacy220 people are talking about this
The post ended by saying: "Did I forget anybody? This list is long. And the fury will continue."
Screenshots of the post were circulated on social media.
Ohio Attorney General Dave Yost, also a Republican, responded to Keller in a tweet Sunday: "No, m'am. The blame belongs to the evil man who killed those people."
Butler County Sheriff Richard Jones, who oversees law enforcement across Keller's district, is among those calling for her to resign. "Candice Keller should resign at once. Shame shame," Jones tweeted.
Randy Phillips, president of the Greater Dayton LGBT Center, said Keller's remarks were hurtful.
"After the tragedy that took place in the city of Dayton, this hurts the community as a whole," Phillips told NBC News Monday. "But if lawmaker Candice Keller blames gay marriage and the rest of the LGBT community for this issue is misdirecting. It's embarrassing. If anything, she is more of the problem, not us, the LGBT community."
Butler County sits just southwest of Dayton. Brian Hester, who serves as chair of Butler's Democratic Party, described Keller's comments as symptomatic of larger trends.
"As offensive as Keller's remarks were, they are nothing more than the 'worst hits' of things President Trump has said time and time again," Hester told NBC News. "If Republicans believe such words shouldn't be spoken by someone in the Statehouse, why have they been tolerated by one in the White House?"
Keller could not immediately be reached for comment Monday. The voicemail box for a number listed in her name was full.
On Sunday Keller told The Dayton Daily News she posted something to her private, personal Facebook page. When a reporter from the newspaper read the entire statement to her, Keller said it sounded like part of her posting and that she was unsure if it had been altered.