LGBTI activists in the Bahamas have joined efforts to help victims of Hurricane Dorian in their country.
Alexus D'Marco, executive director of the D'Marco Organization, on Friday told the Washington Blade her organization is providing support to people who are now living in shelters in the Bahamian capital of Nassau and assessing the specific needs they may have. D'Marco and her colleagues are also tracking missing people and reporting them to Bahamas' National Emergency Management Agency.
D'Marco, who is also the executive director of the Bahamas Organization of LGBTI Affairs, noted the Rustin Fund for Global Equality and the Caribbean Vulnerable Communities Coalition have created a Dorian relief fund.
"CVC has teamed up with the Rustin Fund to get rapid and urgent assistance to our LGBT brothers and sisters in the Bahamas," reads the fund's website. "This is a direct lifeline of support managed by CVC through LGBT groups in the Bahamas ensuring emergency funds reach them quickly."
D'Marco said she and her colleagues are "trying to be here for the long haul."
"We're trying to raise funds for adequate shelter to put displaced persons of the LGBTI community, or the vulnerable population," D'Marco told the Blade from Nassau during a WhatsApp interview. "So, we're not just focusing in and zeroing in on key populations, but also the elderly, LGBTI persons who have families that are affected."
Dorian had 185 mph winds when it made landfall in the Abaco Islands on Sept. 2. The Category 5 hurricane remained over Grand Bahama Island for more than 24 hours before it moved away from the Bahamas on Sept. 4.
Bahamian officials say Dorian's death toll is currently at 43, but this figure is expected to rise significantly.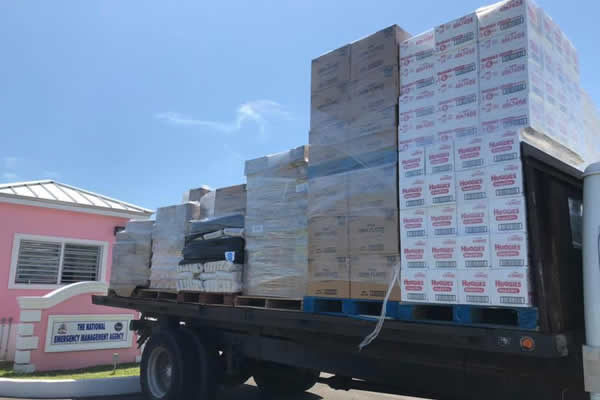 Erin Greene, an "intersectional human rights advocate" who lives in Nassau, on Friday told the Blade during a WhatsApp interview that some people who live on New Providence, the island on which the city is located, saw up to 3′ of water in their homes. Greene said the situation in Nassau is "relatively fine" compared to that on Grand Bahama and Abaco.
"We dealt with a lot of rain and significant flooding in some areas," she said.
Greene said her brother and sister-in-law live on Grand Bahama and she knows from social media posts they are "good." Greene told the Blade she hadn't heard from a friend "who is a member of the LGBTI family in Abaco."
"I've gotten word that she's safe, but I'm sure she hasn't been able to make any communication yet," she said.
Greene since Dorian has been sharing information about relief efforts on her Facebook page. She has also suggested people should include boxer and boxer briefs for women who may not wear "feminine underwear/panties."
"For members of the community, particularly gender non-conforming and non-binary people, this is a very basic thing," Greene told the Blade. "A choice of underwear is a great psychological need for them and could make dealing with a tragedy or travesty of this nature easier simply with the comfort of knowing I can continue to wear the underwear of my choice."
Both Greene and D'Marco told the Blade they have not heard of any reports of Bahamians denied access to shelter and relief efforts because of their sexual orientation or gender identity.
"We are definitely monitoring that situation," said D'Marco. "We are making ourselves very visible to ensure that this does not happen during this process."
'We're accepting any help'
The Associated Press reported the U.S. Coast Guard has rescued nearly 300 people in the Bahamas since Dorian. The Bahamas Paradise Cruise Line's Grand Celebration on Saturday brought more than 1,000 Bahamians from Grand Bahama Island to Florida.
D'Marco told the Blade that people who lived on Grand Bahama and Abaco before Dorian have been brought to Nassau and are living in shelters. U.S. Agency for International Development Administrator Mark Green is scheduled to travel to the Bahamas on Sunday.
Greene noted to the Blade that Bahamians are increasingly upset with their government's response to Dorian, even though it has accepted assistance from the other countries that include the U.K. Chef José Andrés and Bethenny Frankel, who recently announced her departure from The Real Housewives of New York City, are among those who have joined the relief effort.
"We're accepting any help," Greene told the Blade. "We don't care if its coming from homophobes. Wherever it's coming from, we're accepting help."
Hurricane renews calls to address climate change
Dorian is the strongest hurricane to ever make landfall in the Bahamas.
Hurricane Irma had 155 mph winds when it made landfall on Little Inagua and South Acklins Islands in the southern Bahamas on Sept. 8, 2017.
Hurricane Matthew caused widespread damage in New Providence and other islands in the Bahamas in October 2016. Hurricane Joaquin was a Category 4 storm when it struck the southern Bahamas in October 2015.
D'Marco said Dorian and the other powerful hurricanes that have made landfall in the Bahamas in recent years underscore the need to talk about the impact of climate change. D'Marco also noted the Organization of American States' 2020 General Assembly is scheduled to take place in Nassau next summer.
"Access to climate justice is very important," D'Marco told the Blade. "That conversation must be had."
Greene agreed.
"We need to center the region and ourselves as the ultimate victims of the behavior and action and dereliction of duty of others, and sustain not just a regional campaign, but a multiregional campaign, a small islands campaign that forces this agenda to the forefront of the global, political sphere," she said.