Zuleika, 25, is a transgender woman from El Salvador's San Vicente department.
She had been living at Casa Respetttrans, a shelter for LGBTI migrants in Ciudad Juárez, Mexico, run by Respetttrans Chihuahua, a local trans advocacy group, for more than a month when the Washington Blade spoke with her on July 16. Zuleika said her ultimate goal was to receive asylum in the U.S.
"The U.S. is a free society," she told the Blade.
Zuleika is among the tens of thousands of migrants who have traveled to Ciudad Juárez in recent months with the hope they will enter the U.S. and receive asylum. El Paso, Texas, which is across the Rio Grande from Ciudad Juárez, remains a flashpoint over President Trump's hardline immigration policy.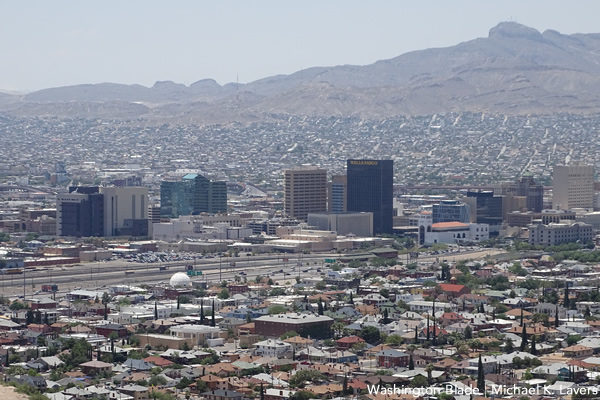 Casa Respetttrans opened in its current location in Ciudad Juárez earlier this year. Zuleika was among the 36 migrants — including Leche Merchant, a trans woman from Mexico's Guerrero state who had been in U.S. Immigration and Customs Enforcement custody at the Cibola County Correctional Center in Milan, N.M., for two years until July 15 — were living at the shelter when the Blade visited it.
Casa Respetttrans Director Grecia Herrera noted Respetttrans Chihuahua is a group that advocates on behalf of trans women.
Herrera said the group had to "diversify" because Ciudad Juárez did not have any shelters that specifically served LGBTI migrants. Herrera told the Blade that Respetttrans Chihuahua now provides services to Mexicans of indigenous descent who have been displaced from other parts of the country, people who use drugs and other vulnerable groups.
"This space does not only think about the migrant population," she said.
Programa Compañeros is another organization in Ciudad Juárez that provides assistance to LGBTI migrants.
The group, which formed in the 1980s in response to the HIV/AIDS epidemic, distributes feminine hygiene products and other items to migrants in the city. Programa Compañeros also works to promote safer sex practices and fights violence against women in Ciudad Juárez.
People who use drugs who participate in twice-weekly meetings at Programa Compañeros' offices are able to eat a hot meal, take a shower and receive medical care. Some of men in the program have either had sex with other men in order to support their drug habit or have been deported from the U.S.
Programa Compañeros Director María Elena Ramos on July 16 told the Blade that women and girls who hope to enter the U.S. are frequently forced into prostitution. Ramos said they are also vulnerable to human trafficking.
"Their body is their passport to cross all of these invisible borders that exist," she said. "They are in a very difficult situation and they exchange sex to buy things they need. It is the only option that they have."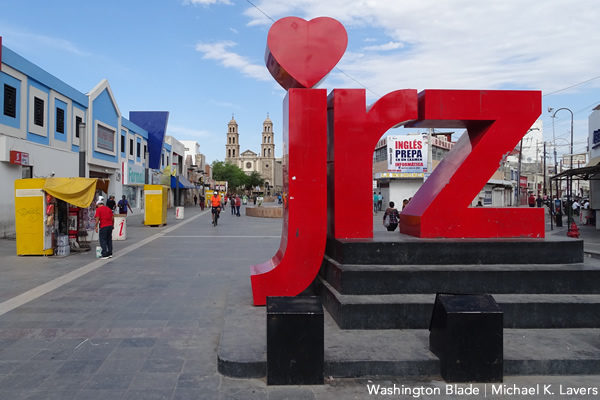 The New York Times on Sunday reported 5,600 asylum seekers in Ciudad Juárez are on waiting lists to enter the U.S. The New York Times also said more than 13,000 migrants have been returned to Ciudad Juárez under the Trump administration's controversial "remain in Mexico" program that forces them to remain in Mexico as they await the outcome of their asylum cases.
Advocates on both sides of the border with whom the Blade spoke said Ciudad Juárez remains a dangerous city.
A travel advisory the State Department issued on April 9 urges Americans to "reconsider travel" to Mexico's Chihuahua state in which Ciudad Juárez is located because of crime.
"Violent crime and gang activity are widespread," reads the advisory. "While most homicides appear to be targeted assassinations carried out by criminal organizations, turf battles between criminal groups have resulted in violent crime in areas frequented by U.S. citizens. Bystanders have been injured or killed in shooting incidents."
Herrera and Paola Fernández of Detained Migrant Solidarity Committee, an El Paso-based group that works closely with Casa Respetttrans, both said several trans women have been murdered in Ciudad Juárez since the beginning of the year.
Imelda Maynard, a lawyer for Catholic Charities of Southern New Mexico, on July 15 told the Blade during an interview at a coffee shop in downtown El Paso that many of her clients in Ciudad Juárez "don't know who to trust over there" because they are afraid of the Mexican police and kidnappers. Maynard also said some of them have to wait until January for their first hearing before an immigration judge.
"There's no rhyme nor reason to it," she said.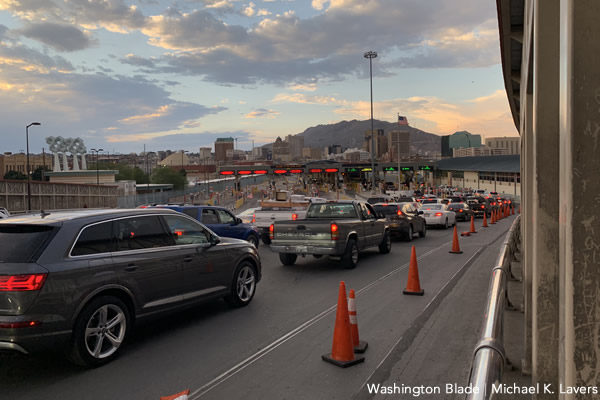 Johana "Joa" Medina León, a transgender woman from El Salvador, died on June 1 at Del Sol Medical Center in El Paso.
Medina stayed at Casa Respetttrans before she entered the U.S. at the Paso del Norte Port of Entry between El Paso and Ciudad Juárez on April 11. Medina was detained at the privately-run Otero County Processing Center in Chaparral, N.M., until ICE released her from its custody on May 28, three days before her death.
Medina's family has filed a wrongful death lawsuit against ICE and the Department of Homeland Security.
"I really want to know exactly what happened," Medina's mother, Patricia Medina de Barrientos, told the Blade on July 22 during an exclusive interview in the Salvadoran capital of San Salvador.
Héctor Ruiz of the Santa Fe Dreamers Project, a New Mexico-based group that advocates on behalf of immigrants, told the Blade at his El Paso office that he did not know about Medina until after she died. Nathan Craig of Advocate Visitors with Immigrants in Detention (AVID) in the Chihuahuan Desert, an organization in Las Cruces, N.M., that visits migrants who are in detention centers, said one of Medina's podmates with whom he and other AVID volunteers visited had expressed concern about Medina's "declining health" in the weeks before her death.
"It's really unfortunate," Ruiz told the Blade, referring to Medina's death. "That's why we're trying to make more of an effort to have a regular presence in Juárez, or regular contact with folks on the ground in Juárez to ensure there's a smooth handoff from the groups that are working there."
Fernández described the circumstances surrounding Medina's death as "super shady." Fernández also told the Blade the Detained Migrant Solidarity Committee supports the abolition of ICE, DHS, Border Patrol and U.S. Customs and Border Protection.
"We don't want to just better conditions," said Fernández, referring to the conditions in which migrants are detained. "We don't want these detention centers to even exist."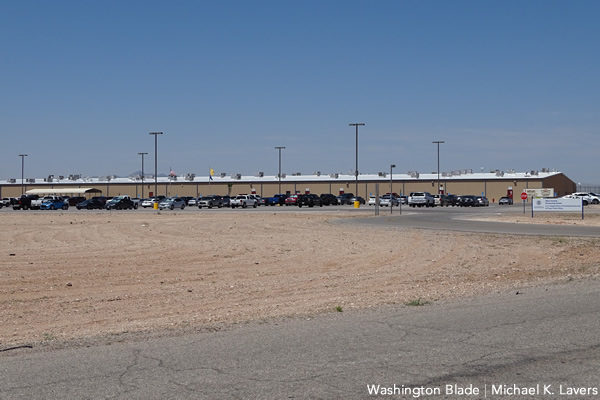 'Immigration has been a big tinderbox issue for awhile'
A gunman on Aug. 3 killed 22 people and injured more than two dozen others when he opened fire at a Walmart near El Paso's Cielo Vista Mall, which is less than two miles from the U.S.-Mexico border.
The gunman, who was from a Dallas suburb, made anti-immigrant and anti-Latino statements before the massacre. The gunman also reportedly praised Trump and his calls for a wall along the U.S.-Mexico border.
Trump in 2015 described Mexicans as "rapists" when he announced he was running for president.
The president in February defended the wall during a rally he held at the El Paso County Coliseum, which is a few blocks from the Bridge of the Americas that connects El Paso and Ciudad Juárez. Trump in the wake of the Walmart massacre condemned white supremacy, but continues to face widespread criticism over his racist and anti-immigrant rhetoric.
Fernández is among those in El Paso who said Trump's immigration policy is a way for him to appeal to his base ahead of next year's presidential election.
"Immigration has been a big tinderbox issue for awhile," said Maynard. "Our system is messed up and it has been for awhile."
"It didn't start with the Trump administration," she added. "But he just found a way to play off of the xenophobia, the otherness of other people and use that and run with it."
Ramos agreed.
"You have elected a president who has a very aggressive attitude," she told the Blade. "His campaign slogan … his campaign focus was migrants and at that time the migrants were Mexicans."
"It's very bad," added Ramos. "It is very diabolical."
Zuleika conceded she was afraid of Trump's immigration policy, even though she was hopeful the U.S. would grant her asylum. Michelle, a 24-year-old lesbian woman from Soyapango, El Salvador, who was living at Casa Respetttrans with Zuleika, said she hoped to live in California with her partner.
"[El Salvador] is a very dangerous country," Michelle told the Blade as she sat on a couch next to Willy, a 24-year-old gay man who fled La Ceiba, Honduras, last fall.
"It is very difficult to be a woman in this place," added Michelle. "There is a lot of vulnerability."
Herrera on Monday said Willy, Michelle and Zuleika are now in the U.S. Herrera told the Blade that Merchant still lives at Casa Respetttrans.
"It is a safe place," said Herrera.