RuPaul's Drag Race UK star Sum Ting Wong opted for a more muted look today as she and more than "150 people" protested today against the first UK Chick-fil-A store.
In the southern town of Reading, England, locals were filled with unease when they awoke to the news that the American fast-food chain – known for its donations to anti-LGBT+ organisations – was set to open up shop in their town.
Sending ripples through the queer community, campaigners rallied together to stand against the chain by spilling outside The Oracle shopping centre in the Berkshire town today telling the corporation to 'sashay away'.
The protest came after a spokesperson for the shopping centre confirmed that that "the right thing to do" is to not extend Chick-fil-A's lease past its "six-month pilot period", Reading Pride confirmed in a news release.
Organisers added that as the "restaurant will be profiting from unsuspecting patrons", the protest would continue as planned.
Protest organisers: 'They failed to respond, and so we took action'.
Dozens of local residents and Pride organisations from nearby towns gathered on the red bricked-Broad Street to hoist up rainbow Pride flags, unfurl banners and hand out pamphlets at around 11am.
Protesters chanted "Chick-fil-A, sashay away!" while others held banners up high reading: "Get the chick out! Say no to bigotry and hatred on your High Street."
The beating heart of the 'Get The Chick Out' protest was Reading Pride – first formed in 2003.
Proud to support @Reading_Pride in their protest against hate and homophobia that is supported by the owners of #chikfila alongside @ReadingLabour @CTS_RDG and @ReadingTuc #GetTheChickOut #LGBTQIAwedontwantnochikfila #rdguk #rdg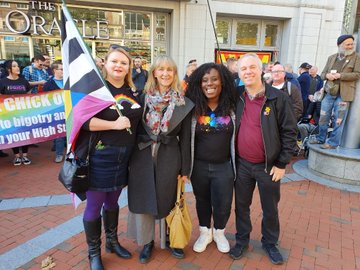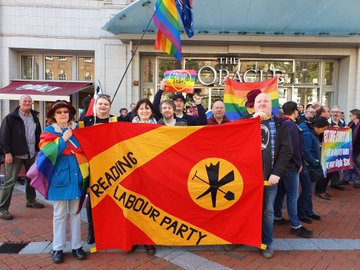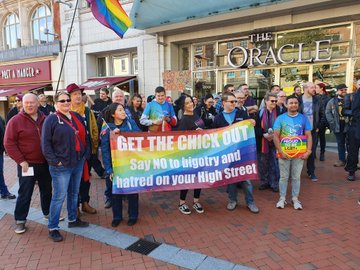 4003:38 – 19 Oct 2019 · Reading, EnglandTwitter Ads information and privacySee Sarah Hacker's other Tweets
Reading Pride chief executive officer Martin Cooper told PinkNews that the LGBT+ community needs to take a stand against the corporation.
"The individual franchises may have differing views to the family that own the company.
"But the profits that are made are used towards anti-LGBT+ activities, including conversion therapies and law making in Uganda, where officials want to 'kill the gays'.
"Therefore, it is appropriate to protest and let the community know where their money could go."
Labour councillors, local unions and officials from the UK Pride Organisers Network travelled to the city's shopping district to show their support.
While representatives from Gloucester Pride, Newbury Pride, Pride in Surrey and Weston-Super-Mare Pride swung to plump up crowds, which organisers estimated saw around 150 people attend throughout the day.
Standing in solidarity with @Reading_Pride #GetTheChickOut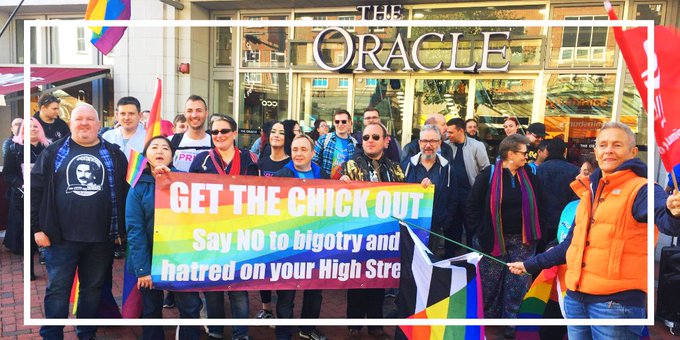 1703:44 – 19 Oct 2019Twitter Ads information and privacySee Newbury Pride's other Tweets
"All in all, the message was put across, and it was clear," Cooper recounted.
"We won't allow companies that are actively supporting oppression of LGBT+ persons to get away with setting up shop without calling to question their actions.
"They failed to respond, and so we took action.
"And it paid off."
RuPaul's Drag Race UK star allegedly turned away from Chick-fil-A.
Outside a Sainsbury's supermarket in the city centre, shoppers may have been given a flyer from Sum Ting Wong.
Wong was dressed to match the airy weather in a nondescript mustard beanie, grey drop-stitch cardigan and sandals.
Far removed from her usual powdered, perfumed drag that has made her a fan favourite on the show.
But the Reading local meant business as she joined protesters in solidarity.
Attempting to go into the Chick-fil-A, Wong was allegedly turned away by staff, according to a tweet.
"But I just wanted see if chicken tasted better than bigotry?" Wong continued.
Sum Ting Wong✔@IsSumTingWong · 8h

I was turned away from going into chick fil a
But I just wanted to see if chicken tasted better than bigotry?18304:52 – 19 Oct 2019Twitter Ads information and privacySee Sum Ting Wong's other Tweets
Moreover, Wong claimed in another tweet that customers in the branch threw "the middle finger" at protesters outside – an obscene hand gesture in the UK.