In less than three days a protest organized by students against the increase in subway fares turned into an imposing and unexpected national protest over years of inequalities in Chile that completely paralyzed the country and put the entire Chilean political class on notice. Millions of people have taken to the streets over the last few days to demonstrate their discontent.
Some of the massive marches have nevertheless ended with protesters attacking businesses, torching and looting supermarkets in the worst unrest the country has seen in decades. Chilean President Sebastián Piñera declared a state of emergency, deployed soldiers to the streets and imposed a curfew that deepened the conflict by unleashing the worst cases of human rights violations in the last 30 years in the Latin American country. A group of lawmakers have announced a constitutional complaint against Piñera.
"These weeks have been a time bomb that we all knew was going to explode, but we did not know that it would explode now and with such intensity," said Alessia Injoque, executive president of Fundación Iguales, a Chilean LGBTQ organization. Franco Fuica, legislation and public policy coordinator of Organizando Trans Diversidades (OTD), a trans advocacy group, has a similar opinion.
"We are living a social revolution," he affirmed.
The crisis in Chile has been brewing for a long time. Dictator Augusto Pinochet in 1973 staged a coup to topple Salvador Allende, Latin America's first democratically elected Socialist president. Pinochet reversed Allende's model and began to implement a diametrically opposed economic formula. The country became a sort of neoliberal laboratory and a cruel dictatorship that persecuted, tortured and killed its opponents.
A group of liberal economists who were educated at the University of Chicago, where they learned the ideas of Americans Milton Friedman and Arnold Harberger, who were known as the "Chicago boys," led Pinochet's economic changes. They implemented economic and social reforms that privatized everything, and were enshrined in Chile's 1980 constitution that was adopted in 1980 and remains in place.
Chile is the only country in the world where water is privatized, retirement pensions are low, health is bad and the majority of households have difficulties making ends meet at the end of the month. A report the U.N. Economic Commission of Latin America and the Caribbean (ECLAC) published in January that analyzed the evolution of poverty, spending and social inclusion revealed Chile continues to maintain its high rates of inequality. "1 percent of the population holds 26.5 percent of wealth," the investigation concludes.
"We have been in an unfair system for years, where everything is done to ensure the same people always win. Beyond that injustice, there was impunity where nothing happened to people who caused a lot of damage that runs from pain to frustration. The government was indolent and everything came to a head," said Injoque. The trans activist said they were truly afraid.
"I had chills when I found out that soldiers were out on the streets," they said.
"Piñera declared war against my grandchildren on national television, deployed the army to shoot and kill them for peacefully protesting (against) their enormous suffering and the people realize there is complicity there and I hear another loud clamor: 'Resign Piñera,'" Pamela Jiles of the Frente Amplio, a new political force in the Chilean Congress who has lead the impeachment movement, told the Washington Blade.
"My duty as a lawmaker is to constitutionally accuse Piñera, as Humanist Congresswoman Laura Rodríguez would have done, using a parliamentary procedure and a constitutional provision, to turn my back to the elite and face the people," Jiles explained. "It cannot be anything else because he has already seriously jeopardized the nation's security, has plunged the country into misgovernment and is the main — although not the only — person responsible for the deaths of those they should have protected."
Brutal cases of human rights violations allegedly committed by the Chilean armed forces have been reported since the onset of this social revolution. Repression, abuse of power, indiscriminate violence, illegal detentions and deaths prompted U.N. High Commissioner for Human Rights Michelle Bachelet, who is Chile's former president, to decide to send a team of observers to verify the cases, which include a young gay man who was illegally detained, tortured and sexually abused by the police.
Josué Maureira, a medical student at the Pontifical Catholic University of Chile who was arrested while bringing first aid to injured protesters, claims he was beaten until he was unconscious, mistreated because of his sexual orientation and gender identity, beaten again until his septum was broken, violated with a baton, threatened with death and jailed because of alleged attacks against police officers. The National Human Rights Institution has filed a sexual torture complaint.
"The states of emergency authorize the restriction of free movement, but not attempts to take people's lives. The 'exit from the crisis' as the elite likes to say, is only Piñera's exit. it is our obligation to stop the killing of innocent people," said Jiles.
Shane Cienfuegos, an activist and investigations coordinator of Colectiva Neutres who in recent weeks has managed to unify the majority of LGBTQ groups, mentioned that "I have been in the streets since the subway evasion, activating constituencies. We summoned all the organizations and more than 50 came. We made a diagnosis and discovered that we were vulnerable."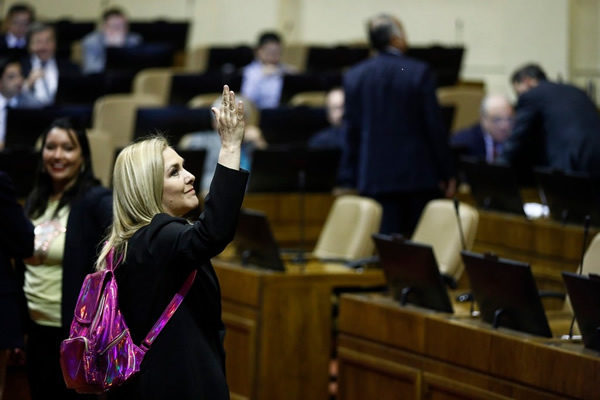 A massive demonstration across the country was called for Oct. 25. #LaMarchaMásGrandeDeChile (Chile's biggest march) was a trending topic on Twitter around the world and television stations across covered the historic protest, which drew more than 1.5 million people. "The other thing that I was going to say, that we have also forgotten to mention, is apart from soccer teams and Chilean flags that are very important, there are many flags from the LGBTQ movement, many people with different sexualities are also present and they are movements that are protesting today and their flags are there in the streets," interrupted Mónica Rincón, a CNN reporter and LGBTQ ally, on live television.
The majority of Chilean LGBTQ institutions on their social media networks backed the protests, while people of diverse sexualities were deployed in groups to participate. "We went out with a lot of passion and creativity to rise up with force and at the same time claim our rights that have been violated by the Chilean state for decades and go against a neoliberal system that oppresses us," added Cienfuegos.
Chile in 1999 decriminalized sodomy, and in 2012 enacted an anti-discrimination law — to which activists have pointed as inadequate — and same-sex couples since 2016 have been able to enter into a civil union. A gender identity law that will recognize trans people's right to identity will take effect in December of this year. There are also public policies that benefit sexual and gender diversity, but however, there is still much to do to win full equality in the country.
"We created a roundtable with 19 civil society organizations with a presence throughout Chile, to be able to work on certain matters of law that need to be modified to be able to ensure recognition, rights and guarantees to the LGBTQ+ community," said Natalia Castillo, a young member of the Chilean House of Representatives from the leftist Frente Amplio party who is behind a multiparty group for the rights of lesbians, gays, bisexuals, trans and queer called the "Diversity Caucus."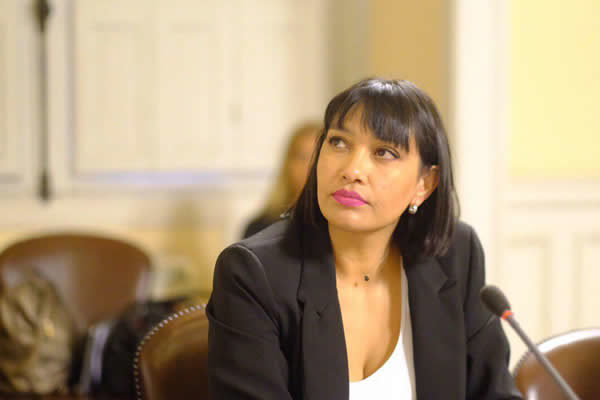 A marriage equality bill stalled in the Senate's Constitution Committee more than a year ago. The "Diversity Caucus" led by Castillo, on the other hand, is working on the creation of other legislative initiatives in favor of sexual and gender diversity that will be presented in the coming weeks.
"I think that it is a great opportunity to perfect the anti-discrimination law, to promote a law that penalizes the incitement of hatred, and perhaps, this is the moment that LGBTQ+ people will be compensated by the Chilean state for their historic violation," Fuica concluded.