Once rejected from a volunteer coaching position because of her "lifestyle," Katie Sowers will make NFL history as the first openly gay and female assistant coach headed to the Super Bowl.
Sowers is an offensive assistant coach with the San Francisco 49ers, whose win against the Green Bay Packers on Sunday secured the team's spot in the championship game Feb. 2 at Hard Rock Stadium in Miami. The 49ers will face off against the Kansas City Chiefs.
She is the second woman to coach in the National Football League and began her athletic career playing in the Women's Football Alliance for the West Michigan Mayhem and the Kansas City Titans. After retiring in 2016 because of a hip injury, Sowers joined the NFL as an intern for the Atlanta Falcons, and took the assistant coach position with the 49ers the next year.
Sowers became the first out gay coach in the NFL when she came out before the 2017 season.

Unreal night. Takin our talents to South Beach … Niners vs Chiefs … I couldn't ask for a better game #MiamiBound #kcishome #DreamBig10K11:31 PM – Jan 19, 2020Twitter Ads info and privacy1,046 people are talking about this
"No matter what you do in life, one of the most important things is to be true to who you are," she said in an interview with Outsportsafter coming out. "There are so many people who identify as LGBT in the NFL, as in any business, that do not feel comfortable being public about their sexual orientation."
"By standing out and proud as the first-ever openly gay NFL coach in a Super Bowl, Katie Sowers not only shows LGBTQ athletes and fans what's possible for them, but also shows the sport world as a whole that LGBTQ people are a valuable part of this community," Joanna Hoffman, director of communications at the national LGBTQ athletic advocacy group Athlete Ally, wrote in an emailed statement.
"The more barriers we can break down in football and in all sports, the more LGBTQ athletes, coaches and fans will be able to be who they are and be a part of the sport they love."
Recommended
Despite achieving a historic position of leadership in the highest level of national football, Sowers said she experienced LGBTQ discrimination in sports while in college, when was rejected from a volunteer coaching job because of her "lifestyle."
"I was so passionate about coaching and to feel like my opportunities were limited because of who I loved was hard to deal with," Sowers told Outsports. "However, without that experience, I would not be where I am today."
The incident encouraged the coach to use her platform to promote inclusivity. Sowers was in part responsible for the genesis of a Pride fan club for the 49ers last May, the first NFL team-sponsored group that officially recognized its LGBTQ fans. She also frequently posts pictures of her with her girlfriend on Instagram and talks about her experiences being a women's coach.
Athletes and fans are excited for Sowers' historic role at Super Bowl LIV and have remarked that her position is especially poignant given there have only been 13 out gay and bi players in the NFL's 100-year history, according to OutSports.
Big congrats to our friend @KatieSowers on that NFC title and for making history! She'll be the first woman to coach at a Super Bowl. Love to see it. #BeLegendary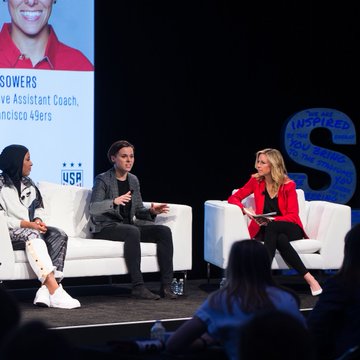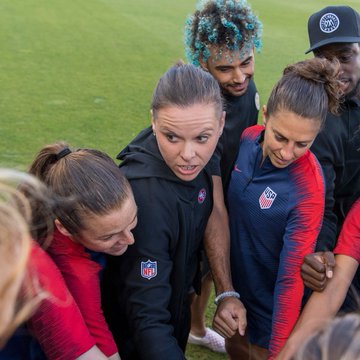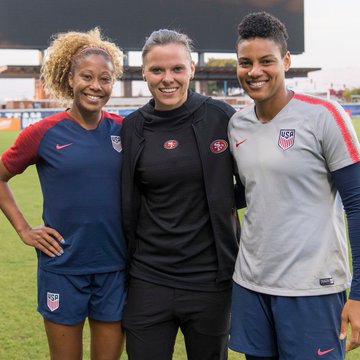 5,0769:05 AM – Jan 20, 2020Twitter Ads info and privacy444 people are talking about this
"Congratulations to @KatieSowers of the @49ers, who will become the first woman to coach in the #SuperBowl," tweeted Billie Jean King, gender equality advocate in sports and a former World No. 1 professional tennis player. "You have to see it to be it!"
"Phenomenal @KatieSowers," wrote World Cup champion and two-time Olympic gold medalist Hope Solo, alongside a clapping hands emoji.
Katie Sowers, the first openly lesbian coach in the NFL, is a tattooed masc from Kansas, when will I stop responding to these kinds of butches on a cellular level (never)17910:34 AM – Jan 20, 2020Twitter Ads info and privacySee Jeanna Kadlec 's other Tweets
Last week, another major advancement for women in professional sports occurred when Alyssa Nakken joined the San Francisco Giants as an assistant coach, becoming the first woman to be a part of a Major League Baseball coaching staff.