A coalition of centre-left parties in Poland has responded to the growing LGBT+ backlash in the country by appointing an openly gay candidate to stand in the next presidential election.
The strongly conservative Catholic country has seen a huge surge in homophobia after the ruling party Law and Justice (PiS) based its winning 2019 parliamentary election campaign on a platform of LGBT+ abuse.
The problem has grown so severe that more than 80 Polish municipal or local governments have now proclaimed themselves to be 'LGBT-free zones', a move strongly condemned by the European Parliament.
An alliance formed of three left-wing parties is now aiming to combat the increasing anti-gay rhetoric by backing Robert Biedroń, an openly gay politician and LGBT+ activist, as their joint candidate in the May presidential election.
Biedroń, 44, is a former MEP and current leader of the social liberal and pro-European party, Spring. Leaders of the left-wing alliance said they chose him for his support for women's rights, the rule of law and the separation of church and state – all of which have been undermined by PiS since it took office in 2015.
Wlodzimierz Czarzasty, leader of the Democratic Left Alliance (SLD) noted that Biedroń "has clear views on the secular state, on social affairs, on the EU, on matters of freedom, including women's issues".
During his political career he has pushed for the removal of catechism classes from public schools, free access to contraception and sexual education and the right to abortion for all women.
He has long campaigned for LGBT+ rights, including the formal recognition of same-sex partnerships, which are not yet legal in Poland. His commitment to the LGBT+ community was recognised when he was awarded Poland's 'Rainbow Laurels' in 2003 and named 'Rainbow Man' in 2004.
More from PinkNews
Stars you didn't know are gay or lesbianCelebs you didn't know have an LGBT siblingThe stars who went gay for pay
Tweeting after the announcement, Biedroń called his appointment "a great honour".
"The Left proves once again that cooperation works well for us. And we will continue to do so – for the good of Polish women and Poles," he added.


Dziękuję @__Lewica oraz @partiarazem za poparcie mojej kandydatury w wyborach na urząd Prezydenta RP. To wielki zaszczyt.

Lewica po raz kolejny udowodnia, że współpraca świetnie nam wychodzi. I będziemy to robić dalej – dla dobra Polek i Polaków.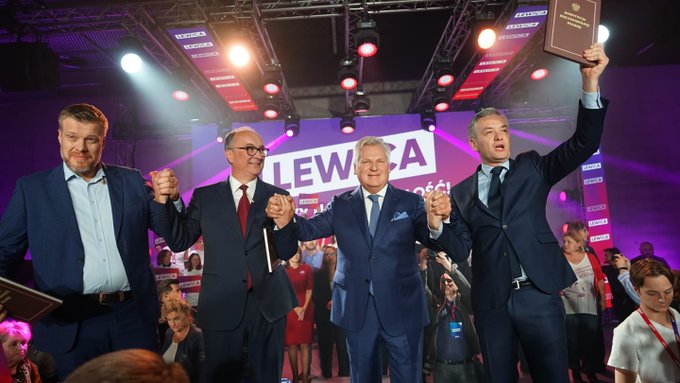 47105:50 – 7 Jan 2020Twitter Ads information and privacy83 people are talking about this
In May Biedroń will face incumbent right-wing president Andrzej Duda and liberal candidate Malgorzata Kidawa-Blonska, who is viewed as Duda's main rival.
If he wins the office of president, Biedroń will be "a guarantor of modern and diverse Poland, a good partner for the future leftist government", said liberal politician Adrian Zandberg.