Former US open-runner Scott Piercy lost several major endorsement deals Thursday for sharing a homophobic meme targeting former Democratic presidential candidate Pete Buttigieg and referencing far-right conspiracy theory QAnon.
Golf apparel brands Titleist and FootJoy, both owned up retailer Acushnet Holdings Co, alongside Swedish fashion house J Lindeberg, all dropped Piercy, Reuters reported.
Piercy was plunged into controversy after Buttigieg announced his historic campaign withdrawal. The golfer's 17,000 following tapped onto his Instagram stories to see a meme that mocked Buttigieg's sexuality as a gay man.
Three major brands shut down deals with Scott Piercy following homophobic meme.
It featured a crude cartoon news report, styled like American broadcaster CNN, with a ticker that read: "Peter pulls out early from behind."
With the "QNN" branding, Pepe the Frog newsreader and link to QMAP – a hub for the pro-Trump conspiratorial network – the meme drew mass criticism from sporting pundits and LGBT+ activists alike.
Backlash bubbled, and Scott Piercy attempted to tamper down criticism and issued an apology on a subsequent Instagram story, screenshots posted to Twitter Tuesday show.
Jeff DeRiso@JeffDeRiso · 3 Mar 2020
March 1, 2020 : Professional Golfer Scott Piercy (@ScottPiercyPGA ) posted this #QAnon meme on Instagram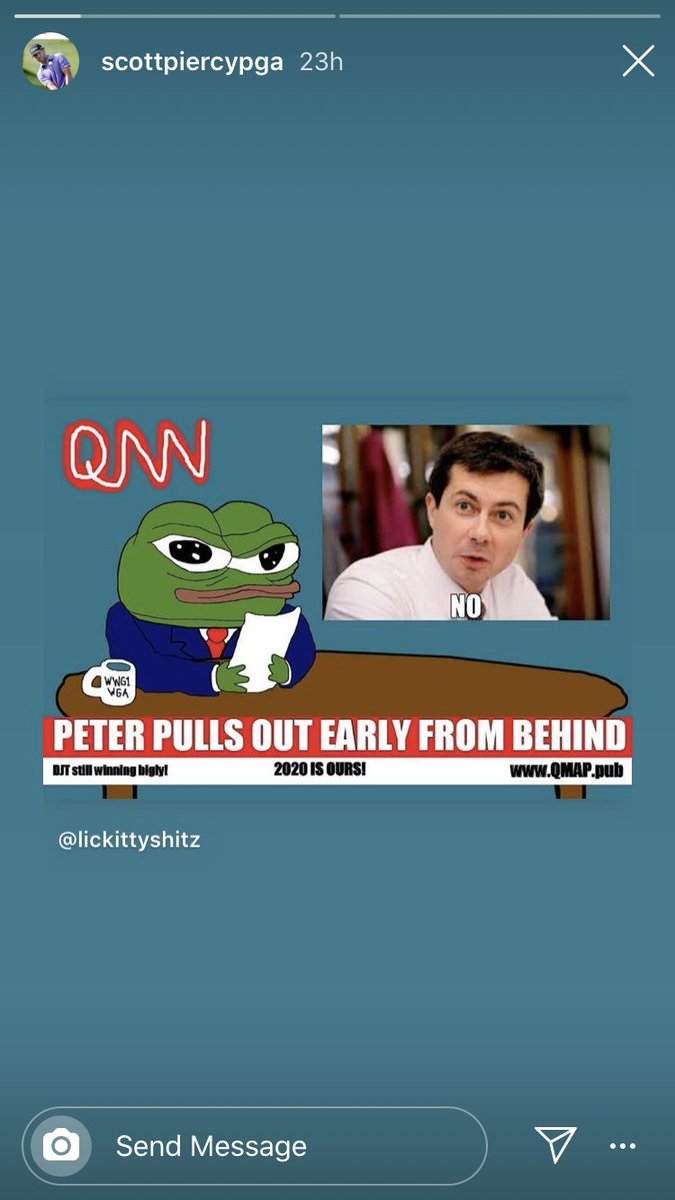 Here's his apology from todayhttps://www.golf.com/news/2020/03/03/scott-piercy-apologizes-homophobic-conspiracy-theorist-posts/ …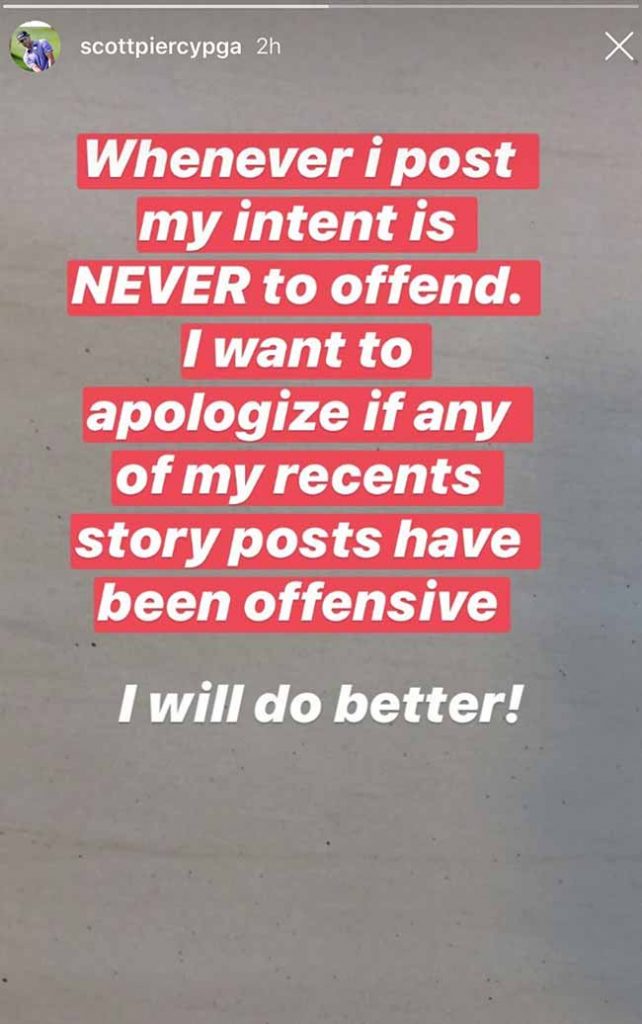 314:59 – 3 Mar 2020Twitter Ads information and privacySee Jeff DeRiso's other Tweets
"Whenever I post," he wrote, "my intent is NEVER to offend. I want to apologise if any of my recent [sic] story posts have been offensive.
"I will do better!"
But the apology did little to minimise detractor's fury. Titleist confirmed Tuesday it terminated Piercy's contract, with FootJoy following.
Speaking to Morning Read, the 41-year-old acknowledged his "terrible lack of judgement" at sharing the meme.
Shortly after, clothing maker J Lindeberg issued a statement Thursday saying it had ended its contract with Piercy, too.
"When we choose our ambassadors, we choose individuals we know will represent us well on and off the golf course," the statement read.
"The claims from Scott Piercy were unacceptable and far from our views and beliefs.
"We, J Lindeberg, as a company do not stand by the statements made by Piercy and we want to make sure our customers, employees, and other ambassadors know we support all communities and have no room for hate or discrimination in our company."
Moreover, the star may face disciplinary action from the PGA Tour, according to ESPN, which said in statements it is "disappointed in the lack of judgement used" and that representatives had "addressed with Scott directly".