Professor Gita Ramjee, a highly acclaimed scientist who dedicated her life to fighting and preventing HIV, has sadly died of coronavirus.
Ramjee, 64, was a South African researcher internationally renowned for her work expanding disadvantaged women's access to HIV treatment.
On March 31 she tragically passed away from coronavirus complications, having just returned from a symposium in the UK. She was working on trials for a gel that could potentially reduce HIV infection.
"The passing of professor Ramjee comes as a huge blow to the entirety of the healthcare sector and the global fight against HIV/AIDS," the deputy president of South Africa, David Mabuza, said in a statement.
"In her, we have indeed lost a champion in the fight against the HIV epidemic, ironically at the hands of this global pandemic.
"In her honour, we should heed the call to flatten the curve by strengthening our responses to this global pandemic as well as continue the fight to achieve zero new HIV infections."

Deeply saddened by the loss of an #HIVprevention pioneer, Gita Ramjee. She was a tireless champion of science, research, women's reproductive health and rights — and may we all build on her legacy and make her calling, her dream a reality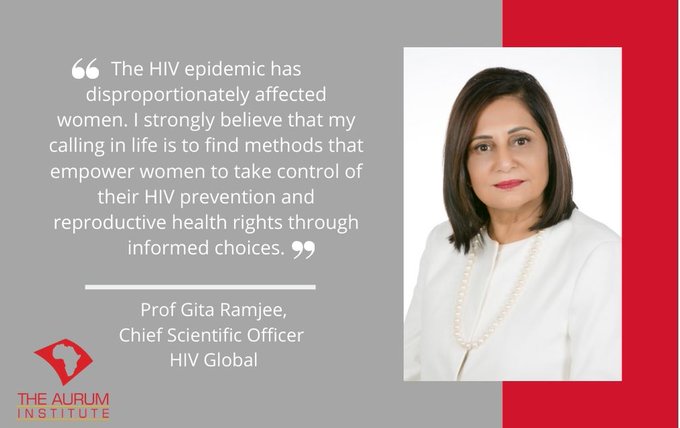 21811:48 – 31 Mar 2020Twitter Ads information and privacy122 people are talking about this
Ramjee held an honorary professorship at the the London School of Hygiene and Tropical Medicine, as well as the University of Washington and the University of Cape Town.
In 2018 she was awarded the Outstanding Female Scientist award from the European and Developing Countries Clinical Trials Partnership in recognition of her work on HIV prevention, notably the field of microbicide research.
The international scientific community are now paying tribute, with the head of UNAids Winnie Byanyima describing her death as "a huge loss" at a time when the world needed her most.
"Gita was a vibrant person, a real fighter," her colleague, professor Gavin Churchyard, told the BBC. "If she sets her mind on something, nobody better stand in her way.
"That will be my lasting memory of her – how she fought with everything to advance access to healthcare for women in disadvantaged communities."
Many other scientists and researchers took to Twitter to share their grief at her passing.