Tony McDade, a Black trans man, was shot and killed by what is Florida's third fatal police shooting in two months.
On Wednesday (May 27), Tony McDade was shot and killed by a white police officer in Tallahassee, north Florida.
Local news, which along with the Florida Police Department initially misgendered McDade, reported that he was a suspect in a fatal stabbing.
Tallahassee Police Chief Lawrence Revell told reporters at a news briefing at the scene on Wednesday: "The suspect from that stabbing fled on foot, and a description was provided to responding officers.
"The suspect description that was broadcast was a black [male, wearing] all black, bald, armed with a pistol and a knife."

Jada E. Williams@JadaEWilliams
A lot of people out here at Holton street apartments and they're visibly upset. Dozens of people crying. Officers are investigating right now. All they can tell us is that an officer shot someone in this complex. @abc27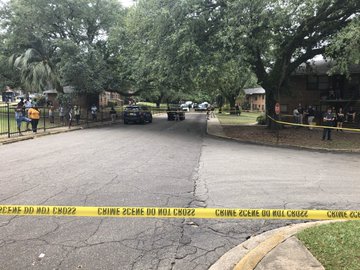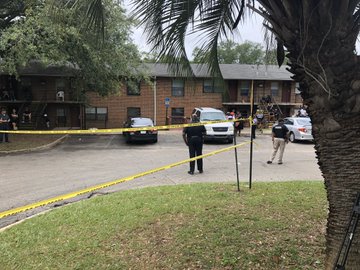 1309:15 – 27 May 2020Twitter Ads information and privacy18 people are talking about this
Tony McDade's death arrives 'as America is roiled by the murder of George Floyd'.
Officers were called to Saxon Street at 10.45am, shortly after the unidentified man had been stabbed. He later died from his injuries.
Fifteen minutes after being provided with his description, officers confronted Tony McDade on nearby Holton Street in the Leon Apartment complex.
He was shot by an unnamed white police officer and died in hospital.
At least 11 other trans or gender-nonconforming people have been fatally shot or killed by other violent means in 2020, according to the Human Rights Campaign, which tracks anti-trans violence in the US.
"Tony's death brings national scrutiny and is a stark reminder of the epidemic of violence that disproportionately claims the lives of Black transgender people in America," said LGBT+ advocacy group Equality Florida in a statement.
"His death arrives as the country is roiled by the murder of George Floyd by law enforcement in Minneapolis and the police brutality that disproportionately targets communities of colour."
The police murder of unarmed black trans man #TonyMcDade yesterday struck close to me as a trans person. It was racially motivated. Trans people also face gross police violence, which I read about often.

Here are Black trans men I've read on their experience of police brutality.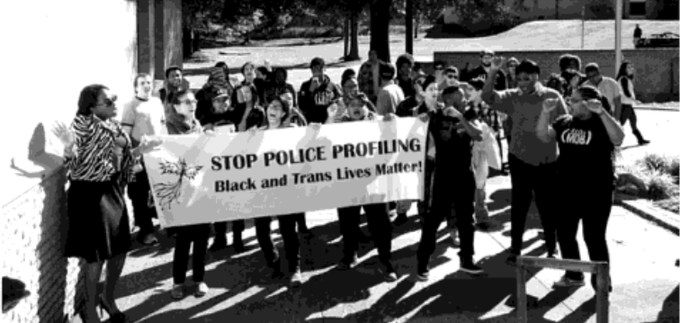 26717:50 – 28 May 2020Twitter Ads information and privacy133 people are talking about this
Multiple reports by local news and on social media said that McDade was unarmed and had not been warned before the officer began shooting. This has been disputed by the police, who said that McDade was armed with a gun and "made a move consistent with using the firearm against the officer".
Asked by reporters at the briefing, Revell said he did not know whether body-camera footage of the incident was taken, and he also did not know how many shots were fired.
Revell added that there was "no indication" of wrongdoing by the police or of a "racial motivation" for the shooting.
The officer was unhurt and has been placed on administrative leave.
boo boo the banjee fool@TheyDavis
This happened YESTERDAY
Police murdered another man yesterday
Another unarmed black person was killed yesterday #TonyMcDade #BLACKTRANSLIVESMATTER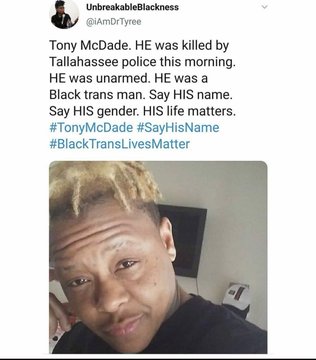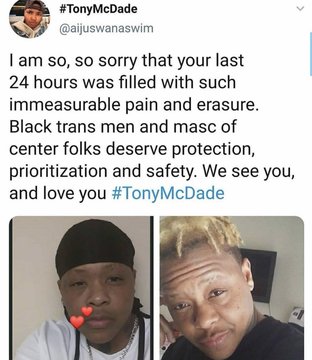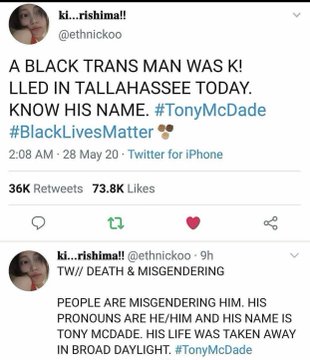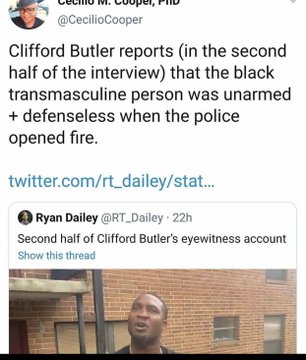 58612:08 – 28 May 2020Twitter Ads information and privacy508 people are talking about this
On Wednesday evening, neighbours gathered in Leon Apartments to mourn McDade and set up a makeshift memorial next to the palm tree near where he was shot.
Around 20 to 30 people gathered, lighting candles and leaving flowers and posters.
The posters said "Black lives matter" and "Justice for Tony".
A petition calling for "justice for Tony McDade" has been signed by more than 50,000 people.