Nearly two months after it was cancelled due to coronavirus, LA Pride will be revived as a Black Lives Matter march to honour the legacy of the Stonewall Riots.
The parade was due to take place on June 14 to commemorate LA Pride's 50th anniversary. Now this date will instead see a solidarity protest march in response to racial injustice, systemic racism, and all forms of oppression.
In a statement on Wednesday the parade organisers Christopher Street West said the march will hark back to Pride's roots as a protest for social justice.
"Fifty years ago Christopher Street West took to the streets of Hollywood Blvd in order to peacefully protest against police brutality and oppression," said Estevan Montemayor, the organisation's president.
"It is our moral imperative to honour the legacy of Marsha P Johnson and Sylvia Rivera, who bravely led the Stonewall uprising, by standing in solidarity with the Black community against systemic racism and joining the fight for meaningful and long-lasting reform."
In accordance with advice from the California Department of Public Health, participants will be expected to wear masks or other face coverings and take other appropriate social distancing measures.
Together With Pride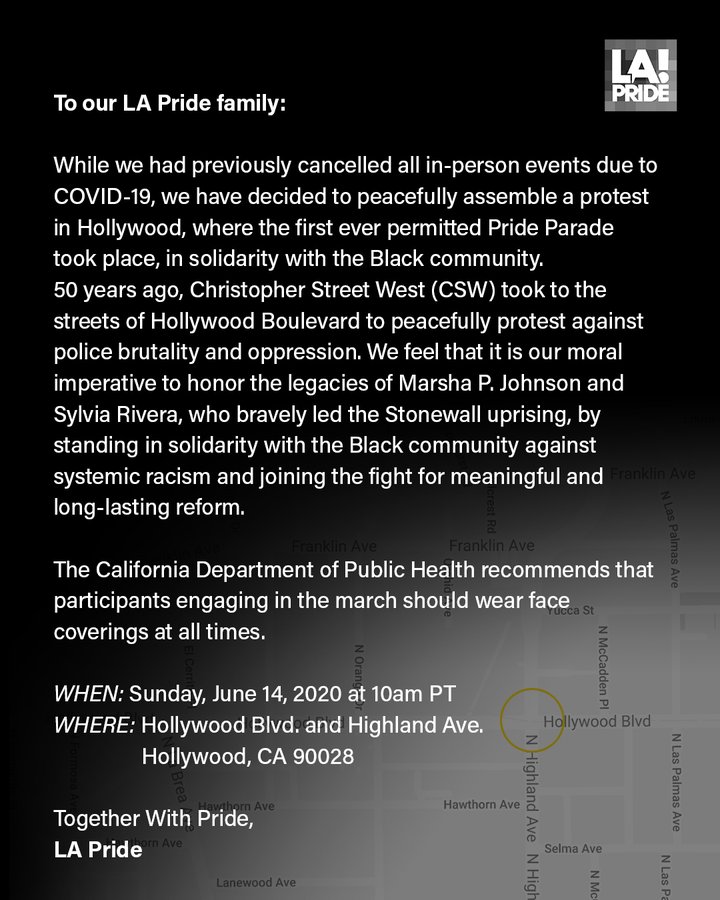 99206:25 – 3 Jun 2020Twitter Ads information and privacy587 people are talking about this
"We have been told that it is safer at home – and that is absolutely true; it is safer at home during this health pandemic – and that unless it is absolutely necessary you should not leave your home," Montemayor told the 
"But as we reflect on what is occurring, I think it is very fair to say that it is absolutely necessary that we leave our homes and speak loudly and clearly about this injustice and peacefully protest."
She added that Marsha Johnson's struggle, strength and courage were part of what led the Christopher Street West board to the unanimous decision to hold this protest.
"As a trans person, as a Black woman, as a member of this community, she had to deal with oppression on many fronts," she said. "I think it is our imperative to continue to fight the injustice and the oppression that we are currently witnessing."