HIV/AIDS service providers in Florida say the coronavirus pandemic has further exacerbated health care and economic disparities that many of their clients face.
Tatiana Williams is the co-founder and executive director of Transinclusive Group, a Fort Lauderdale-based organization that serves transgender people in South Florida. Williams is also the co-chair of South Florida FLUX, which advises AIDS Healthcare Foundation on trans-specific issues.
Williams on Aug. 11 told the Washington Blade during a telephone interview from Fort Lauderdale the pandemic "just really highlighted some of the challenges that are happening within the transgender community."
"A lot of our clients were already dealing with unemployment, dealing with a lack of access to health care, dealing with a lot of these issues," she said.
Williams said her organization's Transinclusive Emergency Crisis Fund has been able to provide clients emergency housing and a host of other services that include help paying utility bills and medications.
"You had a lot of our clients working in these nightclubs that were closed down, so a lot of them immediately went into a position of survival mode and not having access to a lot of things," she said. "With COVID, it just turned their lives upside down."
Williams said problems with Florida's unemployment system delayed payments to many Transinclusive Group clients who lost their jobs because of the pandemic. Williams told the Blade they "were behind" once they began to receive unemployment checks, and this delay created "gaps" in their medications.
"A lot of health care providers weren't working at full capacity," she said. "A lot of them weren't even returning calls, so a lot of the clients, especially HIV-positive clients, hadn't received care, so we had to go into the telemedicine mode and we were linking people back to care."
Other HIV/AIDS service organizations in Florida have made similar adjustments in response to the pandemic.
Arianna Lint is a Peruvian woman with HIV who founded Arianna's Center, a Wilton Manors-based organization that serves trans women with HIV.
She told the Blade on Aug. 3 during an interview at her office the pandemic has made her organization's work "more difficult because we have (had) to invest more time" with teaching clients how to use technology to access health care. Lint said Arianna's Center has also had to visit clients at their homes.
Stephen Fallon, co-founder and director of Latino Salud, another Wilton Manors-based organization that serves LGBTQ Latinos with HIV, during a July 23 Zoom call with other HIV/AIDS service providers that AIDS Healthcare Foundation organized said the majority of health care providers in his area remained open "to some extent" during the lockdown imposed when the pandemic began. Fallon said testing agencies were closed during this period.
"We were getting deluged with all the folks who needed testing services who couldn't go anywhere," he said.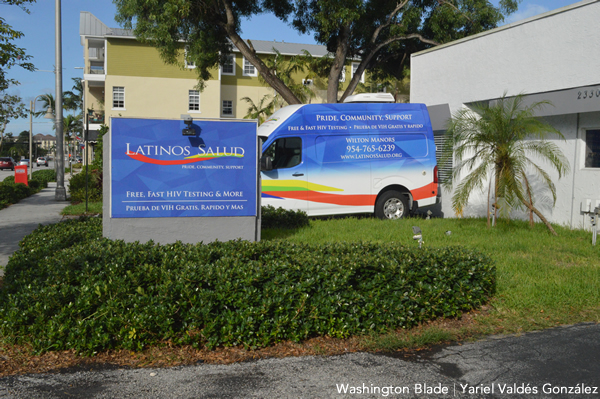 Scott Pridgen is executive director of AH Monroe, an organization that serves people with HIV/AIDS in the Florida Keys.
AH Monroe has offices in Key West, Marathon, Tavernier and Key Largo.
Pridgen on Aug. 12 told the Blade during a telephone interview from Key West the pandemic has forced his organization to operate its offices virtually, "which is new because a lot of our case management, especially our older population that is living with HIV have other co-morbidities that require more of a physical, hands-on type of care versus doing it virtually."
"We've had to take that into consideration," said Pridgen.
The pandemic began during the height of the Keys' tourism season, which Pridgen said is "when people make their money to carry them through during the slow season."
Pridgen told the Blade that AH Monroe has been able to provide short-term mortgage, rent and utility assistance through grants from the CARES Act, the Housing Opportunities for Persons with AIDS (HOPWA) program and the U.S. Department of Housing and Urban Development's Office of HIV Housing.
"The biggest need due to COVID-19 in Monroe County is housing, paying rent for someone or mortgages," said Pridgen.
Pridgen added Keys residents "who've never asked for anything, ever, ever, (are) in line at the food bank or you're handing them a bag of groceries."
AIDS Healthcare Foundation Regional Director Dawn Averill is based in Pensacola, but works throughout Florida and the Deep South. Averill on the July 23 Zoom call echoed Pridgen's observations about the pandemic's impact.
"We're actually seeing a lot of fear," said Averill, referring to people with HIV/AIDS. "They're fearful to go to the grocery store. They're fearful to come to the office, to get their blood drawn, to see their families."
Averill also noted "significant health disparities" in rural and urban areas that factor into health outcomes for people with HIV/AIDS.
State Rep. Carlos Guillermo Smith, who represents portions of Orlando in the Florida House of Representatives, on Aug. 14 noted to the Blade during a telephone interview that HIV rates in Florida are higher among trans people, people of color, undocumented immigrants and other vulnerable groups. Smith said efforts to curb the coronavirus' spread have had a disproportionate impact on these populations.
"Quarantines and other COVID-related restrictions are also pushing people with HIV who are already vulnerable into isolation away from friends, chosen family," he added.
South Florida remains state's coronavirus epicenter
The Florida Department of Health on Tuesday said there have been 579,932 confirmed coronavirus cases in the state. Statistics also indicate the pandemic has killed 9,758 people in Florida.
Miami-Dade and Broward Counties remain the pandemic's epicenter in Florida, with 25 and 12 percent of the state's total cases respectively. Statistics indicate the coronavirus has killed 2,126 people in Miami-Dade County and 1,025 people in Broward County.
The Florida Department of Health reported 15,300 new coronavirus cases on July 12, compared to 3,838 new cases on Monday. A press release notes the rate of positive tests in the state on Tuesday were below 10 percent for the sixth consecutive days.
Republican Gov. Ron DeSantis nevertheless continues to face widespread criticism over his response to the coronavirus. Many of the HIV/AIDS service providers with whom the Blade spoke noted he has not imposed a statewide mask order and moved too quickly to reopen Florida.
"He's shown time and time again that he is a politician over everything," Equality Florida HIV Advocacy Coordinator Alejandro Acosta told the Blade on Aug. 14 during a telephone interview from Wilton Manors. "He makes health care decisions based on his politics and his personal beliefs and that is not conductive for a good public health outcome."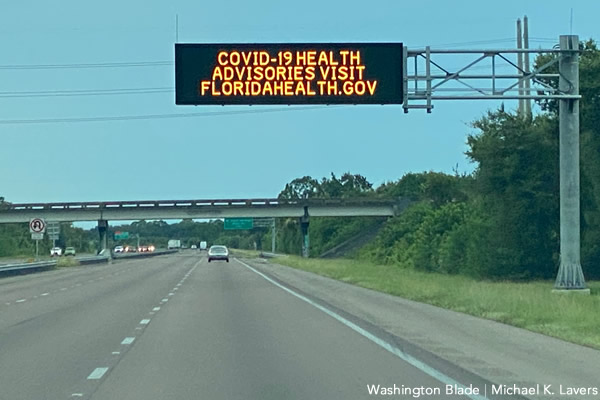 Smith, who is also Equality Florida's Central Florida Outreach Coordinator, told the Blade he welcomed DeSantis' decision in March to lock down nursing homes and other long-term care facilities in order to curb the pandemic's spread. Smith was nevertheless critical of the governor's overall response.
"We're the world's epicenter of the pandemic and we still don't even have a statewide mask order, which costs us nothing," Smith told the Blade.
Smith also expressed concern over the Department of Health's decision to reassign employees who worked on HIV and STI-related issues to fight the coronavirus.
The Department of Health on Tuesday declined to make anyone available to the Blade for an interview about efforts to protect vulnerable Floridians with HIV/AIDS during the pandemic.
"COVID-19 requires an unprecedented response at both the state and local level," said the Department of Health in an email.
The Department of Health has yet to respond to a follow-up email about Smith's concerns.
"We have an HIV workforce in Florida," Smith told the Blade. "As a direct result of COVID-19, we're just kind of seeing this trend of diversion of scientific and public attention away from HIV in Florida. That's what has me concerned."
"We could come out of the other end of this pandemic and realize that we have another public health crisis on our hands," he added. "It's a recipe for disaster if we don't focus and if we don't veer course when it comes to staying committed to HIV prevention."