A group of transgender activists are working to open a shelter for homeless trans and gender non-conforming people in New Orleans.
Milan Nicole Sherry, co-director of House of Tulip, told the Washington Blade on July 27 during an interview at her Uptown New Orleans home that she expects the shelter will open in the city next spring or summer.
"We wanted to create a forever home for our community, a space where there were no barriers, a space where they could actually come and get the resources that they need, get the love and nurturing that they need," said Sherry as her husband, Za'hair Martinez, listened.
Sherry and Mariah Moore, a trans activist who also lives in New Orleans, first came up with the idea that became House of Tulip — Tulip is an acronym that stands for Trans United Leading Intersectional Progress — earlier this year after the coronavirus pandemic largely shut down the city's hospitality and tourism industries.
"Many of the folks within our community, specifically transgender and non-conforming people who work in the service industry in New Orleans found themselves at risk of losing their jobs," said Sherry.
House of Tulip Treasurer Dylan Waguespack is also the president of Louisiana Trans Advocates' board of directors.
Waguespack and three other activists in March created the TGNC Peoples COVID Crisis Fund of Louisiana to help trans and gender non-conforming people in Louisiana pay for food, medication and housing during the pandemic. The fund has raised more than $20,000, but Sherry told the Blade it soon became clear the lack of housing in New Orleans was a long-term problem.
House of Tulip on its website notes a third of trans people in Louisiana "report experiencing homelessness at some point in their lives."
The U.S. Department of Housing and Urban Development notes the average rent for an apartment in the New Orleans metropolitan area during the first quarter of this year was $1,110 a month. The U.S. Census notes New Orleans has a 24.6 percent poverty rate.
Sherry noted poverty rates are even higher among the city's Black trans residents. She also told the Blade they are more vulnerable to discrimination and violence because of their gender identity.
Louisiana's hate crimes law includes sexual orientation, but not gender identity. Two Black trans women — Draya McCarty and Shakie Peters — were found dead earlier this summer in Baton Rouge and Amite City respectively.
"There's no reason why, even in 2020, that we are seeing the amount of homelessness that we're seeing in community," Sherry told the Blade. "There's no reason why in 2020 we should still be seeing the amount of violence that we're seeing in this community, but we're here and this is where we're at."
Sherry said GED and job training programs and access to mental health care are among the additional services to which House of Tulip clients will have access.
"This is not just providing folks with just housing," she said, noting Tulip in the shelter's name stands for Trans United Leading Intersectional Progress.
The GoFundMe campaign that House of Tulip has launched has thus far raised $412,995. More than 7,000 people have donated to the effort.
"Community has always taken care of community; we have done it since 50 years ago when Stonewall first started," said Sherry. "Community has always taken care of community; even through times of pandemic, even through a time of Trump … we've always shown up for one another, so I'm not surprised that this community has really shown up once again and yet again."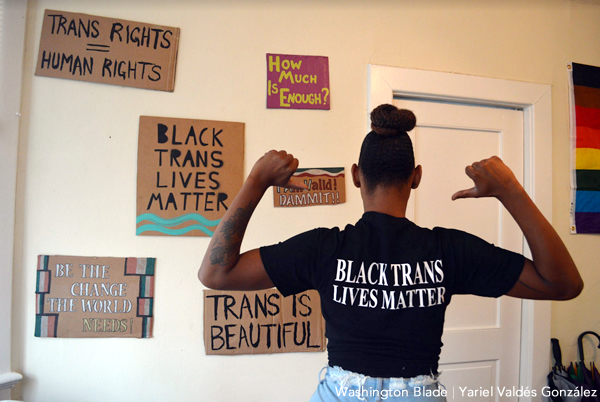 'I have nothing to lose, but everything to gain'
Sherry, 29, grew up on New Orleans' West Bank with nine siblings.
She told the Blade she grew up in a "dominantly male household."
"I grew up with dealing with a lot of misogyny, toxic masculinity and things of that nature," said Sherry.
Sherry in 2009 graduated from high school. Sherry the following year became a founding member of BreakOut!, a group that, among other things, works to end police harassment of LGBTQ youth.
"There was literally a time here in New Orleans where you could not walk down the street as a Black trans woman without literally being snatched off of the streets and then thrown into jail and charged with solicitation of prostitution, crimes against nature," she said. "It was so easy to target and literally harass our community."
Sherry further noted "as a trans woman, even in my moments where I could have gotten damn near the dog shit beaten out of me, I will not call the police because I had known just from experience … that calling the police did not work out in our best interests."
"So police, you know, were just never our friends," she added.
Sherry celebrated her 29th Birthday on July 23.
She told the Blade she was unable to celebrate previous Birthdays because she either could not afford it or was in jail. Sherry also noted a Black trans woman's average life expectancy is 35 years.
"I have never envisioned myself where I am today," she said. "To be honest I didn't expect myself to be alive."
Sherry said she lived on Tulane Avenue eight years ago with other trans women and sex workers. Sherry told the Blade she and other tenants paid their rent by the week.
"Literally when I say I have nothing to lose and everything to gain, I have nothing to lose, but everything to gain," she said.
Sherry, who lives with HIV, told the Blade she has also struggled with addiction and mental health issues.
"If I wanted to be a bitch, I can justify about all of the trauma and just, but when you know better you do better," she said. "I'm not going to cause the same harm that's been caused over and over and over again."
Martinez, a native of St. Augustine, Fla., who describes himself as a "trans masculine man," praised his wife and Moore for their work on House of Tulip. Martinez also applauded trans women who supported him in his life.
"They are the ones who paved the way for me to be Za'hair," he said. "It's only right for me to follow the leadership of my wife and Mariah and to have their back."