I don't know about you but I've seen a lot of lists of 'best lesbian films' or 'films about bi women that you must see' which are (almost) entirely comprised of films about white women. Don't get me wrong- those films are great- but if we don't also talk about the films that focus on lesbians and bi women of color, we are missing out on some major talent.
Fiona: As an artist, not working in either a corporate environment or an environment where I have to work with other people makes it easier for me to be who I am. I don't have to say, "oh I have to balance being a woman, with being black, with being queer, with being an immigrant. I'm just all those things all the time."
This incredible feature length documentary shares the lives and views from various black lesbians on their sexuality, media representation, patriarchy, homophobia, and activism; inspiring honest and progressive conversations and highlighting how black lesbians are viewed, ignored, and affected by society.
Director Tiona McClodden had conversations with almost 50 out, black, lesbians including Filmmaker/Activist Aishah Shahidah Simmons, Hip-Hop Duo KIN, and Author Fiona Zedde.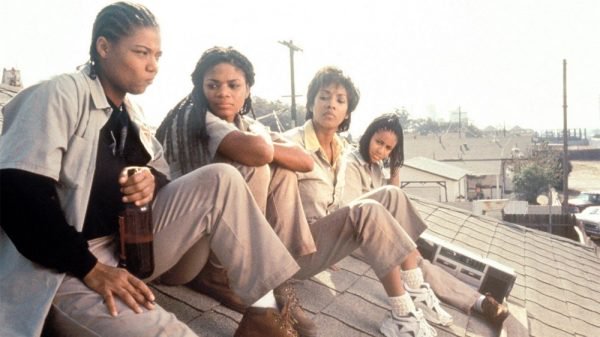 New Line Cinema
Cleo: That's what we need to do, rob a bank.
Stoney: That's stupid; ain't nobody over here gonna be robbing no bank.
Cleo: We're gonna end up dead anyway.
This film centers around Cleopatra 'Cleo' Sims (Queen Latifah), and her friends Stoney (Jada Pinkett Smith), Frankie (Vivica A. Fox) and T.T (Kimberly Elise) as they plot to go on a bank-robbing spree for four very different reasons. What starts off as a crazy 'what if', quickly escalates into murder.
Will they get caught? Whose life is in danger? Will any of them escape?
I Can't Think Straight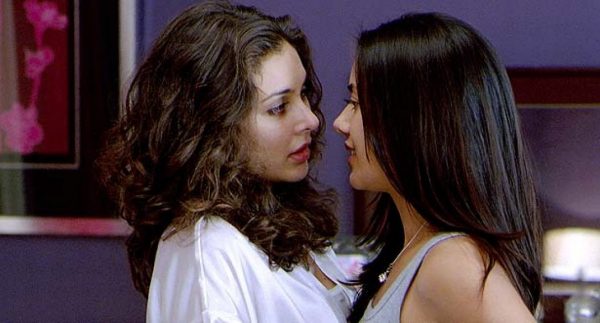 Layla: Have you ever done this before?
Tala: Slept with a woman while my fiancé makes wedding preparations?
This beautiful film features a Palestinian woman, Tala (Lisa Ray), who is currently on her fourth engagement to a man (for some reason the first three just didn't stick) when she meets her best friend's girlfriend and emerging writer Layla (Sheetal Sheth).
The two begin an affair and Tala begins to question her sexuality (you see what I mean about those past engagements not working out) but Layla ends the relationship after Tala messes up. Will they end up together or will convention force them apart?
Frida (Amazon Prime)
Tina: Whoever takes the biggest swig [of Tequila] can dance with me.
Frida: *swigs* Shall we?
This biopic of bisexual Mexican artist Frida Kahlo (Salma Hayek) explores Frida's life and loves against the political and cultural backdrop of the early 20th Century. Although much of the movie does focus on her dysfunctional relationship with fellow artist Diego Rivera (Alfred Molina), we do get glimpses of her affairs with lady loves, like Tina (Ashley Judd).
Circumstance (Netflix Canada)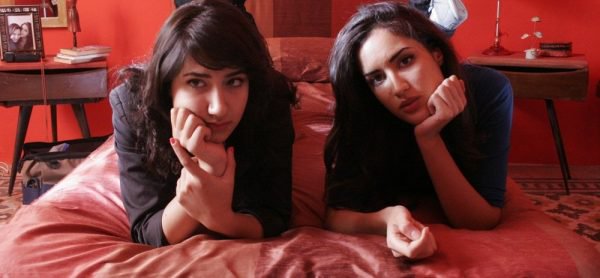 Atefeh: I can't do this anymore.
Shirin: Nothing has changed. I love you.
This heartbreaking drama tells the story of how hard it is to be LGBT under the Iranian Regime. It's the story of Atafeh (Nikohl Boosheri), a rich teen, and her girlfriend Shireen (Sarah Kazemy), an orphan, who love partying and experimenting with drink and drugs (despite the fact that Atafeh's brother Mehran's (Reza Sixo Safai) is an ex-addict).
As the girls grow closer, Atafeh's family tries to tear them apart and Mehran becomes increasingly religious and becomes obsessed with Shireen.
This movie is actually based on the experiences of director/writer Maryam Keshavarz who grew up in Iran. Because the film dealt with a lesbian storyline, fake scripts sent to the Lebanese authorities and the actors had to accept that they may not be able to see their families after the release. That's pretty heartbreaking in itself.
Stud Life (Amazon Prime)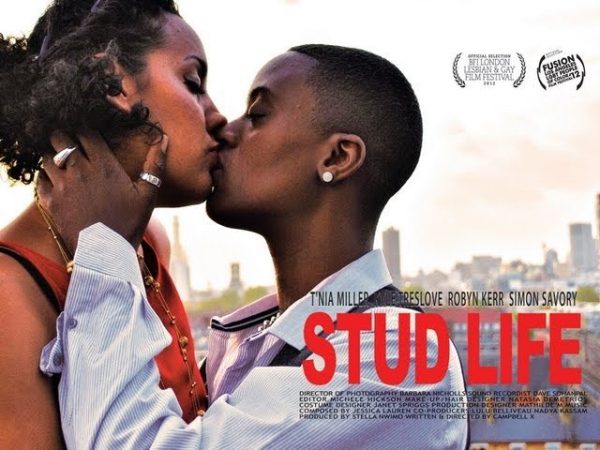 JJ: You don't like Elle, do you? You can't stand to see me with somebody.
Seb: She's not right for you.
This British indie film focuses on stud lesbian, JJ (T'Nia Miller), and her gay best friend, Seb (Kyle Treslove), whose friendship is tested when she falls for the beautiful diva, Elle (Robyn Kerr). Will JJ be forced to choose between an old friend and a new love? Or can this be worked out?
The Watermelon Women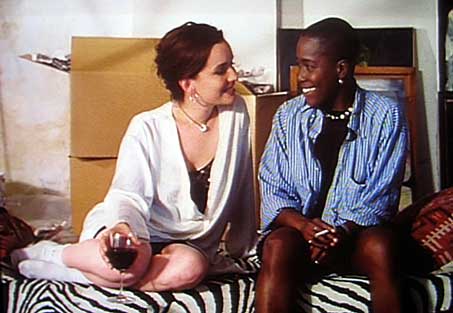 Cheryl: I've [watched] all these films from the 30s and 40s with black actresses in them, like Hattie McDaniel and Louise Beavers and in some of these films, the black actresses aren't even listed in the credits and I was just totally shocked by that.
I will admit that I find the title of this movie troubling but stay with me here.
This movie follows Cheryl (Cheryl Dunye) a young black filmmaker who works at a video store (if you're under 18, video stores are like a brick and mortar Netflix) with her friend Tamara (Valarie Walker).
Cheryl watches several films from the 1930s and 1940s and notices that the black actresses in them were not credited (which is typical of the time period). After seeing one particular film in which a Mammy-style character is billed in the credits only as The Watermelon Woman, Cheryl sets out to find out more about the actress and create a documentary about her life.
While working on the documentary, Cheryl meets and falls for Diana (Guinevere Turner), who Tamara dislikes. Then Tamara accuses Cheryl of wanting to be white and Diana, who is white, of having a fetish for black people.
Will Cheryl track down the actress? Will Tamara split Cheryl and Diana up?
Pariah (Netflix)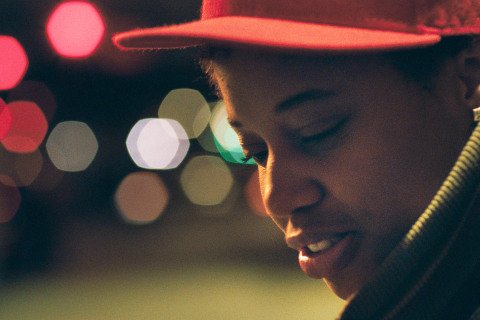 Focus Features
Alike: I am not broken, I am free.
This is the story of 17-year-old Alike (Adepero Oduye), a butch lesbian who is exploring her sexuality, deciding to dress androgynously, and falling in love for the first time, with femme Bina (Aasha Davis).
Upon coming out, Alike faces violence from her mother, Audrey (Kim Wayans), who cannot accept her daughter and wants her to act 'feminine' and be straight. Alike has a choice to make; should she attempt to gain her mother's approval or leave early for college?
Bessie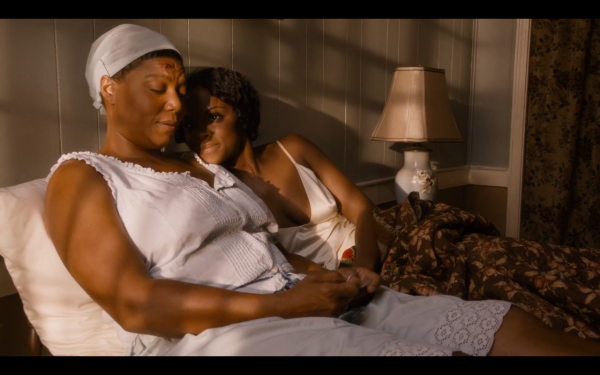 Bessie: I ain't playing second to nobody!
This HBO biopic about bisexual blues singer Bessie Smith (the second entry for Queen Latifah on this list) is truly one for the ages.
It certainly doesn't shy away from depicting the racism that Bessie was subjected to throughout her life, from vaudeville producers who refused to feature dark-skinned black women in their shows to the attitudes of rich white guests but it is interspersed with tender moments featuring her lover Lucille (Tika Sumpter) and uplifting scenes Ma Rainey (Mo'Nique) taking Bessie under her wings.
In what might be the most epic moment of the movie, Bessie chases off the KKK who attempt to attack her during a show.
The Women of Brewster Place (Netflix)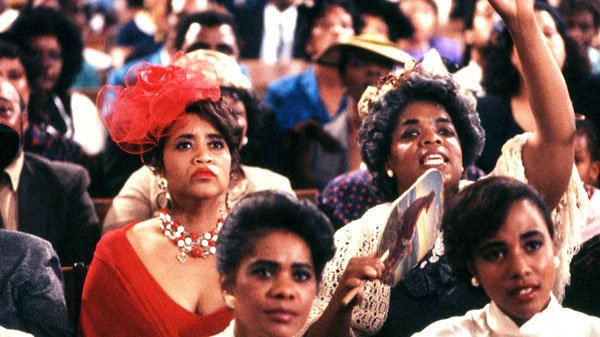 Theresa: Lorraine, you are a lesbian. A dyke, a lesbo, a butch, all those names that boy was calling you. Yes, I saw it! And you can run in all the basements in the world, and it's not gonna change anything. Why can't you just accept it?
Lorraine: I have accepted it! I've accepted it all my life! I lost my family because of that, but it doesn't make me different than anybody else in this world!
This 1989 made-for-TV movie, based on the novel of the same name by Gloria Naylor, tells the story of several black women who live in a rundown housing project.
Lorraine (Lonette McKee) and Theresa (Paula Kelly) are a lesbian couple who fled suburbia due to their sexuality but find that homophobia is just as much of a problem in the city. Although they are not the main characters, their role was ground-breaking at the time.
Bonus: This movie was produced by and stars Oprah Winfrey.
This is absolutely not a complete list and I would love to see your suggestions in the comments for other films about lesbians or bi women of color that you've particularly enjoyed so that we can all increase our catalogue of fantastic films.