Some of the 50 human rights activists that a Columbia University researcher has helped evacuate from Afghanistan since the Taliban regained control of the country are LGBTQ.
A press release the Washington Blade received notes Taylor Hirschberg — a researcher at the Columbia Mailman School of Public Health who is also a Hearst Foundation scholar — has worked with Belgian Sen. Orry Vandewauwer to help 50 Afghan "activists leave the country."
"The refugees included those who identify as LGBTQI+ or gender non-conforming and their families," notes the press release.
The Blade has seen the list of names of the more than 100 people that Hirschberg and Vandewauwer are trying to evacuate from Afghanistan. These include the country's first female police officer, the independent U.N. expert on Afghanistan and a number of LGBTQ activists.
"There are many more human rights advocates we are still trying to get out of the country," said Hirschberg.
Hirschberg has previously worked in Afghanistan.
He and Vandewauwer were also once affiliated with Skateistan, an NGO that works with children in the Middle East and Africa. The documentary "Learning to Skateboard in a Warzone" features it.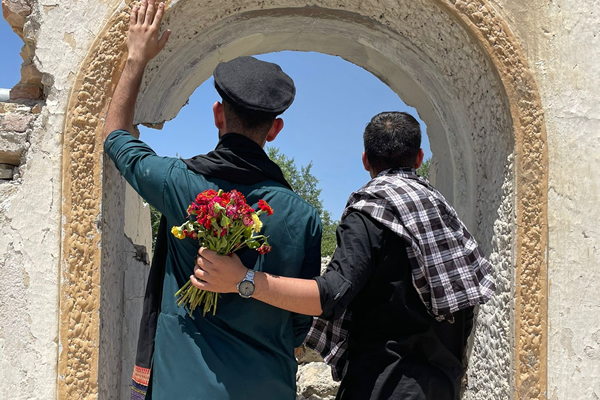 The Taliban entered Kabul, the Afghan capital on Aug. 15 and toppled then-President Ashraf Ghani's government.
A Taliban judge over the summer said the group would once again execute gay men if it were to return to power in Afghanistan.
The U.S. evacuated more than 100,000 people from the country before American troops completed their withdrawal from the country on Aug. 30. It remains unclear whether the U.S. was able to successfully evacuate LGBTQ Afghans from Kabul International Airport, but Immigration Equality earlier this month said it spoke "directly" with 50 LGBTQ Afghans before the U.S. withdrawal ended.
Secretary of State Antony Blinken on Sept. 13 during a House Foreign Affairs Committee hearing expressed concern over the fate of LGBTQ Afghans who remain in the country.
The Human Rights Campaign; Immigration Equality; the Council for Global Equality; Rainbow Railroad; the International Refugee Assistance Project and the Organization for Refuge, Asylum and Migration have called upon the Biden administration to develop a 10-point plan to protect LGBTQ Afghans that includes prioritizing "the evacuation and resettlement of vulnerable refugee populations, including LGBTQI people." Canada is thus far the only country that has specifically said it would offer refuge to LGBTQ Afghans.
Hirschberg on Monday told the Blade that he and Vandewauwer have charted an airplane to evacuate Afghans, but they have not secured a "third country" to which they can bring them.
"Currently, we are working towards a multi-country collaboration for resettlement," he said. "Our work has now expanded to include election officials and women activists, including those from the LGBTQI+ community."
Hirschberg also urged the U.S. and humanitarian organizations to do more to help evacuate LGBTQ people, human rights activists and others from Afghanistan
"I understand that this is complicated and that I do not have all the working pieces but why does the United States ignore those who helped in building their agenda in Afghanistan. The same goes for multilateral organizations," he told the Blade. "Why are neither funding charters and creating agreement with partnering states? If they are why have the not contacted the countries that we are creating collaborations with?"