erry McAuliffe described Republican Glenn Youngkin as the "most homophobic" and most "anti-choice candidate" in Virginia history during an Oct. 21 telephone interview with the Washington Blade.
"I'm running against the most homophobic, anti-choice candidate in Virginia history," said McAuliffe. "I ran against Ken Cuccinelli. That's saying something."
McAuliffe, a former chair of the Democratic National Committee, in 2013 defeated Cuccinelli, Virginia's then-attorney general who vehemently opposed LGBTQ rights, in that year's gubernatorial race. Youngkin, the former co-CEO of the Carlyle Group, a private equity firm, is running against McAuliffe in the race to succeed current Gov. Ralph Northam.
State Del. Hala Ayala (D-Prince William County) is running for lieutenant governor, while Attorney General Mark Herring is seeking re-election. They are running against Republicans Winsome Sears and Jason Miyares respectively.
The entire Virginia House of Delegates is also on the ballot on Nov. 2. The outcome of those races will determine whether Democrats maintain control of the chamber.
Youngkin remains opposed to marriage equality
The Associated Press a day after McAuliffe spoke with the Blade published an interview with Youngkin in which he reiterated his opposition to marriage equality, but stressed it is "legally acceptable" in Virginia and he would "support that" as governor.
The anti-LGBTQ Family Research Council, which the Southern Poverty Law Center has categorized as an extremist group, earlier this month endorsed Youngkin. The Human Rights Campaign and Equality Virginia's political action committee are among the groups that have backed McAuliffe.
Youngkin earlier this year said he does not support allowing transgender children to play on sports teams that are consistent with their gender identity. Youngkin has also expressed support for Tanner Cross, a gym teacher at a Leesburg elementary school who was suspended in June after he spoke against the Virginia Department of Education guidelines that are designed to protect trans and non-binary students.
HRC in 2019 named the Carlyle Group as a "Best Place to Work for LGBTQ Equality" in its annual Corporate Equality Index. McAuliffe scoffed at this recognition.
"They should have checked with their co-CEO who's against marriage equality," he told the Blade. "That would have been the first place I would have gone to ask."
'I've always been out front fighting to protect everybody'
McAuliffe's first executive order as governor after he took office in 2014 banned discrimination against LGBTQ state employees. He also vetoed several anti-LGBTQ religious freedom bills, created Virginia's LGBTQ tourism board and became the state's first governor to declare June Pride month.
McAuliffe noted to the Blade that he is also the first governor of a southern state to officiate a same-sex wedding. The lesbian couple whom he married has recently appeared in one of his campaign ads.
"I spent four years vetoing every single legislation Republicans brought forth and came across my desk that would have discriminated against the LGBTQ community," said McAuliffe. "I've always been out front fighting to protect everybody."
McAuliffe noted that CoStar, a D.C.-based commercial real estate company, moved more than 1,000 jobs to Richmond from Charlotte after then-North Carolina Gov. Pat McCrory signed House Bill 2, which banned trans people from using public restrooms consistent with their gender identity and prohibited municipalities from enacting LGBTQ-inclusive nondiscrimination measures. McAuliffe described HB 2 to the Blade as the "anti-gay bill."
"There's real consequences … to discriminatory actions and I will not tolerate any of it," he said.
McAuliffe last month said during his first debate against Youngkin that local school boards "should be making their own decisions" with regards to the implementation of the Virginia Department of Education guidelines for trans and non-binary students. McAuliffe during his second debate against Youngkin stressed "locals" should provide input on the policy, but added "the state will always issue guidance."
McAuliffe told the Blade he has "been so offended about how many folks have tried to really demonize our children here in this state." McAuliffe referenced children with "self-identity issues" during the interview, but he did not specifically cite those who identify as trans or non-binary.
"We've got to help our children … we got to help our children who are desperately in need today," he said. "And we got to show them that we'll be there for them, as I say, no matter how they identify or who they love."
Youngkin on Saturday during a campaign event in Henrico County said he would ban the teaching of critical race theory in Virginia schools. McAuliffe criticized his opponent on this issue when he spoke with the Blade.
"Critical race theory is not taught in Virginia, nor has it ever been taught," said McAuliffe. "These are dog whistles that are used, and especially in the CRT, it's a racist dog whistle and it just fits into this whole pattern of using our children as political pawns and I hate it."
Youngkin 'would drive businesses out of' Va.
McAuliffe has continued to portray Youngkin as an extremist on other issues that range from abortion and vaccine mandates as polls suggest the race between the two has grown tight. McAuliffe also continues to highlight former President Trump's support of Youngkin.
McAuliffe told the Blade that Youngkin is "100 percent against abortion" and said his opponent would "bring those Texas-style type abortion" laws to Virginia.
The law, which bans almost all abortions in Texas and allows private citizens to sue doctors and anyone else who helps a woman obtain one, took effect last month. The U.S. Supreme Court on Nov. 1 will hear oral arguments in a case that challenges the law.
"We always knew that the Supreme Court would be a backstop on women's rights issues: Roe v. Wade. That is gone. It's over," said McAuliffe. "Donald Trump's Supreme Court is going to overrule the basic tenants of Roe v. Wade."
McAuliffe added the Supreme Court "is going to allow these states to roll back women's reproductive rights, so that's no longer a talking point."
"This is reality," said McAuliffe. "Every woman in Virginia needs to understand it."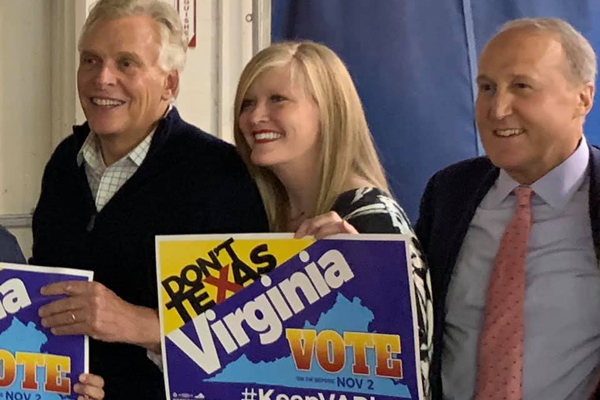 Youngkin, for his part, has said he would not have signed the Texas law.
Trump on Oct. 13 described Youngkin as a "great gentleman" when he called into the "Take Back Virginia Rally" in Henrico County that John Fredericks, host of "Outside the Beltway with John Fredericks" who co-chaired the former president's 2016 campaign in Virginia, organized.
Participants recited the Pledge of Allegiance to an American flag that was present at the U.S. Capitol insurrection. Youngkin in a statement his campaign released said he "had no role" in the event and said it was "weird and wrong to pledge allegiance to a flag connected to January 6."
"As I have said many times before, the violence that occurred on January 6 was sickening and wrong," he said.