For nearly all transgender or gender nonconforming people, correcting a well-intentioned person when they inadvertently use the wrong pronoun can be highly fraught. Bring it up and you're likely to derail a pleasant conversation. Let it go and you'll probably brood about it all afternoon. 
But when you're the first-ever high-ranking trans cleric of a major Christian denomination, tasked with caring for people whose level of familiarity with trans issues could fall anywhere, it's much tougher.
For the Rev. Dr. Megan Rohrer, who was installed on Sunday, Sept. 12, as the Bishop of the Sierra Pacific Synod of the Evangelical Lutheran Church of America (ELCA), and who uses they/them pronouns, progress has meant a sort of learning what not to hear.
"Regardless of how people talk to me, as long as it was kind, it was OK," they say. "Anytime I would correct pronouns when I was trying to talk pastorally to people, I was turning the subject from them to me, and then they feel like they need to apologize publicly — which draws even more attention to it." 
"I have a trans child, for whom, if 'they' isn't used, will be in tears for days," Rohrer says. "That has given me the permission to be really public about it: 'Nope, you're going to use "they," because if you screw up with me, I'm going to have grace about it.' Letting people know my pronouns and my name is great."
"Not on every piece of stationery," they add, "but enough that people can Google it."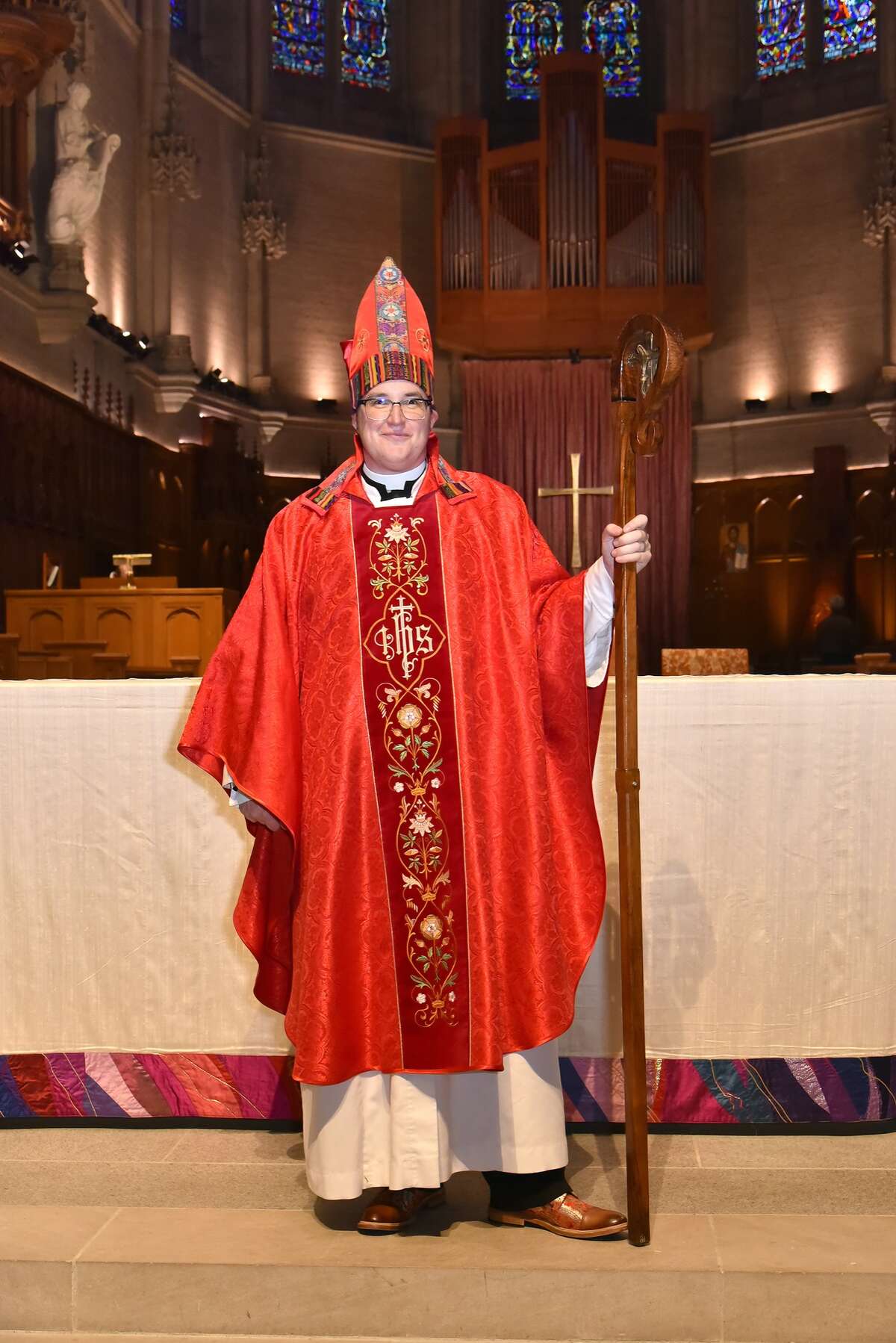 In terms of identity and breaking barriers, it's almost always difficult navigating the scrutiny that goes along with being the first anyone to do anything. And this isn't Rohrer's first time. In 2017, they became the first transgender chaplain with the San Francisco Police Department, at a time when the relationship between the LGBTQ+ community and the cops had grown strained over scandals involving officers sending homophobic texts and the rising awareness of racist police violence. Rohrer believed their (voluntary) position was well-suited to bring about a more constructive atmosphere.
"I really affirm the idea of being in the strategic place to critique all systems of power, those making the largest decisions," they say. "What I learned from being in lots of different listening sessions, there's a full variety of LGBTQ+ folks in the Bay Area, and I saw that diversity of thinking around what people want in policing, what people thought safety was, what people thought was a crime."
At the request of unhoused LGBTQ+ youth, Rohrer helped put together a potluck with LGBTQ+ officers — some of whom had experienced homelessness themselves, and who attended out of uniform. Rohrer expected "a grumpy conversation," but the officers listened for three hours, and by the end, some of the kids were asking for information on how to become cops.
Summing up that detente between representatives of two groups who are often at odds, Rohrer says, "The progress of the world is dependent on every new generation believing that they're right so strongly that it moves the world forward."
Such tensions are not as inflamed as they were even a year ago. But Rohrer's installation as bishop comes as vast tracts of the Sierra Pacific Synod's territory are on hair-trigger alert for destructive wildfires, which generate spiritual crises of their own. Rohrer sees the conflagrations as a source of trauma requiring specialized pastoral care — especially for first responders.