A pioneering transgender activist in Pakistan continues her fight for change in her country.
Jannat Ali—who describes herself as an "artivist"— is the executive director of Track T, a trans rights organization that is based in Lahore, the country's second largest city that is the capital of Punjab province.
Track T in December 2018 organized Pakistan's first-ever trans Pride march that drew nearly 500 people. A law that permits trans people to legally change the gender on their national ID cards and other official documents, allows them to vote and bans discrimination based on gender identity in employment, health care, education and on public transportation took effect earlier that year.
"That was an opportunity (for people) to celebrate their real true identities," Ali told the Washington Blade on Aug. 19 during a telephone interview from Copenhagen, Denmark, where she was attending WorldPride 2021. "People were shaking hands because we did it so beautifully."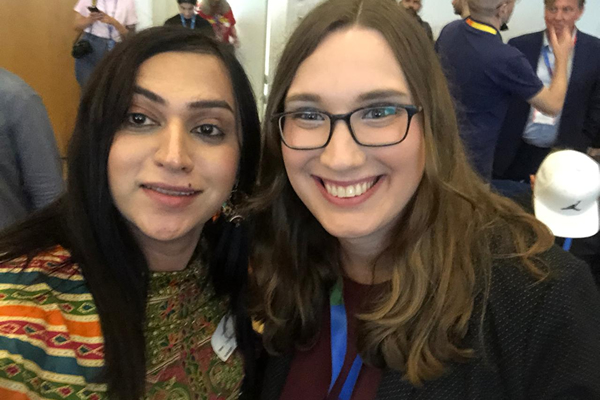 Ali in March launched "Journey with Jannat", an "inclusive infotainment show" with episodes on Instagram and YouTube. She is the first openly trans person to host her own program in Pakistan.
Ali in 2018 traveled to D.C. to participate in the Human Rights Campaign's annual Global Innovative Advocacy Summit. Track-T last year received a $5,000 HRC grant.
"They changed my life," Ali told the Blade, referring to HRC. "They helped me to fulfill my dreams in my life and make me be able to share my work."
Pakistan's Supreme Court in 2009 ruled in favor of recognizing trans people as a third gender on identity cards. The Pakistani government in July opened the country's first school for trans people.
Section 377 of Pakistan's colonial-era penal code that criminalizes consensual same-sex sexual relations remains in place. Ali told the Blade that implementation of the 2018 trans rights law— especially in the country's tribal areas along the border with Afghanistan and in rural Pakistan — remains a problem.
"The government doesn't (make it a) priority," she said. "It's a responsibility of other provinces to adopt or to amend it and present their bill in their own provinces."
Ali said violence based on gender identity remains prevalent in these areas.
Alisha, a trans activist who worked with Trans Action in Peshawar, a city in Khyber Pakhtunkwa province that borders Afghanistan, died in 2016 after a man who reportedly raped her shot her several times.
Activists said staff at a local hospital delayed treatment because she was trans. The province's then-governor ordered personnel to place Alisha in a private room, but she died a short time later.
"We are thankful to the governor," a local activist told the Blade after Alisha's death. "This was the first time that a government executive showed support."
Taliban regaining control of Afghanistan 'really sad'
Ali spoke with the Blade four days after the Taliban entered Kabul, the Afghan capital, and regained control of the country.
A Taliban judge in July said the group would once again execute gay men if it were to return to power in Afghanistan.
Some of the 50 Afghan human rights activists who Taylor Hirschberg, a researcher at the Columbia Mailman School of Public Health who is also a Hearst Foundation scholar, has been able to help leave the country are LGBTQ since. The Toronto-based Rainbow Railroad and Immigration Equality are among the other groups that have continued their efforts to evacuate LGBTQ Afghans since American troops completed their withdrawal from the country on Aug. 30.
"I was really worried," Ali told the Blade when asked about the plight of LGBTQ Afghans in Afghanistan after the Taliban regained control of the country. "I was really sad."