Mariah Hanson has always loved throwing parties to create a feel-good environment that was easy for people to meet new friends, celebrate their lives and go home with a few extra awesome memories. Under the Club Skirts Marquis, Mariah created the world famous Dinah Shore Weekend in 1991 with just that intention in mind – to create an exciting, community building, life affirming, unimaginably stellar experience for her customers.
She choose the world-renowned Palm Springs Modern Art Museum to host her first Dinah. Mariah knew an event inside this spectacular museum, surrounded by priceless artwork, was just the kind of statement she was trying to make – that our community is worth the very best and she was going to offer it. Mariah's first Dinah was sold out, packing every room of the museum, where partygoers drank martini's while surrounded by tens of millions of dollars worth of art.
Mariah wanted Dinah goers to feel safe, and inclusive, so she booked entire hotels so that they were 100% The Dinah occupied, brought in national sponsors, popular national recording artists, and kept all events in walking distance to create our very own world within a world. These simple but daring concepts, creating an empowering lesbian world within the city, catapulted the Dinah to international fame. Today, The Dinah is considered the largest lesbian/queer women event in the world.
The Dinah 2022 happens September 21 – 25 with the new Margaritaville Palm Springs serving as host hotel and the location of most of the parties.  The overflow Hotel, The Doubletree, is booking now.  Go to:  www.thedinah.com to see the full schedule and purchase ticket.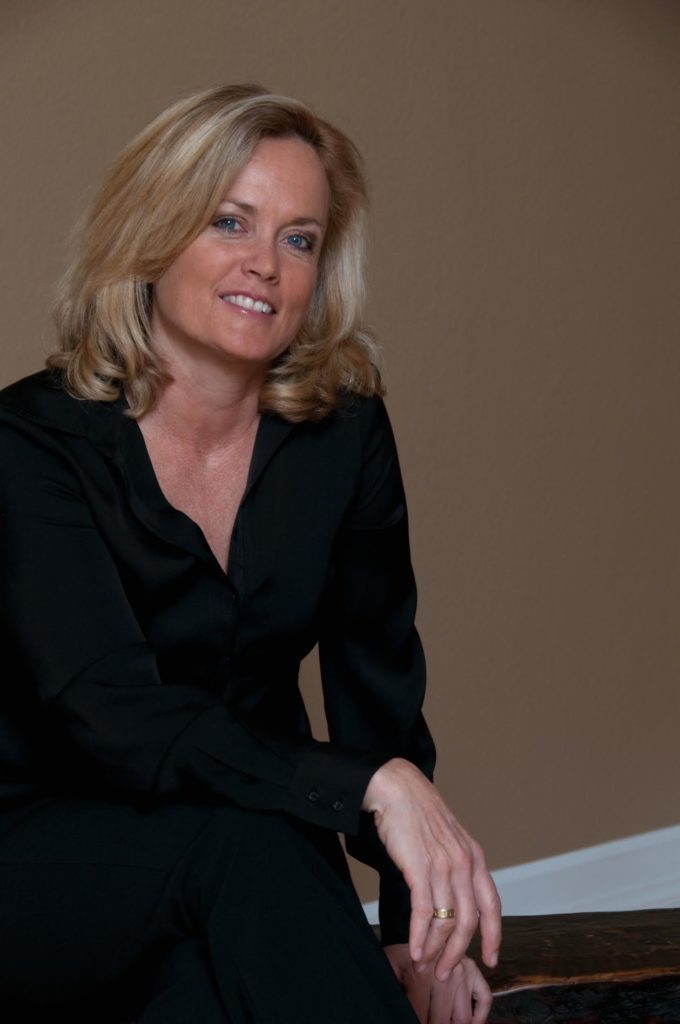 Gary Carnivele: What is the history of The Dinah (formerly The Dinah Shore Weekend), which you started in 1991 and how it's evolved over the years?
Mariah Hanson: I think it's evolved a lot. I started it when I was thirty-ish and I really had no idea what I was getting into and I thought I'm going to try this. I booked the Palm Springs Museum, which was the state-o- the-art modern art museum. I figured out if you were a corporate member of the museum, you could, for $2500, host a cocktail reception in the art museum. Afterwards the board changed the guidelines to make sure that I could never host another event there. I'm 31 years older and I had the coolest job in the world. I got to drink for free. Now, that I'm older I realized that I need to do something substantial with it. At this stage, The Dinah really reflects my own personal journey which and reflects mine. My desire and commitment to create not only an open platform for LGBTQI+ but an inspiring place that tells stories. One that really speaks to women empowerment in every aspect. Attendees are noticing that the artist I booked prove there are no glass ceiling other than the ones we imagine. At the end of the weekend, people really get the up-lifting vibe that we all have. I feel like people leave the event feeling incredible and I just got an experience all to myself. And that was by design.
GC: What do you have in store for your attendees this year?
MH: it's a really, special year. The 31st anniversary and so proud of the fact that we have produced a music festival event. People are so ready to get out and enjoy themselves and they belong to this community. We have been denied for 2 years and so I feel like people are really bringing it. There's also issues that have come to the forefront that we know we won't necessarily be too we will bet you it's not but is there and so turn on slot right now that is so in our faces. I think it's always been there with a certain function of our society and the state but this anti-misogynist, anti-women platform that the far right puts forward where women should be seen and not heard is so mind-boggling to me. It really came to the surface during the Trump administration. He is – in my opinion – very hateful individual and he really helped a lot of the hate come to the surface. He and the GOP stacked the Supreme Court who overturned a woman's right to reproductive rights. Justice Thomas intimated that he's going after marriage equality next. What are we do about that? I think when people come together with a kind of commonality we can fight oppression. It's also a wonderful option to see how powerful we are when we collectively say no more answer
GC: Do you think there will be a political element at The Dinah?
MH: How can you not be political right now as a woman or a member of the queer community. it's a scary time for all of us but I think it's especially scary for women, women of color, women od lower social economic status. It's a really frightening and we must stand up, be strong and say 'no.' We've done it before and we're going to do it again. I think that that this time around we have so many more male supporters because we need you! It's one thing for us to be doing this but we need our male allies more than ever. It's an awesome opportunity for men to really show up and stand up and I know that they will because those hateful voices that we're hearing are in the minority and that's what we should remember.
We all need to stand up, speak up and vote in. The voting blocks that really can swing votes in a national election are all across the Midwestern states. We're hoping to galvanize younger people, we didn't the year before. We have been experiencing a certain kind of circumvention of our democracy one where it's state governments versus the federal government. This is a test about how you can run a country our founding fathers never imagined. Because of technology it's easier than ever to destroy what is a democratic institution. Trump was very close to becoming a dictator just like all the horrible people he admires so much.
GC: Let's get back to The Dinah. Tell us about the schedule.
It's jubilant pool parties and exciting evening events. The Dinah schedule is always very consistent. We start on Wednesday with The Official Dinah Pre- Party to which we're inviting w the locals who we really appreciate. This year, that happens at Chill Bar, 8 p.m. – 2 a.m. World-class DJ's, dancing poolside, and cocktails.
It's the first time we've done it in the morning so we're starting out wild and crazy right from the get-go.
Thursday is our opening party that's happening at AsiaSF Palm Springs, which is a beautiful location. At midnight there will be a performance by the winner of our 'Emerging Artist Contest.'
Friday kicks off at Noon with 'The G(irl) Spot" a pool party, hosted by "The Real L Word's' Rose Garcia. DJ's will provide great music.
Friday night we are at the ballroom at Margaritaville, our host hotel, for 'The Black and White Ball,' where Taylor Dayne will perform. Taylor gave me this great deal so that she can bring her band and not just sing to a track. I really appreciate it and Taylor is very supportive of our community. Also, Canada hip-hop artist Haviah Mighty, who is a really a powerful force.
Saturday is our big 'The L Word Pool Party,' which includes a 'Celebrity Meet and Greet.' 'Battle of the DJs,' and a vendor fair. IV4 and Cassidy King will perform. This all happens at Margaritaville Resort 10 a.m. – 5 p.m.
Saturday night we have 'The Hollywood Party,' in the Grand Ballroom at the resort. There will be fabulous 11 p.m. performance by Fletcher, an up-and-coming artist who about to bust out into stardom as a recording artist. She's amazing and I'm so excited we were able to book her.
'The Sunday Funday Pool Party' happens at the resort 11 a.m. – 5 p.m. The will be fun games, exciting contests, and daring antics where you can win The Dinah 2023 tickets. Rubber Duck Dive, Best Dyke-ini, Guzzling a Beer Contest are all fun crowd-pleasers.
The Dinah 2022 ends with 'The Dinah Official Closing Party' 9 p.m. – 2 a.m. where the nation's hottest DJs will spin and the winner or our 'Emerging Artist' will entertain us with an encore, midnight performance.
GC: Tell us more about the performing artists and how you go about booking them?
Cassidy King is our sleeper hit. I think she's someone that we'll all come to know sooner rather than later. She's so amazing. She's doing videos that she directs herself that portray our narrative, our stories. She's all about queer romance, queer friendship, break ups. The videos are interesting because we are normalized in them. Just as we are now in the music industry. Sunday night I love our lineup mostly because for the first time ever it is all queer. And that really speaks to how queer people are willing to be out and front runners now in the music industry. We are breaking so many barriers and changing minds. It's wonderful because I will tell you it was very hard to book queer acts throughout my career. I would approach big names, that we knew were queer, but they would decline because they didn't want to be identified with a big, queer event like The Dinah. Her people or her record label would be squeamish. Thankfully, that has changed over these 31 years.
GC: Talk about the host hotel the Margaritaville
MH: Margaritaville, formally the Riviera, has been one of my favorite hotels in Palm Springs, just iconoclastic. Margaritaville changed the decor but has maintained all those beautiful bones. It's an incredible 5-star hotel with two big, beautiful pools, this fantastic Grand Ballroom, and an inside garden – it's just very upscale. Now it's got a more of a Margaritaville theme but it's still a great hotel with 400 remodeled rooms.
GC: Who attends The Dinah?
MH: Women of all ages really, but it does trend younger. The Dinah is a music festival and so we book performers and our DJs spin music for all ages. It's also a right of passage and a bucket list item for the queer community. Go to The Dinah at least once in your life. What I love about older women attending is that they get to see how free society has become and how many inroads we've made. We can finally get to the point where we could be at 5-star hotel, which is completely booked. The Dinah is considered a legacy event in Palm Springs it's the cities top 10 events. The whole city welcoming The Dinah's attendees illustrates who important it is to their community. It's important that we showcase how much work we've done to gain our civil rights because this wasn't the case 31 years ago. I think queer women love to see how much freedom there is today. Now I can send mailing advertisements in The Dinah envelopes because so many people are out even in small towns across the states. IN the early days some women would chastise me: I can't believe you didn't put this in a plain envelope. My mailman now knows that I'm gay. It was heartbreaking. We've come a long way baby so h
GC: How many how many women do you expect to attend The Dinah 2022?
MH: I'd say this year we will have 7,000 – 10,000. I think it's going to be a big year. A lot of local women come but the majority like 95% of the people coming out of all over, many from California but 50% from out of the state. We get a small percentage from out of the country.
GC: I would imagine COVID-19 has really impacted The Dinah.
Last year, I had to cancel it and then I dealt with the nightmare of having to refund as much as I could.  My customers were very understanding – kind and patient.  I was able to transfer 600 of ticket buyers to this year.  The year before, we had zero transmission.  I wanted everyone to understand that we need to show the world that we are conscientious and we care about each other.  We're asking people to test themselves before the event breakthrough cases vaccine is no guarantee that you're Covid-free. We don't want to be spreading it and we don't want anyone else to get sick.  The tests are 70% accurate and The Dinah needs to follow city, state, and CDC guidelines.  We are asking people to please get tested.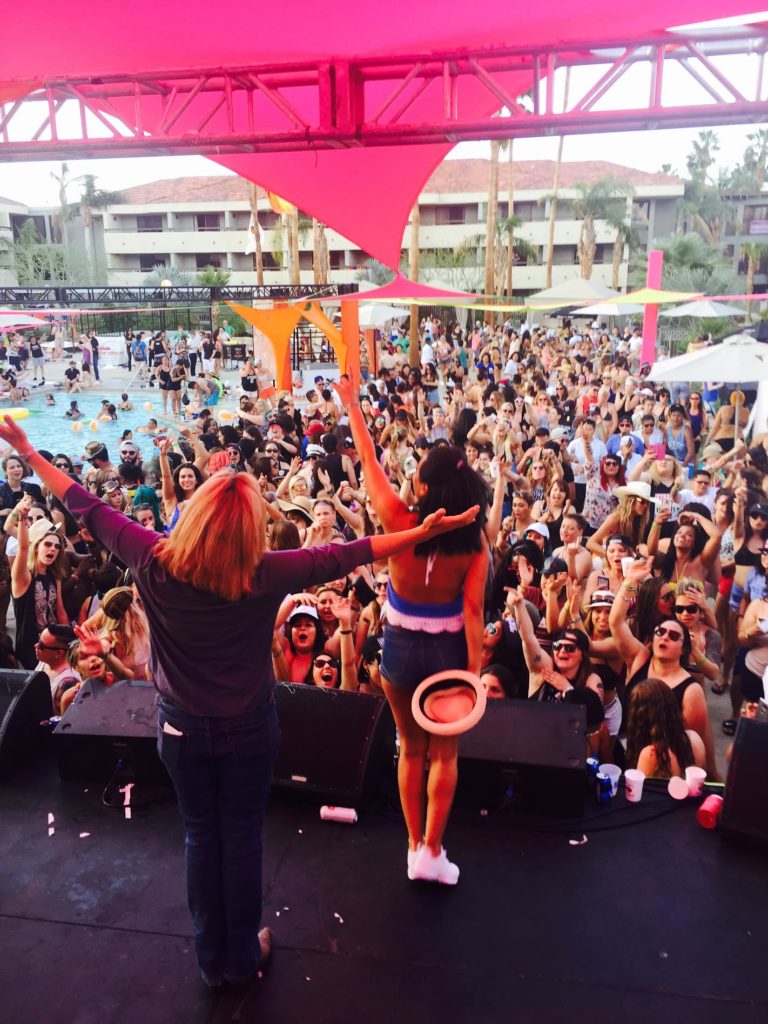 GC: Talk about the people that work with you to produce a really amazing event.
There are many amazing women working with me the last couple months. I have about 40 people in Palm Springs that are familiar with the city, its vendors and services. Light and sound is another group of 30 hard-working people. Very mom-and-pop. We love it because we get to do it our way without the bureaucracy of a corporation. There's a real leaning into what is needed at the time, where is our community is at the time, so we speak every year to what we think needs to be said. I think it's really important for messaging to lead the way and so we like to do that every year and help inspire people to live bigger and brighter and better lives. And that includes everyone, that includes trans, non-binary, queer, lesbian. I've worked with transfolk who really helped me understand that some people are born in the wrong bodies and want to be authentically who they are. I have been very pro-trans in my career. I don't believe in separatism. I don't believe in keeping our world so small that people don't fit in. I think that everybody needs to be invited to the table so when we are producing The Dinah we keep that in mind. You can't just say: I'm inviting everyone. I want everyone to feel safe at The Dinah. We keep those things in mind because they are important, critical. I'm proud of the fact that we have in that messaging. There are too many people in our community who don't live in really inclusive parts of our country. We want The Dinah to be the place where we invite you to just come on in let all your isms, all your differences, and all your fears melt away. This is a world where I can live for five days out loud, together being the beautiful people that we are and experience really cool, powerful people. We were together for five days and got to meet people from different backgrounds, from different ways of identifying. We all got along, we enjoyed each other. We found all these commonalities to take that home with us.
GC: Have you ever thought about doing a similar event here in Sonoma County?
MH: Yes, I have. I love what Gary Saperstein is doing with Gay Wine Weekend and I think there's room for a women's event. There's not a lot of convention space here but I think the Renaissance is probably your best bet. We've been talking about it recently because this is the first time that I have been here permanently. I bought my grandfather's house here in Sonoma in 1999 where my mother lived for her final years. I finally came back and feel settled. It's an opportunity for me to really start thinking seriously about producing a Dinah event here where everyone is invited. Personally think we should always feel comfortable bringing our best guy friends.
GC: How can folks find out more about The Dinah 2022 and purchase tickets
MH: The website in thedinah.com and it is the best way to see the complete schedule and purchase tickets. Although I will say that our social media platforms are also a lot of fun.
GC: Thank you for taking the time to tell us all about The Dinah 2022. Best wishes for a successful event. We'll wait to hear from you about the exciting event you'll produce here.
MH: Thank you Gary and we hope to see all your readers at The Dinah.