After a few years of virtual offerings during the COVID-19 pandemic, Oakland Pride is back for in-person events in 2022, marking the 12th anniversary of the organization in the East Bay city that has one of California's and the nation's largest LGBTQ populations. Oakland Pride 2022, on Sunday, September 4, will begin with the Parade starting at 10:30 am at Broadway & 14th Street. The Festival will also start at 10:30 am. It will last until 6 pm.
There has been some confusion about Oakland Pride this year, not only because of the return to in-person events but also because Pride in Oakland has expanded. In addition to the Parade + Festival there will also be Pridefest Oakland on Sunday, September 11. (See page 3 of this issue for more about Pridefest.)
Explaining the two major efforts, Oakland Pride recently posted via social media: "Oakland Pride has been a community-led organization that has been doing Oakland's Pride since 2010. For years our organization has changed in many ways from our board to our vendors and volunteers! There are still a few board members still with us who have been there since day one. The last few years, the board decided to do a virtual pride due to COVID-19. Last year, we had a Pride event ready to go but due to the number of COVID cases rising, we had to go virtual once again. This year we are going live while still remaining cautious of COVID. Other members of the community have decided to start a different organization and a different event, both for the love of the community. Throughout the month September starting with Oakland Pride, and other events, we hope to bring joy and pride to Oakland and to the whole LGBTQ+ community. Hope to see you at Oakland Pride, Labor Day weekend!"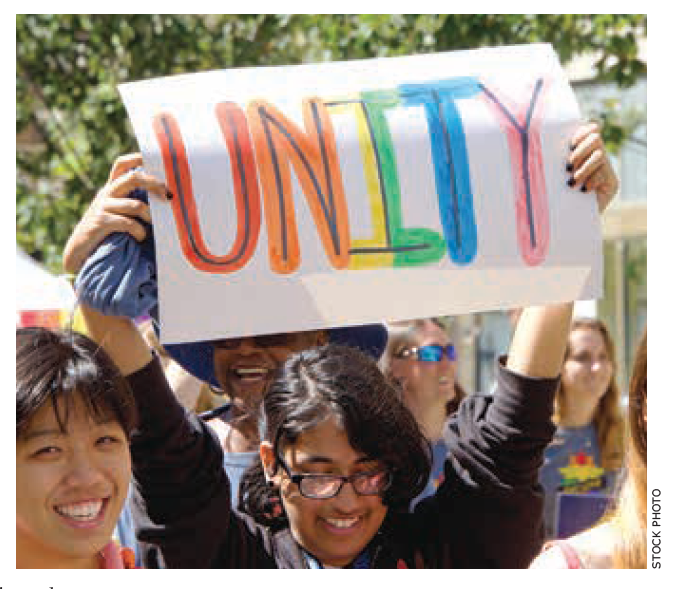 Oakland: World's Away?
Of Oakland, pioneering lesbian author Gertrude Stein (1874–1946) once wrote, "There is no there there." She was referring in her 1937 autobiography to the loss of her childhood home along Foothill and MacArthur Boulevards in the city (it was torn down), but others have used the quote to suggest that there is not much to see in Oakland.
Some diehard residents of San Francisco, Marin County, and Silicon Valley seem to think that is the case. The distance from San Francisco to Oakland is only just over 12 miles, but there often appears to be an aversion to all things East Bay. We get it, at least to some extent. Whoever designed the entrance to Oakland from the Bay Bridge was all about function over fashionable appearance. Instead of the welcoming Coit Tower enshrouded in romantic fog perched atop Telegraph Hill overlooking the bay—the sight that many see on the right coming into San Francisco from the East Bay—travelers venturing from the other direction see the massive Oakland Port cranes, the Wastewater Treatment Plant in West Oakland with its associated unpleasant odors (the operators seem to be doing a better job these days in reducing those), a few hospital towers near the 580 freeway, and other sights that don't immediately spark joy for many.
Oakland's numerous treasures require going deeper into the city, making it a magical place of discovery for those willing to give it a chance. Just to name a few: Redwood Regional Park that has the largest remaining natural stand of coast redwoods found in the East Bay; Joaquin Miller Park with its rustic woodland trails and meadows; the restaurants, coffee shops, and other public gathering spots at Park Boulevard, Montclair Village, Rockridge, and other Oakland neighborhoods (you will probably see more lesbians in an Oakland restaurant or coffee shop in one hour than you will in an entire day in many parts of San Francisco); Lake Merritt and surrounding offerings; and much more.
The White Horse, the oldest continuously operating LGBTQ bar in the U.S., is a destination all on its own at 6551 Telegraph Avenue. With a pool table, fireplace, and multiple screens for sports games, movies, or music videos, it feels like a home away from home—except a lot more fun.
Some members of our San Francisco Bay Times team live in Oakland. Just visiting Piedmont Avenue in Oakland on a recent Saturday evening, one stumbled on a phenomenal live outdoor Brazilian band performance, many blissful diners in the alleyway next to farm-to-table restaurant Pomet (an owner is from K&J Orchards), kids holding giant ice cream cones in front of the Disney Up movie spot at Fenton's, filmgoers exiting Landmark's Piedmont Theatre (the friendly manager and staff at the door yelled hello, and asked how a family member was doing), and even saw another Bay Times team member exiting from the Suds Machine car wash. With its retro car sprayers and colorful giant buffers, Suds Machine is reminiscent of the classic Lily Tomlin scene where, in character as a pitchperson for the hairspray "Stay Put," she drives on a flatbed trailer trough a mechanical car wash, getting drenched in the process without any of her lacquered locks going out of place.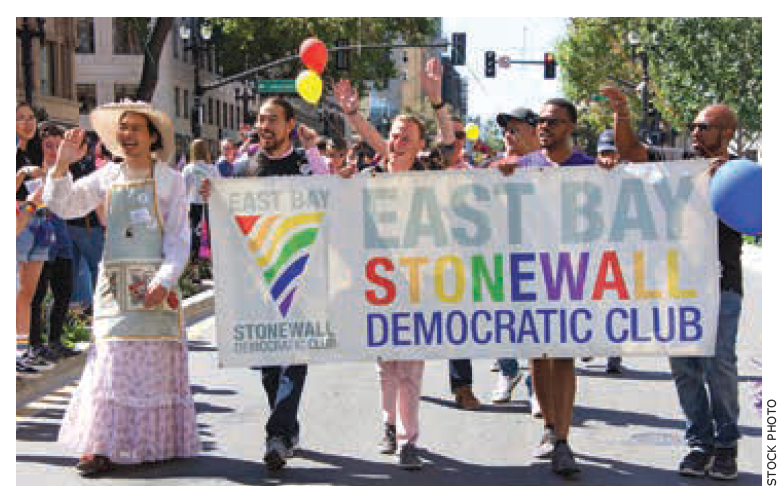 Oakland Pride Brings Visitors Downtown, and Uptown
Oakland is like many towns in one, given its size. The city is 78.03 square miles whereas San Francisco is just 46.87. The site of Oakland Pride—in the heart of Downtown and Uptown—therefore even can seem world's away from Piedmont Avenue and Telegraph Avenue that both branch off of Broadway at their southernmost tips.
In Downtown there again are many treasures, such as The Port Bar: a festive LGBTQ-centric watering hole known for its potent cocktails and creative drag shows. The Port Bar at 2023 Broadway is right next door to the historic art deco Paramount Theatre and is less than a block away from the 19th Street BART station. On a recent visit, the place was spilling over with an incredibly diverse crowd and probably as many bears on that particular Sunday as you could find at Lazy Bear Week in Guerneville. Cocktails like the Sassy Sailor and ImpeachMint are very refreshing and Instagrammable and have been profiled in other publications.
The Port Bar is always packed, but is sure to be even more so this September Pride Month in Oakland. Here are some Q&A's about this year's Oakland Pride:
Where is Oakland Pride 2022?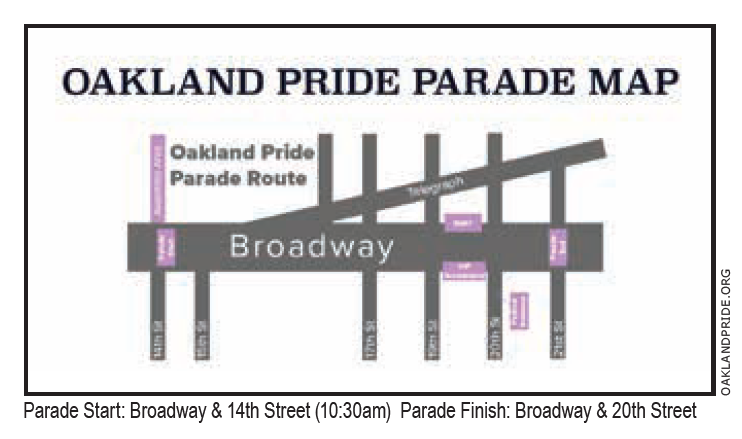 The Oakland Pride Parade will start at Broadway & 14th Street (Oakland City Hall) and will end at Broadway & 20th Street (Oakland Pride Festival Main Entrance). The Oakland Pride Festival main entrance will be located at Broadway & 20th Streets. A secondary entrance will be located at Webster and 21st Street.
Do you need a ticket to get into Oakland Pride?
There is no fee to watch the Oakland Pride Parade, except in the VIP/Grandstand seating along the Parade route. This seating will be available as part of Oakland Pride's VIP Pride Pass program, or on a first-come, first-served basis for a fee of $5 in advance and $10 at the gate. There will be free ADA access! For more information about the VIP Pride Pass or Grandstand Tickets, please e-mail [email protected]
General admission to the Oakland Pride Festival will be $10, and just $5 for children under 12. There will be a Family & Children's Garden, so it is a great outing for kids of all ages.
Part of the proceeds will go to fund the Oakland Pride Community Partners Program. Since 2010, Oakland Pride has given back nearly $50,000 to LGBTQ-friendly organizations and charities in the community.
Is there an age limit for entry into Oakland Pride?
No! One of our team members even brought a baby to the event back in the day. For her, it was a mix of napping and happy socializing. In fact, Oakland Pride has been reported as being the most diverse and family-friendly Pride celebration in the nation. Do, however, keep in mind that all children must be accompanied by adults at all times.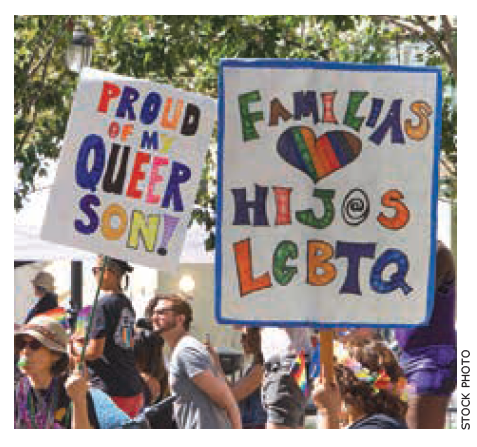 Are pets allowed at Oakland Pride?
Yes, pets are allowed at the event, including service animals. However, it is strongly recommended that you leave your pet(s) at home since the event, as you can expect, will be crowded, noisy, and more—meaning not conducive to smaller animals walking on the ground.
If you do decide to bring pets to the event, please make sure your pets are well trained, socialized, and comfortable with loud noises and large crowds. Please also make sure your pets are on leash and under your control at all times. Provide water and shade for them, and clean up after them, too.
How do you get to Oakland Pride?
You can drive and try to find street parking (good luck!) or park in any number of paid lots in the area. You can also take a bus or use a rideshare. But the best and easiest way to get to Oakland Pride is via BART. To watch the Parade, just exit at the 12th Street/Oakland City Centeror 19th Street BART stations. The main entrance for the Festival will be located at Broadway & 20th Street, right outside of the BART station exit.
Who will be performing at Oakland Pride 2022?
As of this writing, the performers have not yet been announced. We can say, though, that over the years Oakland Pride headlining performers have been top notch and have included Chaka Khan, Martha Wash, Jennifer Holliday, Yo-Yo, Rah Digga, LaToya London, CeCe Peniston, JC Jones, and En Vogue.
How can you volunteer for Oakland Pride?
Oakland Pride would not be possible without the help of volunteers who lend their time before and during the event. There are volunteer opportunities for people of almost all skills, backgrounds, and abilities.
Will the San Francisco Bay Times have a booth at Oakland Pride?
Yes! The San Francisco Bay Times has been a media sponsor of Oakland Pride since its inception. Please be sure to stop by the Bay Times booth.
For more information, including updates on performers and how to sign up to volunteer, go to: https://www.oaklandpride.org/
Published on August 25, 2022