Lesvos rolls out of bed each morning before the sunrise, heads to work, then punches her time card at exactly 6 a.m. By day, she's a chef at a traditional Korean restaurant in downtown Seoul, but by night, she runs South Korea's first lesbian bar. The venue, Lesvos Bar, is located in a section of the Itaewon neighborhood known as "Homo Hill," one of this country's few queer-friendly areas.
Lesvos, who said she legally changed her given name more than two decades ago and is only known by her mononym, said her bar provides LGBTQ Koreans the type of identity-affirming space she longed for in her younger years.
"I want this bar to be a place for all LGBTQ Koreans, not just lesbians," Lesvos, 66, said. "It's my way of giving back to our community."
"I will do whatever it takes for South Korea's LGBTQ community until I take my last breath."
LESVOS
Her bar may be queer-friendly but South Korea is not, she said. In a country known for itschart-topping music, visionaryfilms and comparatively robust democracy, only 38% of the public supports same-sex marriage, according to a 2021 Gallup Korea Poll. Discrimination, Lesvos emphasized, is everywhere.
In South Korea, national law provides no protection from discrimination based on sexual orientation or gender identity. Same-sex marriage and civil unions are illegal. Queer students face round-the-clock discrimination in schools, according to a recent Human Rights Watch report, and same-sex couples cannot jointly adopt. In the military, consensual same-sex intercourse among soldiers is a crime, punishable by up to two years in prison — and all able-bodied men must serve about two years in the South Korean military as part of the conscript system.
On LGBTQ rights, South Korea is an outlier among the world's wealthy democracies. In the 2019 Franklin & Marshall Global Barometer of Gay Rights, the world's 38 Organization for Economic Co-operation and Development (OECD) nations averaged a grade of B. Only three — South Korea, Poland and Turkey — earned an F. Countries with an F are "persecuting" their queer communities, the report said.  
NBC News spoke with South Korean lawmakers, human rights organizations and dozens of LGBTQ South Koreans in three of the country's largest cities: Seoul, Daegu and Busan. Most say a bill that would outlaw discrimination against all minority groups — including the LGBTQ community — is the critical first step toward legal equality.
In 2007, former President Roh Moo-hyun's administration helped draft South Korea's first comprehensive nondiscrimination bill, but conservative groups like the Congressional Missionary Coalition immediately objected to its inclusion of "sexual orientation." One petition sent to the Ministry of Justice prophesied, without any evidence, that "homosexuals will try to seduce everyone" if the bill were to become law.
Lawmakers have since proposed eight comprehensive nondiscrimination bills, but the country's conservative presidentand legislators, as well as its powerful Christian lobbies, all but doom such bills in the Assembly, even though a majority of the public (57%) support a nondiscrimination bill, according to a 2022 Gallup Korea Poll.
But Lesvos said she is undeterred by the political deadlock. Defying the odds, she said, is the secret behind her survival.
At age 14, after revealing she had a crush on a female classmate, Lesvos was outed to her mother by a school teacher, who showed up at her home to share the revelation.
"She was postured like I was guilty or had just committed a crime," Lesvos said of her mother. "I was so afraid. I wondered if I should run away — and I was only 14."
The years ahead were not any easier. In her 20s and 30s, Lesvos said, she nearly lost the will to live, each day a barrage of discrimination, isolation and abuse.
"I couldn't go a moment without alcohol," she said. "I wanted to die. I thought I was alone, and I seriously considered taking my own life."
Things changed in 2000, when Lesvos, then 44 years old, stumbled upon a small, queer-friendly bar in Seoul.
"I finally met queer friends," she said, "and I finally got to be immersed in queer culture."
A few months later, she cobbled together her savings and bought Lesvos Bar, which had originally opened in 1996, making her the single owner of South Korea's first lesbian bar. In the spirit of self-reform, she dropped her given name and, henceforth, was known to all simply as Lesvos, she said. The name, as well as the word "lesbian," derives from the Greek island of Lesbos, home to the ancient poet Sappho.
Lesvos has since assumed a second title: activist. Affixed to her bar's taupe-colored walls are pride flags, rally leaflets and a command bestowed upon all who enter: "Pass the nondiscrimination bill."
"Do we not have the right to live as equals?" Lesvos asked, her voice reaching a measured crescendo. "I wish the word discrimination didn't even exist. But it does. It's everywhere."
'Like a smoking habit'
Rep. Jang Hye-yeong, who was elected in 2020 at the age of 33, is a woman of many trades. The documentary filmmaker turned progressive lawmaker calls herself an advocate for this country's LGBTQ community. Jang's firebrand style quickly shot her to global stardom: She is now the face of the push for the nondiscrimination bill, and last year, Time listed her among the 100 emerging leaders shaping the future.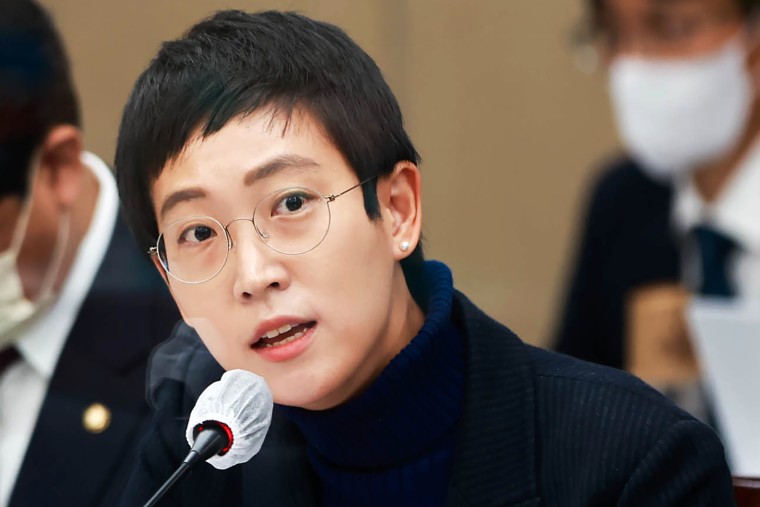 "Just telling somebody that you are LGBTQ will certainly subject you to discrimination," the lawmaker, now 35, told NBC News. "A nondiscrimination bill means no citizen of this country is subject to state-condoned discrimination. A nondiscrimination bill means nobody is left behind, and now is the time to pass the nondiscrimination bill."
South Korea, she said, has both a national and international imperative to pass a nondiscrimination bill, adding that the lack of such a law "means that South Korea — an important member of the U.N. and an advanced economy — is not protecting its citizens' human rights."
Victor Madrigal-Borloz, the U.N. Independent Expert on Sexual Orientation and Gender Identity, told NBC News that even if a country has no LGBTQ-specific anti-discrimination laws, "that doesn't mean it's not subject to its obligations under international human rights law," including the right to freedom from discrimination and violence. This, he added, "includes South Korea."
While support for a comprehensive nondiscrimination bill is strong in South Korea, Jang concedes that the odds of one passing, at least in the near future, are slim.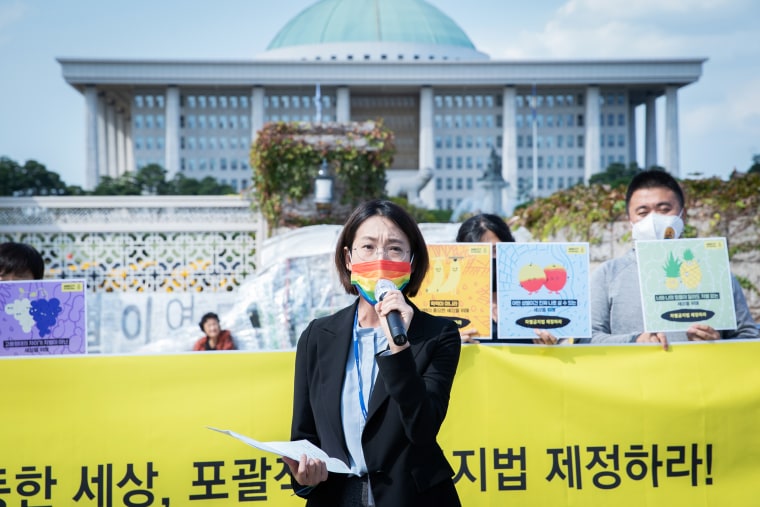 In the last election, Jang's progressive Justice Party, which supports the bill, won only six seats in the 300-seat assembly. The country'sconservative president and People Power Party oppose a comprehensive nondiscrimination bill, while the left-leaning Democratic Party has expressed lukewarm support. But Jang blames the logjam on the country's powerful Christian interest groups, which she said lobby against the bill and "LGBTQ people's right to exist." Lawmakers often avoid challenging Christian political stances to placate their base, she said.
The office of President Yoon Suk Yeol, along with leaders of the conservative and centrist parties, declined NBC News' requests for comment.
Explaining his stance on same-sex marriage, then-candidate Yoontold Human Rights Watch that "although one may have the right to choose their sexual orientation," South Korea needs "a careful approach to the issue because denying biologically assigned genders and recognizing same-sex couples could have significant social impact." In May, a top adviser to President Yoon said"homosexuality can be treated," like a smoking habit (he later resigned).
Protestant Pastor Yonah Lee, a staunch supporter of Yoon's policies, is often called this country's de facto "ex-gay" spokesperson. He has held events at the country's legislature, and the former general secretary of the Christian Council of Korea called his work a "milestone to Korean history and society."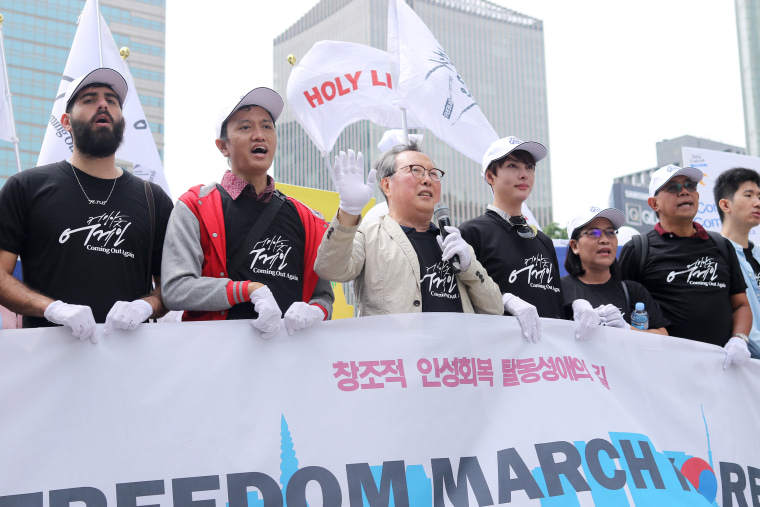 Pastor Lee acknowledged that discrimination against LGBTQ individuals is "wrong," but he argued that the Bible "condemns homosexuality" and baselessly claimed that an anti-discrimination law that explicitly protects LGBTQ people would "force churches to close."
Madrigal-Borloz, the U.N. expert, said the purported contradiction between religion and human rights is nonexistent.
"One does not speak the language of theology or dogma when addressing the human rights of persons," he said, adding that South Korea is a constitutionally secular republic, and "there are limitations to the way in which one can expect their religious beliefs to limit the rights of others."
Get the Morning Rundown
Get a head start on the morning's top stories.SIGN UPTHIS SITE IS PROTECTED BY RECAPTCHA PRIVACY POLICY | TERMS OF SERVICE
Asked how his stance squares with South Korea's obligations under international law, Pastor Lee cited a series of biblical scriptures, then demurred.
"LGBTQ adults can live their lives freely in Korea," he said. "So why do we need the bill?"
'We're feeling furious'
To YoonDuck Kim, the presumption that LGBTQ people can live freely in the country is laughable. "The pastor is wrong," he said. "He's so wrong."
Kim is a bisexual student at Seoul's Yonsei University and was the president of its queer student union last year. The club, Come Together, publishes a magazine at the end of each school year, which is typically filled with essays from LGBTQ Koreans on and off campus.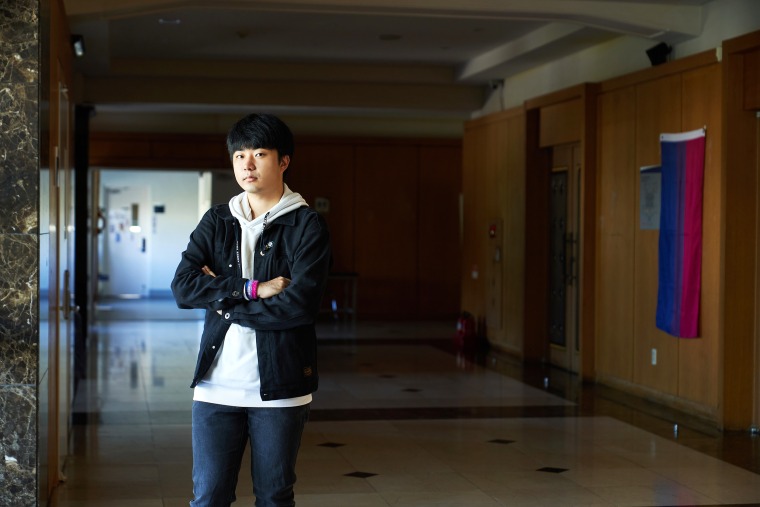 In the spring of 2021, however, Come Together devoted its entire 240-page issue to the importance of a nondiscrimination bill. It was a notable moment for the club and it signaled that the LGBTQ community's patience had worn thin, Kim said.
"We're all asking ourselves, 'Why hasn't the bill passed yet?' We're feeling furious."
He then explained how his community experiences discrimination: Same-sex couples still cannot marry, which blocks them from marriage's legal protections, nor can they start a family, at least in the eyes of the law. South Korean public and private schools are "extremely closeted," he said, adding it's "typically unsafe [for students] to be out."
A Human Rights Watch investigation published last year accused South Korean schools of "neglecting the rights of LGBTQ youth," citing around-the-clock "bullying and discrimination, invisibility and misinformation in curricula, and rigid gender segregation." In one poll of LGBTQ students cited in the report, 96% of respondents reported experiencing discrimination or bullying in school, while a second poll found 92% of LGBTQ students were verbally harassed by peers and 80% were harassed by teachers.
Jeon Il, a gay bartender from Itaewon, said the city's small Homo Hill neighborhood is the only spot "where we can really be gay." He added that a simple dinner date elsewhere is "basically impossible, because it isn't even safe to hold hands in public," and even at timesin Itaewon.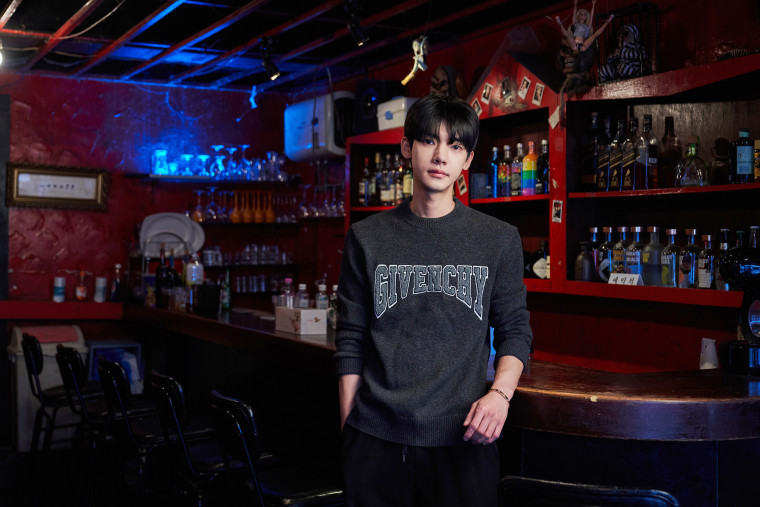 Yoo, who asked that only his surname be published because of workplace discrimination, said he is forced to "erase the queer to act masculine" while working his corporate job in Seoul. "I'm afraid of what they'd do if they find out I'm gay," he said.
Same-sex intercourse is not illegal for civilians in South Korea, but it is between men in the military. Article 92-6 of the Military Criminal Act penalizes "indecent acts" in any military setting with up to two years in prison — and all able-bodied men must serve about two years in the military. No law criminalizes heterosexual intercourse in the South Korean military.
However, there are some signs that restrictions on LGBTQ service members may be easing: Earlier this year, the South Korean Supreme Court overturned the conviction of two soldiers for gay sex, and last year, a district court posthumously reinstated a transgender soldier who died by suicide after being dismissed from the army.
Gender-diverse South Koreans face discriminatory challenges unique to their community. June Green, a trans male bartender and human rights activist, said transgender Koreans often struggle to find stable employment. The first digit of the country's equivalent of a Social Security number corresponds to one's sex assigned at birth, amounting to "forced outing" in any job interview.
Simple errands like grocery shopping aren't any easier for Green.
"I have to make a deeper voice whenever I leave my house, and even then, people still approach me to ask if I'm a guy or girl," he said.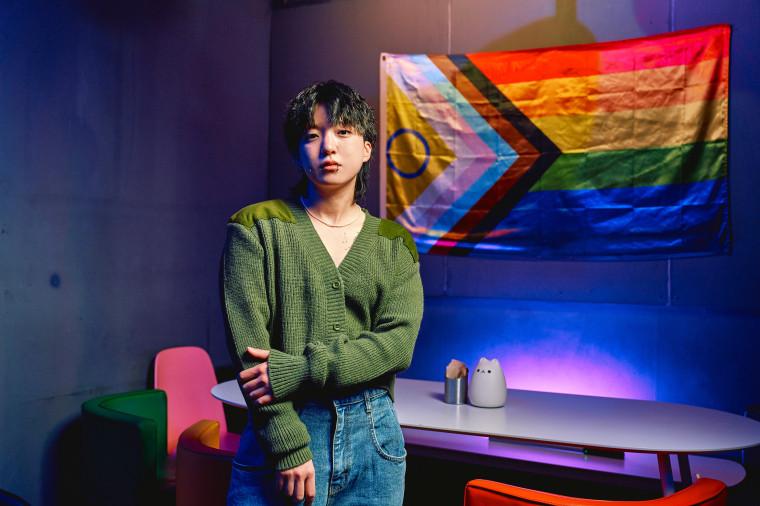 Codifying anti-discrimination laws would not necessarily alleviate these concerns, but activists say it could catalyze additional protections, like same-sex marriage and joint adoption.
For Green, it could also provide an additional sense of security.
"Because we still don't have an anti-discrimination law, I often feel threatened to just walk on the street," he said.
'So many lives lost'
Lesvos said her mom once told her that she would grow out of her identity, "but decades later, I'm still a lesbian," she said.
But while Lesvos has persevered, she solemnly acknowledged that discrimination has exacted a deadly toll.
"I've known so many queer Koreans who killed themselves," she said. "So many lives lost. Suicide is not the answer. We have to survive."
She added, "I will do whatever it takes for South Korea's LGBTQ community until I take my last breath."
Jang, the human rights activist and politician, believes the assembly will eventually pass the nondiscrimination bill; she just doesn't know when. She noted that a majority of Koreans in their 20s support same-sex marriage, even though the older generations are still broadly opposed. Lawmakers will ultimately share the young's tolerance, she said, "and love will win."
June Green said the undated promise to pass a nondiscrimination bill does not assuage his everyday sense of danger. However, he did acknowledge that things have improved for the country's queer community, and he said he sees no reason to think that progress will cease.
South Korea has "new queer shows, and there are more and more people coming on the street for Pride. We couldn't even imagine that five years ago," he said as a small smile lined his face. "It's really sensational."
Kim acknowledged that the road to change might be bumpy, even unpaved, but he vowed to do whatever he can to "make the impossible possible."
Asked how he'll feel if and when a nondiscrimination bill passes, he said he'll be both "happy and sad," because he'll "think of Choi."
Choi, who used they/them pronouns, was an untiring champion of the nondiscrimination bill, an editor of last year's special Come Together club magazine and Kim's close friend. The two students would often talk about the burden of anti-queer discrimination, Kim said. Then, last summer, Choi died by suicide — leaving Kim and his friends devastated.
Reflecting on the fight for equality still ahead, Kim glanced at the floor beneath his feet, then began to speak to his late friend.
"We won't stop fighting, even though you're gone," he said as a single tear inched down his face. "So rest easy. We'll take it from here."
If you or someone you know is in crisis, call 988 to reach the Suicide and Crisis Lifeline. You can also call the network, previously known as the National Suicide Prevention Lifeline, at 800-273-8255, text HOME to 741741 or visit SpeakingOfSuicide.com/resources for additional resources.