Missouri has launched a multi-agency investigation into a pediatric transgender center after a former case worker alleged children were being routinely prescribed puberty blockers or hormone therapy without "appropriate or accurate" mental health assessments, the state's attorney general announced Thursday.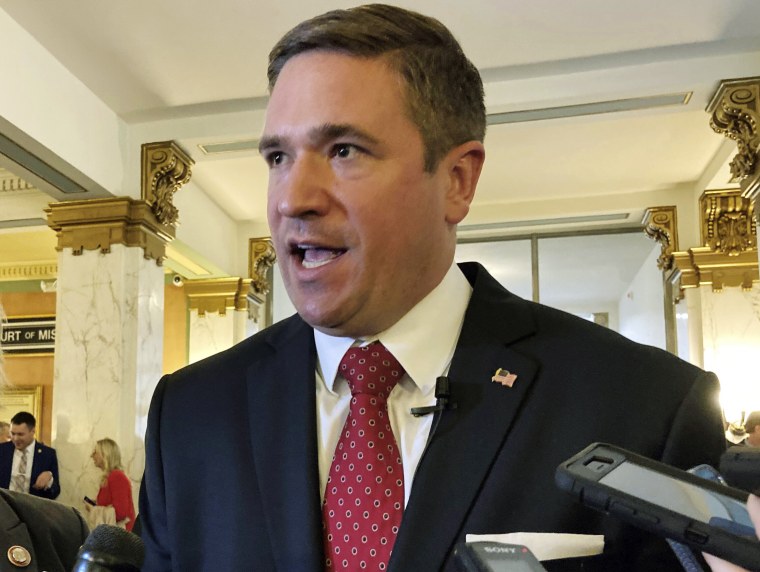 "We have received disturbing allegations that individuals at the Transgender Center at St. Louis Children's Hospital have been harming hundreds of children each year, including by using experimental drugs on them," state Attorney General Andrew Bailey said in a statement. "We take this evidence seriously and are thoroughly investigating to make sure children are not harmed by individuals who may be more concerned with a radical social agenda than the health of children." The investigation was launched two weeks ago after Jamie Reed, who worked as a case manager at the Transgender Center from 2018 to November 2022, alleged the center caused permanent harm to many of the patients being treated for gender dysphoria. The attorney general's office, which said it had previously received a sworn affidavit and supporting documentation from Reed, confirmed the existence of the investigation Thursday after Reed went public that same day with her allegations in an op-ed published in The Free Press, a news website started by Bari Weiss, a former op-ed writer and editor at The New York Times. Reed concluded her op-ed by calling for a "moratorium on the hormonal and surgical treatment of young people with gender dysphoria."
In a 23-page affidavit shared on the attorney general's website, Reed alleged the staff repeatedly violated the center's own treatment guidelines. She said the center required minors to meet four criteria — a minimum age, a therapist referral, parental consent and a clinical visit with an endocrinologist or an adolescent medicine specialist — before they could receive puberty blockers, which temporarily pause puberty, or hormone therapy, such as estrogen or testosterone. But she alleged the center's staff would provide the medication "without complete informed parental consent and without an appropriate or accurate assessment of the needs of the child."
Reed alleged in the affidavit that providers at the center prescribed hormone therapy to patients as young as 13, even though the World Professional Association for Transgender Health, a nonprofit professional association, recommended at the time that minors be at least 16 years old for such treatment. She also alleged providers at the center only used therapists they "knew would say yes" to a patient's medical transition and that parents were "routinely pressured" into consenting to have their child receive transition-related care.
In her affidavit, Reed also alleged that doctors at the Transgender Center did not share information with patients and their parents about the possibility of sterility following hormone therapy, though, in her op-ed, she said patients were "told about some side effects, including sterility," but that she "came to believe that teenagers are simply not capable of fully grasping what it means to make the decision to become infertile while still a minor." She also said she witnessed minors experience "shocking injuries" from the medication, including one patient who experienced "severe atrophy of vaginal tissue" after receiving testosterone and had to have subsequent vaginal lacerations treated surgically.
Reed alleged she raised concerns to doctors at the center and university administrators for years and was discouraged from tracking adverse outcomes of patients, she stated in the affidavit. She wrote in her op-ed that her experience at the Transgender Center has led her to support a nationwide moratorium on gender-affirming care for young people due to "the secrecy and lack of rigorous standards that characterize youth gender transition across the country."
Washington University in St. Louis, the parent institution of the Children's Hospital, said in a statement shared on its websiteThursday that it is "alarmed by the allegations reported in the article published by The Free Press describing practices and behaviors the author says she witnessed while employed at the university's Transgender Center."
"We are taking this matter very seriously and have already begun the process of looking into the situation to ascertain the facts," the statement said. "As always, our highest priority is the health and well-being of our patients. We are committed to providing compassionate, family-centered care to all of our patients and we hold our medical practitioners to the highest professional and ethical standards."
The state's Division of Professional Registration, one of the agencies assisting in the investigation, is looking into whether any licensed professionals at the Transgender Center are in violation of their respective licensing board's policies, while the Department of Social Services will be investigating concerns surrounding fraud, waste or abuse in the state's Medicaid program, according to the attorney general's news release. 
Missouri is one of at least 24 states that have introduced measures this year to prohibit gender-affirming care for minors. Five states — Alabama, Arkansas, Tennessee, Arizona and Utah — have already placed restrictions on such care, though federal courts have blocked Alabama's and Arkansas' laws from taking effect pending the outcome of the litigation.
Transition-related care for minors is supported by major medical organizations — including the American Medical Association, the American Academy of Pediatrics and the American Psychological Association. These associations oppose governmental restrictions on care, including puberty blockers and hormone therapy, which they say are safe and have been used for decades to treat other conditions in minors.
The World Professional Association for Transgender Health's most recent Standards of Care guidance, which is used widely by clinicians who provide transition-related care, recommends that this type of care be provided to minors using a multidisciplinary team of medical experts in a variety of fields, including psychology and endocrinology. The group doesn't recommend any medical intervention for children prior to puberty. Rather, it recommends that children socially transition, for example, by using a different name and pronouns or wearing a different hairstyle or clothing. Adolescents who begin the early stages of puberty — usually between 8 and 14 — may be eligible for puberty blockers, but the group recommends they meet a list of criteria, including receiving a comprehensive psychosocial assessment.
The group also recommends that older youths meet a list of criteria before beginning hormone therapy. For example, the standards say adolescents have to demonstrate the emotional and cognitive maturity required to provide informed consent for treatment, the adolescent's other mental health concerns should be addressed, and the adolescent and the parents or guardian should be informed of the potential reproductive effects of the treatment.
Minors rarely receive surgery, but when they do, the group recommends they receive hormone therapy for at least 12 months prior, receive ongoing mental health support and assessments and be informed of the potential health effects of surgery, including infertility.
More than half a dozen studies published in major medical journals over the last few years have found that access to puberty blockers and hormone therapy improves mental health outcomes, including significantly reducing suicidality, for trans youths.