South Dakota has joined five other states that have restricted transition-related care for transgender minors in just the past two years.
On Monday, Gov. Kristi Noem, a Republican, signed the "Help Not Harm" bill, which bans health care professionals from providing puberty blockers, hormone therapy and surgery to minors as treatment for gender dysphoria, which is the distress caused by a sense of conflict between the assigned sex at birth and the person's gender identity.
Providers who are already treating trans minors with puberty blockers, which temporarily pause puberty, or hormone therapy will be required to taper the minors off the medications by Dec. 31.
The measure makes exceptions for intersex infants and for the treatment of conditions unrelated to gender dysphoria.
"South Dakota's kids are our future," Noem said in a statement. "With this legislation, we are protecting kids from harmful, permanent medical procedures. I will always stand up for the next generation of South Dakotans."
Health care providers who violate the law could have their medical license revoked. Until they turn 25, minors who receive care in violation of the law can also sue providers.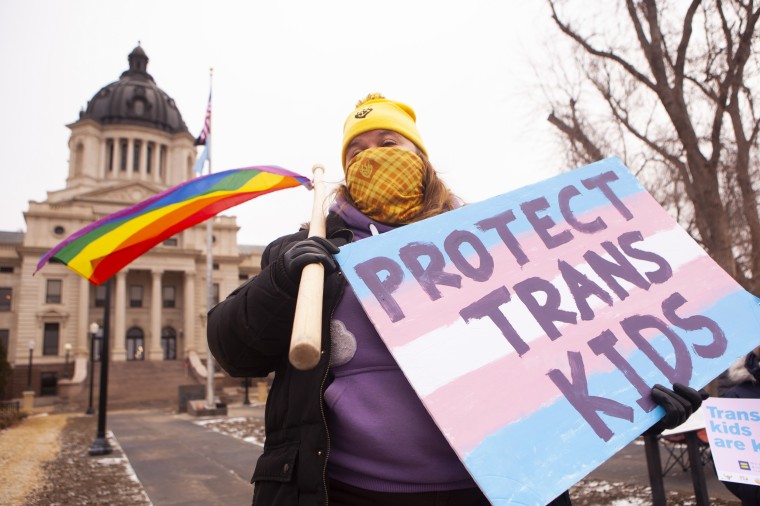 Elliot Morehead, a trans teen who uses they/them pronouns and had planned to access gender-affirming care within the next year, said the measure has "affected my future deeply."
"I was hoping to maybe start any kind of treatment for myself and now our legislators, who are supposed to support us, have taken away that opportunity for me and I'm bummed," they told CBS affiliate KELO-TV in Sioux Falls on Thursday after the bill passed the Senate.
Morehead, 16, told House committee members last month that they had to receive six months of therapy and a letter from their therapist before they could begin hormone therapy.
"People think you can just like walk in and then get like testosterone or estrogen or puberty blocking — it doesn't work like that," they said, according to The Associated Press.
Over the years, South Dakota has been what advocates have described as a testing ground for legislation targeting trans people.
In 2016, the state was the first to pass a school "bathroom bill," which would've required students to use the school facilities that correspond with their assigned sex at birth. The measure was ultimately vetoed by then-Gov. Dennis Daugaard, a Republican, who said at the time that it did not "address any pressing issue concerning the school districts of South Dakota," according to the Argus Leader, a local newspaper. Three states — Alabama, Oklahoma and Tennessee — bar transgender students from using the school facilities consistent with their gender identity, according to the Movement Advancement Project, an LGBTQ think tank.
The state was also the first to pass a gender-affirming care ban in 2020, though the bill failed to pass a Senate committee.
On Saturday, more than 400 South Dakotans, including trans youths, their families and allies, protested the bill's passage in the Senate, according to Transformation Project Advocacy Network, a local trans rights group.
Following Noem's signing of the bill Monday, the American Civil Liberties Union and the ACLU of South Dakota said in a joint statement that the measure "won't stop South Dakotans from being trans, but it will deny them critical support that helps struggling transgender youth grow up to become thriving transgender adults."
"But make no mistake–this fight is not over," the groups said. "We will never stop fighting for the right of trans youth to get the love, support, and care that every young person deserves. As much as Governor Noem wants to force these young people to live a lie, we know they are strong enough to live their truth, and we will always fight for communities and policies that protect their freedom to do so."
More than a dozen major medical organizations — including the American Medical Association, the American Academy of Pediatricsand the American Psychological Association — support gender-affirming care for minors.
So far this year, lawmakers in at least 24 states, including South Dakota, have introduced legislation that would restrict transition-related care for minors, according to an NBC News analysis. Governors in six states — Alabama, Arkansas, Arizona, South Dakota, Tennessee and Utah — have signed such restrictions. Federal judges have blocked bans in Alabama and Arkansas from taking effect pending the outcome of lawsuits.