Sonoma County student short films for the 15th annual student film festival to be held on Friday, March 31st, 2023, at 6:00 pm. Select films will be shown to the public and will be followed by a Q & A.
The Sonoma County Student Film Festival was initiated 15 years ago by the Student Government President, Amanda Swan, and launched at SRJC Petaluma. The Sonoma County Film Festival (SCSFF) encourages students to build academic and professional connections with their peers and community. The goal of the event is to connect and introduce student filmmakers within the community to our own Film Studies and Digital Filmmaking programs here at SRJC.
This program is the result of collaboration between the SRJC Petaluma Student Life and Communication Studies departments. Featured filmmakers receive passes to attend the Film Fest Petaluma, Sonoma County's Premiere international short films festival.
Details and ticket information are studentlife.santarosa.edu/sonoma-county-student-film-festival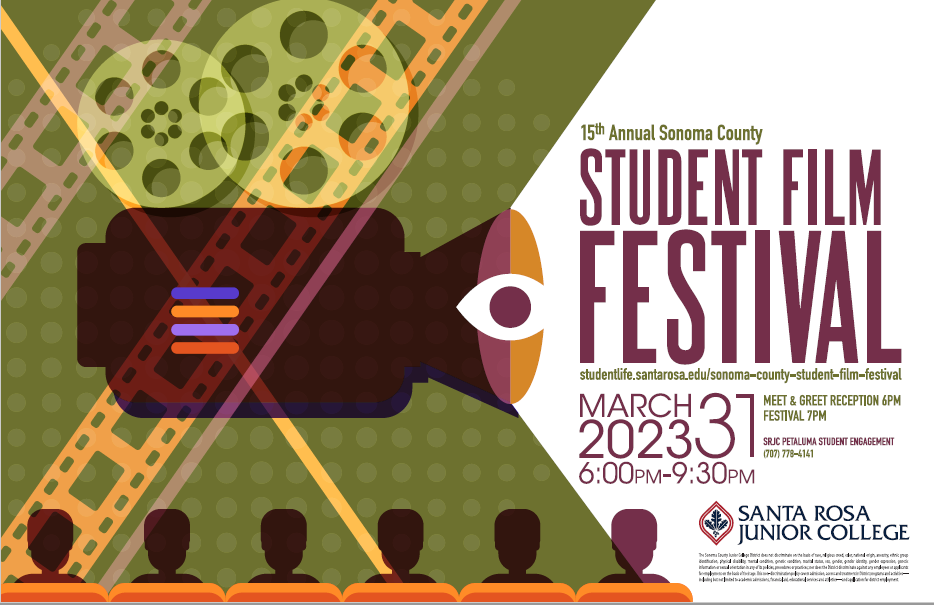 SELECTED FILMS:
| | |
| --- | --- |
| A Man Named Quinn Director: Mandy Miller, Santa Rosa Junior College | Concerto Director: Dylan Scott Campbell, Rancho Cotate High School |
| Itchsanity Director: Ben Lohrentz, San Franscisco State University | Expectations Director: Andrew Carniglia, Santa Rosa Junior College |
| SRJC Theatre Arts' Journey Through Covid Director: Samuel J. Gleason, Santa Rosa Junior College | Bodega Body Director: Johnathan Vargas, University of California Santa Cruz |
| Echo Director: Jaden Reiter, Sonoma State University | Lipstick Director: Colin Miller, Santa Rosa Junior College |
| Text Me Director: Emma Wilder Meiners, Santa Rosa Junior College | The Good Guys Always Lose Director: Frank Alonso & Christopher Valenzuela, Santa Rosa JC |
| Hyperacusis Director: Matthew Tribble, Santa Rosa Junior College | Nieve de Garrafa en Roseland Director: Bryan Fructuoso Zurita, Santa Rosa Junior College |
| Twinkle, Twinkle Director: Mandy Miller, Santa Rosa Junior College | Quit Trippin Director: Zane Boban-Bennett, Santa Rosa Junior College |