A young gay couple has been arrested with one facing deportation back to his native China after running afoul of Russia's "gay propaganda" law signed by Russian President Vladimir Putin last December, for their videos on TikTok, Instagram and YouTube.
Gela Gogishvili, 23, a Russian national and his boyfriend, Chinese national Haoyang Xu, 21, live in Kazan, the fifth largest city in Russia located on the banks of the Volga and Kazanka Rivers in southwest Russia. The young couple had been documenting their everyday lives with their 740,000 followers on TikTok and 64,900 subscribers on YouTube.
The couple was arrested this past Thursday and although Gogishvili was released, Xu remains being held in a Russian detention center for migrants before being deported in seven days.
In an interview with Newsweek's Shannon Power "We were very scared … it became a living hell because the impossible happened," Gogishvili said.
According to Moscow-based LGBTQ group, DELO LGBT+ a local citizen tipped off police to Gogishvili and Xu's social media content.
"The 'gay propaganda' law falls under the Administrative Code, but the Kazan police's criminal investigation department has been looking for these guys … and they are treated like they are dangerous criminal offenders," Vladimir Komov, senior partner and a spokesperson for the organization said.
In a court hearing Friday, Xu who had moved to Russia to study Russian at university, was found guilty of violating the enhanced "gay propaganda" law and sentenced to a week in the detention center for migrants before being deported. The couple's attorneys are appealing that decision.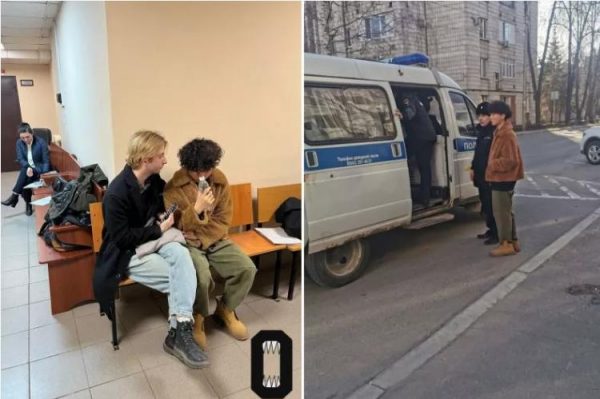 According to Newsweek: Police stopped the couple in the street after they had attended a museum with friends and demanded Xu present his papers, such as passport and student visa, but he couldn't because he did not carry them on him. The officers then escorted them to get his documentation and took them in a police car to the Yapeyeva police station.
But once they got there, police informed the men they were being charged under Article 6.21 of Russia's Administrative Offenses Code, otherwise known as the "gay propaganda" law.
"The policeman told us that it's not that Haoyang didn't have his papers on him but we will be prosecuted for 'gay propaganda' and … Haoyang could be deported," Gogishvili said.
DELO LGBT+'s Komov said that he could not understand why the couple had been arrested because they were "quite popular" on their social media platforms and their content was "not erotic" by any standard.
"They do TikToks about their everyday life as a gay couple, how they do chores, how they wash the dishes, how they communicate and only share a few romantic moments such as kissing … and some cuddling," Komov said.
"How did the police informer and the Kazan police deem there was LGBT+ 'propaganda' on their social media? These guys just posted videos in which they kiss, hug and show their favorite sleeping poses.
"All this was considered an inappropriate demonstration of 'homosexual intimacy'."
Russian Prime Minister Mikhail Mishustin issued a decree last December that directs the Russian Federal Service for Supervision of Communications, Information Technology and Mass Media, abbreviated as Roskomnadzor, to ban any websites that contain information about LGBTQ identities without a court order.
As a part of the stepped up enhancements of the law, "Information propagating non-traditional sexual relations and (or) preferences" now serves as grounds for blacklisting any website in Russia and more recently used as a tool by Russian police and prosecutors against those posting prohibited material on their personal social media platforms.