As the nation's culture wars rage on in classrooms and libraries, attempts to ban books have reached a record high, and titles with LGBTQ themes remain top targets.
In its annual book censorship report, the American Library Association documented 1,269 challenges to more than 2,500 books in 2022, the highest number of attempted book bans since the association began tracking such efforts in 2001. It was a 75% jump from 2021, which held the previous record.
Of the 13 books that made the ALA's list of "Most Challenged Books" last year, seven titles — including three of the top four — were challenged for having LGBTQ content, the association found.
Deborah Caldwell-Stone, director of the American Library Association's Office for Intellectual Freedom, said the LGBTQ-heavy list "sends a message of exclusion."
"It's a way of telling young gay and transgender persons that they don't belong in school, that they don't belong to the community," she said. "It sends a message to the LGBTQ community as a whole that they're not considered full citizens with full rights to participate in community institutions like the library."
The ALA reported that, prior to 2020, the "vast majority" of challenges against books were made by individuals who sought to restrict access to a single book their child was reading. But the group found that 90% of last year's challenges were directed at multiple books and nearly a fifth of them were made by "political/religious groups."
The association cited this finding as "evidence of a growing, well-organized, conservative political movement, the goals of which include removing books about race, history, gender identity, sexuality, and reproductive health from America's public and school libraries that do not meet their approval."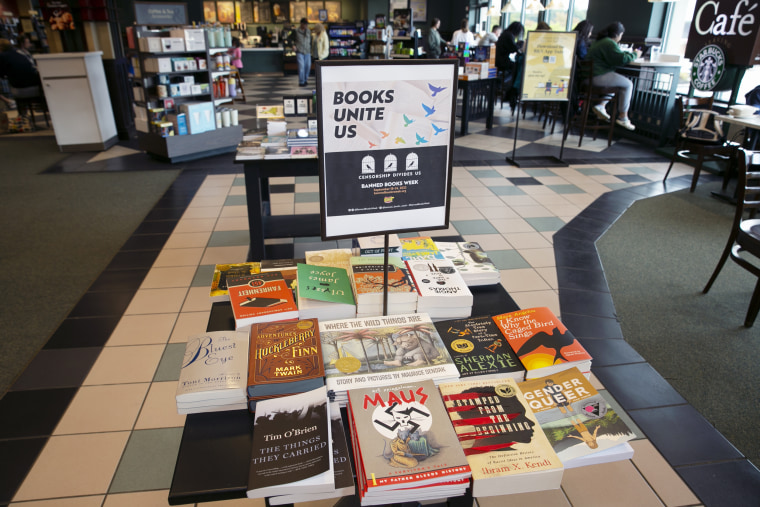 In recent years, conservative lawmakers and activists have rallied around limiting LGBTQ issues being taught in schools, queer symbolism from being displayed in classrooms and transgender athletes from participating in school sports.
Just last week, the Florida Board of Education approved Gov. Ron DeSantis' request to expand the state's so-called Don't Say Gay law — which restricts the instruction of sexual orientation and gender identity in the state's public schools — to all grades. Previously, the law only explicitly applied to children in kindergarten through third grade.
Last year's most challenged book was the award-winning memoir "Gender Queer," which also topped the ALA's 2021 list of most banned books. 
The illustrated memoir — which chronicles nonbinary author Maia Kobabe's journey of self-identity — has faced unparalleled pushbackfrom school boards and conservative activists around the country in recent years.
A representative for Kobabe did not immediately respond to NBC News' request for comment.
In a previous interview with NBC News, Kobabe acknowledged that parts of their memoir may not be appropriate for elementary school children. However, the author said the book's straightforward accounts could be used to show readers an experience growing up outside of cisgender and heterosexual norms.
"It's very hard to hear people say, 'This book is not appropriate to young people,' when it's like, I was a young person for whom this book would have been not only appropriate, but so, so necessary," Kobabe said. "There are a lot of people who are questioning their gender, questioning their sexuality and having a real hard time finding honest accounts of somebody else on the same journey. There are people for whom this is vital and for whom this could maybe even be lifesaving."
Other titles at the top of the 2022 list include George M. Johnson's "All Boys Aren't Blue," Toni Morrison's "The Bluest Eye," Mike Curato's "Flamer," John Green's "Looking for Alaska" and Stephen Chbosky's "The Perks of Being a Wallflower."
Caldwell-Stone said that the group of books — as with all books — should remain on shelves without "fear or favor."
"Everyone is entitled to find books that reflect their interests, their experiences, their backgrounds, their identities on the shelves of a publicly funded library that's there to serve everyone," she said.