When Kyle Freels got off work Tuesday, he and his wife, Rene, drove from their home in Missouri across the Mississippi River to look at neighborhoods in Illinois. They also picked up three months' worth of estrogen for their daughter, Chelsea, who is transgender.
The Freels are preparing to potentially leave St. Louis, where they moved 17 years ago just before Chelsea was born, due to the state's repeated efforts to restrict the rights of trans people.
"I never thought we'd have to be refugees in the United States, but now we're being forced out," Kyle Freels said.
So far this year, Missouri lawmakers have introduced 48 bills targeting LGBTQ rights — the second highest number in the nation behind Texas — with nearly half of those restricting trans rights, according to the American Civil Liberties Union.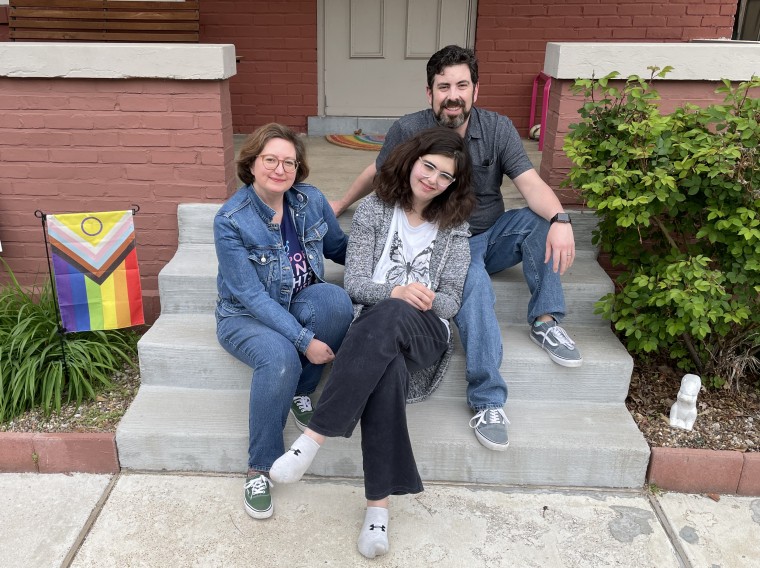 In February, just as the state's legislative session was starting and Missouri Republicans were filing bills to bar gender-affirming care for minors, Attorney General Andrew Bailey announced that he had started an investigation into the Transgender Center at the St. Louis Children's Hospital, the state's only multidisciplinary clinic for trans adolescents. The probe followed claims by Jamie Reed, a former case worker at the center, who alleged the facility was harming children by not conducting thorough mental health assessments before providing patients puberty blockers and hormone replacement therapy, or HRT.
Reed's allegations — outlined in an affidavit and an op-ed, both published on Feb. 9 — have become a flashpoint in the debate over transition-related care for minors, both in Missouri and nationwide. The week after Reed's op-ed was published, state Sen. Mike Moon, a Republican, introduced a trio of bills to restrict such care and cited Reed's allegations. Earlier this month, the Republican-led House passed a bill that would ban gender-affirming care for minors.
"Sex changes and little kids are two things that should never go together," Rep. Brad Hudson, the Republican who introduced the recently passed bill, said on the House floor earlier this month, as reported by the Kansas City Star.
"I never thought we'd have to be refugees in the United States, but now we're being forced out."
KYLE FREELS, PARENT OF A TRANS TEEN
Though Bailey's investigation into the Transgender Center is ongoing, he issued a rule on April 13 to significantly restrict transition-related care for all trans people in the state by requiring them to meet a list of criteria before treatment, including attending 15 hourly therapy sessions over at least 18 months and having any mental health issues "treated and resolved." The rule was scheduled to take effect Thursday, but a judge issued a temporary stay Wednesday night, after civil rights groups and local attorneys filed a petition seeking a temporary restraining order against it. The rule is now slated to take effect Monday, pending the outcome of a hearing.
More than a dozen parents with trans children in the state described the resulting climate as hostile, with one parent calling it a "a dystopian nightmare" and another saying they've been "living with harassment every day." When the Freels talk about it, they call it a "battle" — one that they said will eventually push them out of the state, even though they want to stay and support families with younger kids.
"We kind of feel battle-tested, so we don't want to leave, but yet we also want our child to be safe," Rene Freels said. "With the legislation, I know if it goes through, I don't want to be in the state."
Allegations made public
Reed, who was a case worker at the Transgender Center from 2018 to November 2022, alleged in a 23-page affidavit that children were being harmed at the center as a result of being routinely prescribed puberty blockers or hormone therapy too quickly and without "appropriate or accurate" mental health assessments.
She also said patients were provided medication "without informed parental consent," alleging that parents were not given enough information about the side effects of hormone therapy, which can include infertility. The center, she alleged in her affidavit, also did not obtain custody agreements from divorced parents to ensure all parties consented to treatment.
Shortly after Reed went public with her allegations in an op-ed published in The Free Press, a news website started by Bari Weiss, a former op-ed writer and editor at The New York Times, the Missouri attorney general's office announced its investigation and made Reed's affidavit public. Reed, who has a master's degree in clinical research management, concluded her op-ed by calling for a "moratorium on the hormonal and surgical treatment of young people with gender dysphoria."
NBC News contacted Reed's legal team via phone and email, and Reed via mail, but after multiple requests, she declined an interview.
'Unsubstantiated' allegations
Washington University in St. Louis, the parent institution of the St. Louis Children's Hospital, released the findings of an internal investigation into the Transgender Center on Friday. It found that "allegations of substandard care causing adverse outcomes for patients at the Center are unsubstantiated."
Reed's attorneys, Vernadette Broyles and Ernest Trakas, said in a statement on Reed's behalf that the university did not interview their client for its internal investigation. They also said the university "acknowledges the validity of several of Ms. Reed's allegations," including that the center didn't obtain written informed consent from parents or custody agreements.
In a summary of its investigation findings, the university said the center's existing policy includes obtaining verbal parental consent for treatment and documenting that consent in the patient's medical record, as well as requesting custody agreements "before medical intervention in cases where decision-making authority was in question." Going forward, the university said, the center will require written consent from parents prior to prescribing medications, such as puberty blockers and hormone therapy, and families to provide custody agreements before an initial visit at the center if the patient is a minor.
The university did not answer NBC News' question about whether Reed was interviewed as part of the investigation.
Broyles and Trakas also criticized the center's use of standards from the World Professional Association for Transgender Health, a nonprofit focused on transgender medical care.
"WPATH is an advocacy organization whose publications rely very little on the emerging international evidence and much more on the idea that trans health care is about the right to embodiment of cosmetic goals on demand," the attorneys said in their statement. "The newest WPATH publication even contains a chapter on the rights of those of the eunuch gender. It seems clear that reasonable people would have caution in providing unquestioning affirmation to children and teens, but neither WPATH nor the Center clinic does this."
Firsthand accounts
Over the last two months, NBC News has requested interviews with nearly 40 people currently or formerly associated with the Transgender Center — including parents of children treated at the center, current and former patients and former employees — as well as local mental health providers and providers at other gender clinics. NBC News has also reached out to local and national groups that both support and oppose transition-related care for minors.
The more than two dozen people who agreed to interviews said Reed's allegations don't reflect their experiences at the center.
Sixteen parents, two current patients and two former patients of the center said the care they received was thorough and slow. The shortest amount of time that a parent said their child waited between their first appointment at the center and when their child started a puberty blocker was about six months. Five parents said their children waited more than a year between their first appointments at the center and their children beginning medical transition.
The Freels are among those five parents. Chelsea, now 17, waited about 15 months between her first appointment at the clinic in August 2021 and when she started hormone therapy in November 2022. They waited a year between their first appointment and their second in August 2022, in part because they had to receive a letter of support from a therapist in order for Chelsea to start hormone therapy. They also alleged that Reed was responsible for some of the delay.
"Medicine is stashed around town at friends' homes that we've stockpiled already in advance of legislation passing."
DANIELLE, PARENT OF A TRANS TEEN
When they first called the center in the summer of 2021 and asked to make an appointment, Rene Freels said, Reed repeatedly asked them, "What do you want?"
"We were just very dumbfounded, because we didn't know," Rene Freels said. "At this point, we were so new to everything that we didn't know what we wanted."
Rene Freels said Reed allegedly told them she could email them some information but couldn't do anything else for them.
"We were in tears," Rene Freels said. "We hung up the phone. We thought we were supposed to call this place, and they're supposed to help us."
Reed's attorneys did not return a request for comment regarding the Freels' allegations.
Not knowing where to turn next, they found a therapist for Chelsea who told them to call the center again and tell the center that Chelsea was under the therapist's care. So they did, and they scheduled their first appointment in August 2021 with Dr. Christopher Lewis, the center's endocrinologist.
Recommended


Kyle Freels said the first appointment took more than an hour and a half. Lewis drew on the paper roll on the exam room table to illustrate how various medications interact with different body parts. He then said that, before Chelsea could start hormone therapy, she would need to provide him with a letter of support from a psychologist, and he would run a blood test to check her bone density.
Now that she's been on hormone therapy since November, Chelsea said, she feels much happier. She's a junior in high school and the business lead of the robotics team.
"The Missouri legislature is doing its thing, restricting trans rights for political gain and all that stuff," she said. "But overall, I still feel better now than I did back then, and I think not all of it, but definitely a good part of it, has been being on HRT and transitioning. And that has led to other good things, like more social involvement, getting in a group of my peers that support me for me."
Other families have similarly said their children's treatment has been very slow and thorough. Becky Hormuth said Dr. Sarah Garwood, one of the Transgender Center's providers, said she didn't want Hormuth's son to move forward with treatment until he had seen a dietician, because she was concerned he had an eating disorder. Another parent, Kelly, who asked that her last name not be published to protect her family's privacy, said she and her transgender son, Logan, were well informed about the potential effects of testosterone on fertility, and Logan chose to have eggs harvested at 15 before he started testosterone. And another mom, Christine Hyman, said her son saw a therapist more than 80 times before he received a letter of consent to start testosterone.
While no one who could validate Reed's claims agreed to an interview with NBC News, one parent shared their negative experience with The Free Press in an interview published earlier this month.
A parent who went only by her first name, Caroline, said she felt "bullied" into agreeing to allow her teenager, Casey, to receive puberty blockers. She said Casey's mental health has severely declined and that she revoked consent for the blocker in June, but that it still hasn't been removed. Casey, who uses they/them pronouns, lives primarily with their father, who hasn't consented to have the blocker removed, according to the article.
The day after the article was published, Casey, whose real name is Alex, criticized the story in a series of Twitter posts. NBC News has independently verified that the account does belong to Alex and that Alex is Caroline's child, but Alex declined an interview. Neither Caroline nor Alex's father returned requests for comment.
Legislative impact
Dr. Angela Goepferd, the chief education officer and medical director of the gender health program at Children's Minnesota, said she was disappointed when she read Reed's allegations. She said she is connected online with doctors who provide care to trans youths nationwide, but she doesn't know any of the providers at the Transgender Center and hasn't heard anything negative about the clinic.
"Whether the allegations are true or not," she said, "it doesn't really matter, because this is going to be something that is going to make it harder for all of us to provide the care that we know that kids and families need."
Jeff Dewald, the parent of a trans teen who has been a patient at St. Louis' Transgender Center for two years, said Reed's allegations don't reflect the experience of his family. And while he said he wants to give Reed the benefit of the doubt, he questioned the timing of her claims.
"We're in the middle of the legislative session, so right when this was issued, not even a week later, they took to hearing three bills on banning health care for trans kids," he said. "And of course, that was the only talking point in the hearing."
Dewald said Reed's affidavit was the last straw for him as a parent. Before this, he said, he had never gone to the Capitol to advocate or spoken to reporters.
"Until that moment, I wanted to protect my kid and our family and just that was good enough," he said.
But, he added, things changed after Reed's affidavit came out and, shortly after, his child turned 18.
"I really feel for those that are in the heat of this health care battle," he said. "Kids that have years to go and genuinely wondering where they're gonna go if this health care stuff passes. So since then, I've actually started stepping up my activism."
'Safety versus engagement'
Like the Freels, many Missouri parents of trans kids are making plans in anticipation of the attorney general's rule taking effect and potential laws restricting trans care loom.
Danielle, the parent of a trans teen who asked not to have her last name published to protect her family's privacy, said her family has had a plan in place for a while.
"Medicine is stashed around town at friends' homes that we've stockpiled already in advance of legislation passing," she said. "I feel like we're living in a dystopian nightmare."
Chelsea Freels has signed up for text updates on the legal challenge to Bailey's rule.
She joked that it's "not doing wonders" for her mental health, but, "Hey, Missouri's keeping its therapists employed."
She joked a lot while talking about the attorney general and the Legislature's attempts to restrict her health care. Her parents said she is generally a very happy kid, but they recently noticed she was struggling.
"My energy bank for hiding everything kind of ran out," Chelsea said. "It's back."
She turns 18 in November, but if she has to leave the state and change high schools before she graduates, she said she'll be sad to leave behind the robotics team and her friends. Part of her wants to stay, she said, but the other part thinks the state might not be safe anymore.
"If you leave, to some extent, they gain, because you're not going to be as politically engaged," she said. "It feels like you're losing your voice by moving. Safety versus engagement."