In this poignant coming-of-age drama, everyone wants something from high school senior Jake: his father is pushing him to try out for the basketball team – an abandoned dream of his own – and his girlfriend wants to take their relationship to the next level. But it's not until Aleks, an openly gay teen with a love for basketball, moves in across the street that Jake begins to struggle with his own desires. To get closer to Aleks, Jake devotes himself to making the basketball team – only to realize it's not basketball he really wants. Meanwhile, Jake finds out that his father is having an affair, which leaves him questioning his entire family foundation. Distraught and confused, Jake pulls away – until he's finally outed as gay. With the truth in the open, Jake and his father come to terms with the reality of their relationship and expectations for each other. At last able to find the courage to be himself, Jake is ready to face the future with his family and friends by his side.
Golden Delicious' director and executive producer Jason Karman (He/Him) is a graduate of the University of British Columbia with a Master of Fine Arts in Film Production and Creative Writing; his films have travelled internationally and won awards. His short film, Lions in Waiting, was selected by Telefilm Canada's Not Short on Talent at Clermont- Ferrand in 2018. Jason's debut feature, Golden Delicious, is supported by Telefilm Canada Talent to Watch program, which has launched Canada's brightest talents. Jason is working on a second feature film with Norman Y. Li, a 2021 Pacific Screenwriting Program graduate.
Golden Delicious will be shown Monday, June 19 at the Castro Theatre and it will stream online June 24 – July 2.  For more info and to purchase tickets got to:  www.frameline.org.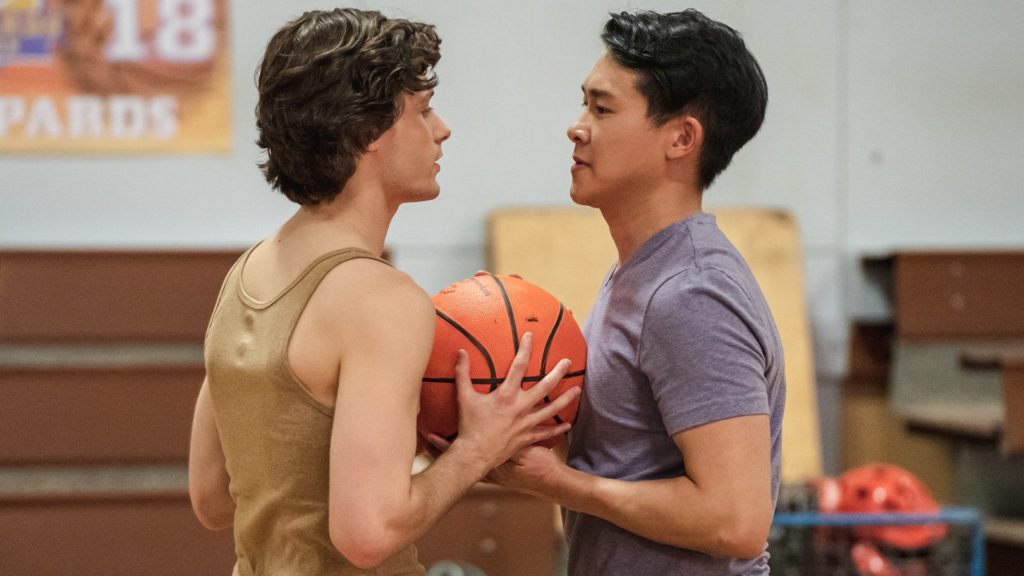 Tell us about getting the "Golden Delicious" ball rolling. Did you work with Gorman Lee, or did his script come to you?
Getting the ball rolling took many years, not only because it takes a long time to get feature film funding but I was also gaining my self-confidence as a BIPOC director. I was introduced to Gorrman Lee in 2012 because I wanted a feature script to develop. After an unsuccessful attempt at funding this project in 2013, I continued to create shorts and returned to school to do a Master of Fine Arts in Film Production and Creative Writing in 2016. Up to that point, I was self-taught, so it was valuable to go back to school to fill in my knowledge gap and get tested on what I knew. In 2019, armed with more knowledge, I applied again for funding for Golden Delicious and started getting grants. It took a few more years before we got most of our funding, and we started principal photography in March 2021.
What about the screenplay really spoke to you, and how faithful is the feature to what was on the page?
Golden Delicious resonated strongly with me because of its strong familial relationships. I could identify with many characters and what they wanted and needed. The feature is faithful to what was on the page because Gorrman wrote a great script, and I understood it. Test audiences dwelled on only a few production design elements, so we scaled them back in the final edit, making them less of a distraction. Time, for example, was chaptered in the script, but on-screen, marking the passage of time with months became a distraction to the story. Instead, emotional transitions were used to show the passage of time.
The characters are so multi-layered and fully developed. Was it important to you to get the full spectrum of Jake's life – family, friends, school, the future etc?
It was essential to acknowledge Jake's surroundings because coming of age doesn't happen in a vacuum. There is a strong sense of heritage within Asian families that can be debilitating and suffocating to finding happiness. By comparing Jake's relationships with his family and friends, we start to see what he has and is missing.
You've cast very talented actors. Tell us about casting the leads and about working with a perfect example of an ensemble.
We cast using Zoom starting in December 2020. The process began with finding Jake, the boy next door, Aleks, and his girlfriend, Valerie. Due to COVID restrictions, we didn't have a chance to do in-person chemistry reads, so everything I interpreted was through my laptop monitor. Often, I identify contrasting elements within actors as it makes them more compelling to watch. I see how well they take direction and look at their acting range. Once Jake, Aleks and Valerie were cast, I looked for actors to complement them. Special attention was given to Jake's Dad, George, because the actor who played him had to convey a patriarch of the family and one of the antagonists to Jake on his journey. I discovered Ryan Mah, who could play George as a character who is both intimidating and inspiring at the same time.
As a timely coming-out story, "Golden Delicious" tackles some important themes, including the dangerous nature of young people living their lives online. Why did you decide to explore this aspect of teenage life?
Growing up, I did not have to deal with being online, so I wanted to explore how this affects them. As an educator, I have heard from students that being online can be an overwhelming and confusing experience. My emotions can be amplified online, and I have seen people become alienated online through casual remarks they have made. I can imagine how anxiety-inducing and unforgiving it must be for young people trying to find their identity and place in the world. I wanted to make a film that a teenager could relate to and offer hope during one's formative years.
I like that you also explore legacy – Jake feeling pressured to play basketball like his father; Jake's parents struggling with the restaurant that was handed down to them. Did this have special meaning for you, both personally and as a filmmaker?
My parents owned a restaurant when we first came to Canada and struggled to keep it open. My siblings and I spent time after school helping them. I am unsure if my parents wanted to hand the restaurant down to us, but I certainly felt trapped, and I could see them feeling it too. As the eldest child, I felt the pressure to be a role model, to perform at a time when I wasn't ready.
When depicting father/son relations, high school life and sports, it's impossible not to touch on toxic masculinity. "Golden Delicious" dives deep. What are you hoping audiences take away on this subject?
Toxic masculinity is a subject matter that's often difficult to talk about. I hope audiences, through the film, will be able to address it in the open with more empathy and understanding instead of assumptions and judgment. In other words, we need to have more conversations about it.
There's nothing like the double whammy of a girlfriend pressuring you into sex and meeting a hot, out gay boy. How did you depict Jake's split affections while keeping the gay romance lively and sexy?
I treated Jake's sexual experiences as firsts regardless of gender. This sets the stakes. However, we automatically compare and measure which experience is better. I used humour in Jake's gay romance to make that feel livelier and sexier. In doing so, we experience Jake as he processes his growing attraction to the same sex.
"Golden Delicious" is a delicious mix of a few genres – the coming-of-age/coming-out story, a tender rom-com, an intense family drama. Did you strive to tell a story that wasn't easily defined?
I aim to tell a story that feels authentic, and in real life, we often have moments of tenderness and laughter right after intense drama. This is a character-driven story; my characters are like real people who need to vent when confronted with challenging situations.
"Golden Delicious" has been on the festival circuit since October 2022. Tell us about some of your favourite screenings and the awards that you'll most cherish.
My favourite screening is the one at the Reelworld Film Festival in Toronto. We were opening night film, and the crowd was engaged. The lead cast and some crew were there, and we could hear how invested they were in the movie and how vocal their reactions were. Afterwards, many audience members stuck around at the afterparty and talked to us for hours. We ate Vietnamese food at 3 am, commiserating what we collectively experienced. It was a magical night that none of us wanted to end.
What was your reaction when you learned that "Golden Delicious" would be shown at the world's biggest and oldest LGBTQI+ film festival, Frameline47?
I was thrilled and delighted. We received the Frameline Completion Fund earlier in 2022 but could not complete the film in time for Frameline46.
Will you and your cast be in SF for the screening, and if so, will it be your first time at Frameline?
My cast and I will be in San Francisco for the Bay Area Premiere. I have visited Frameline before, but for my cast, it will be their first time at the festival, so that will be very special.
What advice can you offer fellow queer filmmakers struggling to get their work out there?
I would recommend seeing as many queer films on the festival circuit as possible and getting a sense of what kind of stories are being curated and how they are being received. Travel with your film as much as possible because it is a rare and invaluable opportunity for professional development.
What's up next for you?
I am working on a queer heist movie and a coming-of-age film about a young woman obsessed with muscle cars. Hoping I can shoot one of these in 2024. Keep an eye out for it.