Since May 2022, 30,344 cases of mpox (formerly monkeypox) have been reported in the United States, of which nearly 20% were reported in California. While the rate of mpox has declined precipitously since its peak in August 2022, mpox transmission has continued in California, and other states have recently reported a resurgence of mpox cases.
The majority of mpox infections in 2022 were transmitted sexually through intimate contact. Infections have disproportionately affected gay, bisexual, same-gender-loving, and other men who have sex with men (MSM). Approximately 40% of mpox cases have also been among people with HIV in California. See list of persons at higher risk for mpox infection here.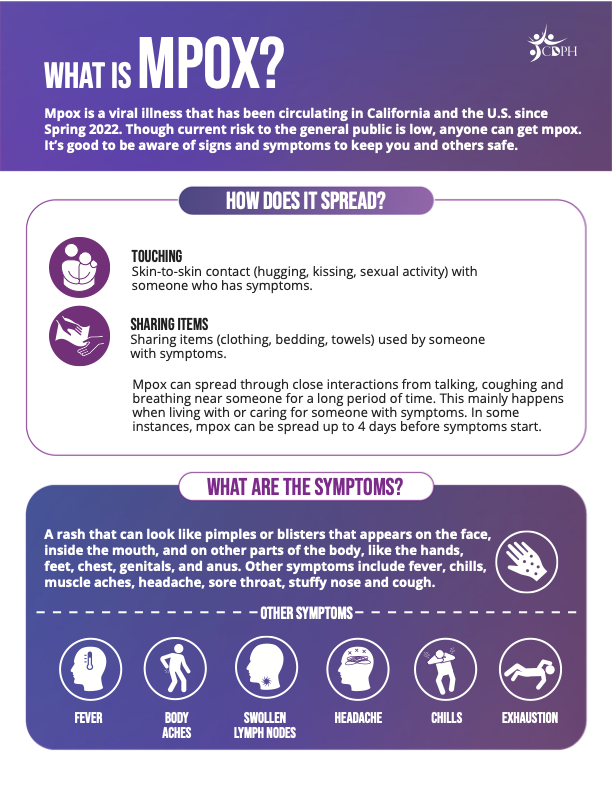 This letter is a call to action to Californian health care providers to remain vigilant in mpox prevention, recognition, and testing, especially during the upcoming 2023 spring and summer season as people gather for festivals and events, including LGBTQ Pride Month in June.
PREVENTION
When combined with other prevention measures, vaccination is the most effective way to reduce transmission of mpox virus and prevent disease, hospitalization and death. Estimates of JYNNEOS® vaccine effectiveness against disease range from 66-86% for 2 doses of vaccine and 36-75% for one dose. Preliminary evidence suggests that vaccine effectiveness against severe disease, hospitalization and death may be higher. For the most effective protection, people should get two doses of JYNNEOS® vaccine at least 28 days apart (JYNNEOS Vaccine Effectiveness, CDC). Even if it is significantly past the recommended 28-day interval, CDC recommends administration of the second dose as soon as possible. Boosters are not recommended at this time (JYNNEOS Vaccine, CDC)(Mpox Vaccination Basics, CDC).
In California, only 39% of the population at risk has received the two-dose series, with certain groups such as Black/African American and Latinx persons having even lower vaccination rates. This leaves a significant proportion of people in California less protected against mpox infection (JYNNEOS Vaccination Coverage, CDC) exacerbating existing inequities. People with HIV, particularly those with a low CD4 cell count or those not receiving antiretroviral therapy, are at higher risk for severe mpox and even death.
Please encourage all patients at risk of mpox exposure, infection, or severe disease to complete the two-dose JYNNEOS® series. Any person requesting vaccination should receive it without having to attest to, or disclose any specific behaviors. Providers should particularly counsel patients with HIV, those taking HIV pre-/post-exposure prophylaxis (PrEP/PEP) or doxy-PEP, or those with a history of sexually transmitted infections to be vaccinated.
The following can be used when referring patients to schedule a JYNNEOS® vaccine appointment: CDPH vaccine webpage and the MyTurn Appointment Booker. Vaccine administrative documentation should be done through California Immunization Registry (CAIR).
MPOX IDENTIFICATION AND TESTING
As 2023 spring and summer season gatherings approach, we encourage you to maintain a high level of suspicion and a low threshold for testing individuals with signs and symptoms consistent with mpox.
Identification
Consider mpox on the differential diagnosis for patients presenting with diffuse or localized rashes, including in patients who were previously infected with mpox or vaccinated against mpox. Mpox may present with a variety of skin lesions and can be confused with syphilis, herpes, molluscum contagiosum, shingles, chickenpox, scabies, allergic skin rashes, drug eruptions, and other skin conditions. Novel presentations of mpox should be considered (Descriptive Case Series, BMJ).
For more information on identifying patients with mpox, see the April 4, 2023 Updates on Identification, Laboratory Testing, Management and Treatment, and Vaccination for Mpox Virus Infection in California and the May 15, 2023 CDC HAN on Potential Risk for New Mpox Cases.