A group of neo-Nazis disrupted a drag story hour in New Hampshire over the weekend, another in an escalating series of threats and attacks against the LGBTQ community in recent months.
The drag story hour, at which drag queens read children's books to kids, took place at an LGBTQ-owned coffee shop in Concord, the state's capital, on Sunday.
In video that has attracted over 6.5 million views on Twitter, more than a dozen men wearing masks, sunglasses, baseball caps and matching shirts and pants can been seen chanting, raising their right arms in unison and banging on the coffee shop's windows.
State officials said NSC-131, a neo-Nazi group based in New England, had claimed responsibility for the protest. NSC stands for the Nationalist Social Club.
The protesters chanted "131" and homophobic slurs, including "faggots," according to Juicy Garland, a drag performer who was at the event and posted the video on social media.
https://iframe.nbcnews.com/ZOnSE7o?_showcaption=true&app=1
"This isn't something strange and unique onto itself," Garland, 37, said. "Fascism and dangerous extremity on the right are something that has been here for a long time."
Garland added that once the protest began, the store manager called the police and moved the event to the second floor of the shop, called Teatotaller, away from the demonstrators.
The coffee shop's owner, Emmett Soldati, said that the shop has hosted drag story hour events for the last decade. While there have been demonstrations before, they have increased in size and severity over the last 12 months, Soldati said.
"This kind of response is very new," Soldati said. "There appears to tactically be a shift, even if six years ago people did have a problem with what we did."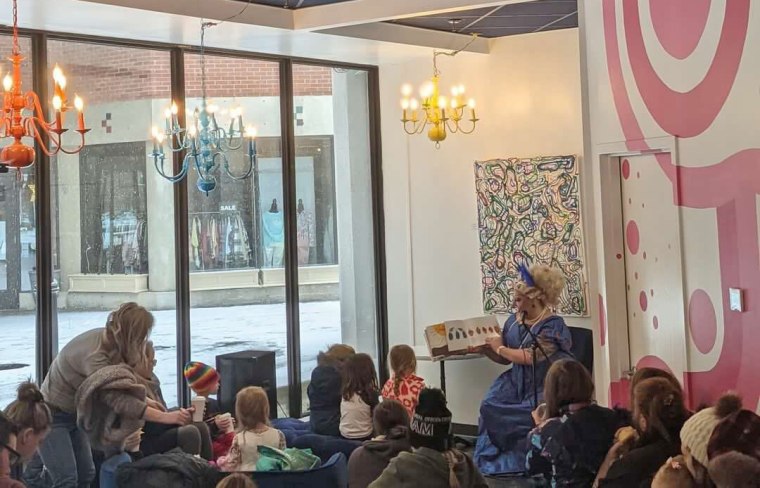 The neo-Nazi protest coincides with a surge in similar anti-LGBTQ demonstrations across the nation within the last year.
Since June 2022, there has been an average of 39 anti-LGBTQ protests nationwide each month, according to a recent report by the Crowd Counting Consortium, a research group that tracks the size of political protests. In comparison, the group recorded just three protests per month from January 2017 through May 2022.
Anti-LGBTQ demonstrations have occurred even in liberal enclaves, such as New York City. Dozens of Pride flags were damaged and ripped down at the Stonewall National Monument — the site of a June 1969 uprising that is widely considered to be the birthplace of the modern queer rights movement — at least three times this month.
"The reason why we're seeing this here in this way in Concord and in other places around the U.S. is because these people feel like they have permission to be violent and aggressive and loud," Garland said, citing a recent legislative campaign to limit some drag performances.
Republican lawmakers in at least 19 states have proposed measures this year to restrict some drag performances, mostly with the aim of banning children from seeing the events. Only three states — Florida, Montana and Tennessee — have enacted the measures, but a federal judge ruled that Tennessee's law was unconstitutional this month.
The New Hampshire Attorney General's Office is investigating the incident Sunday in coordination with local authorities, according to the office's director of communications, Michael Garrity.
Garrity also said in a statement that the NSC-131 had taken credit for the demonstration on its social media channels, and he urged anyone with information on the identities of the protestors to contact state officials.