President Joe Biden acknowledged the 25th anniversary of Matthew Shepard's death on Thursday and condemned the nation's recent uptick in anti-LGBTQ threats and acts of violence.
Shepard, a gay college freshman at the University of Wyoming in Laramie, was abducted, robbed and beaten into a coma on Oct. 6, 1998. The two men who attacked Shepard tied him to a fence in freezing weather. He was discovered 18 hours later by a bicyclist, who initially mistook him for a scarecrow. Shepard died in a Colorado hospital on Oct. 12, 1998, surrounded by family.
"Matthew's tragic and senseless murder shook the conscience of the American people," Biden said in a statement. "And his courageous parents, Judy and Dennis Shepard, turned Matthew's memory into a movement, galvanizing millions of people to combat the scourge of anti-LGBTQI+ hate and violence in America."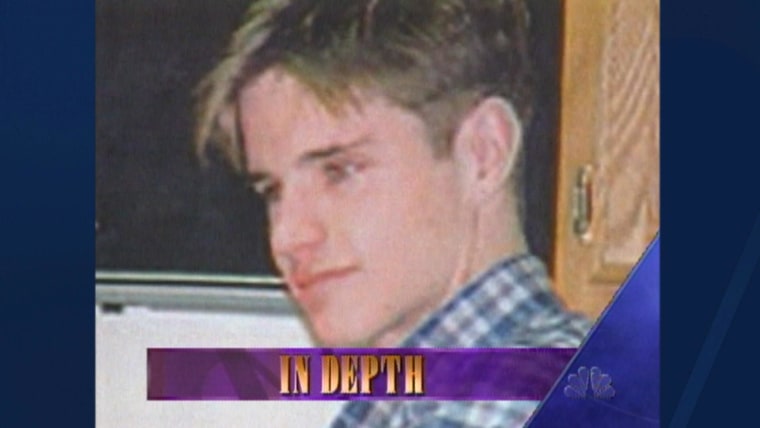 OCT. 11, 202301:55
The two assailants, Aaron McKinney and Russell Henderson, were sentenced to life in prison for first-degree murder, but they were not charged with hate crimes. At the time, attacks motivated by a victim's sexual orientation or gender identity did not qualify as hate crimes under Wyoming law. Wyoming is currently one of just two states, along with South Carolina, that does not have a law allowing additional penalties in hate-motivated crimes.
Recommended


In 2009, the Obama administration enacted the Matthew Shepard and James Byrd Jr. Hate Crimes Prevention Act. The law extended federal hate crimes laws to cover sexual orientation, gender identity and disabilities and was named after Shepard and a Texas Black man who was murdered by white supremacists the same year of Shepard's killing.
Biden, who was vice president at the time, lauded the 2009 law on Thursday and vowed to "continue the fight against hate, against violence, and against bigotry in all its forms."
"Today, as threats and violence targeting the LGBTQI+ community continue to rise, our work is far from finished," he said. "No American should face hate or violence for who they are or who they love."
Related stories:
Anti-LGBTQ demonstrations have spiked over the past year, in addition to several high-profile acts of violence allegedly incited by anti-LGBTQ sentiments.
In August, a teenager was arrested for stabbing a 28-year-old gay professional dancer, O'Shae Sibley, to death at a gas station in Brooklyn, New York, in what police later said was a hate crime. That same month, Laura Ann Carleto, a California business owner and mother of nine, was shot and killed over a Pride flag displayed in her clothing store.
From June 2022 to May, there was an average of 39 anti-LGBTQ protests per month in the U.S. compared with just three a month from January 2017 through May 2022, according to a recent reportby the Crowd Counting Consortium, a research group that tracks political protests.
In his statement Thursday, Biden also again called for Congress to pass the Equality Act, legislation that would amend the 1969 Civil Rights Act to include anti-discrimination protections based on sexual orientation and gender identity. The legislation passed in the then-Democratic-controlled House in 2021 — with support of three Republicans — but has since stalled in the Senate.