The NHL issued a sweeping ban against on-ice theme night gear, barring clubs from having players wear rainbow sweaters or use multicolored tape on sticks during Pride Night, for example, officials confirmed Tuesday.
The move, first reported Monday by the LGBTQ news site Outsports, followed a 2022-23 season when a handful of players — including Philadelphia Flyers defenseman Ivan Provorov and then-San Jose Sharks goaltender James Reimer — declined to participate in their clubs' Pride Night celebrations.
Outsports called the NHL's new directive "the most stifling, anti-LGBTQ policy any pro sports league in North America has ever issued."
Representatives for the NHL and the players union did not immediately respond to messages seeking comment.
Deputy NHL Commissioner Bill Daly confirmed to The Associated Press on Tuesday that the league sent a memo to all 32 clubs with updated guidance barring any on-ice uniform or gear used in warmups from including any theme night celebrations.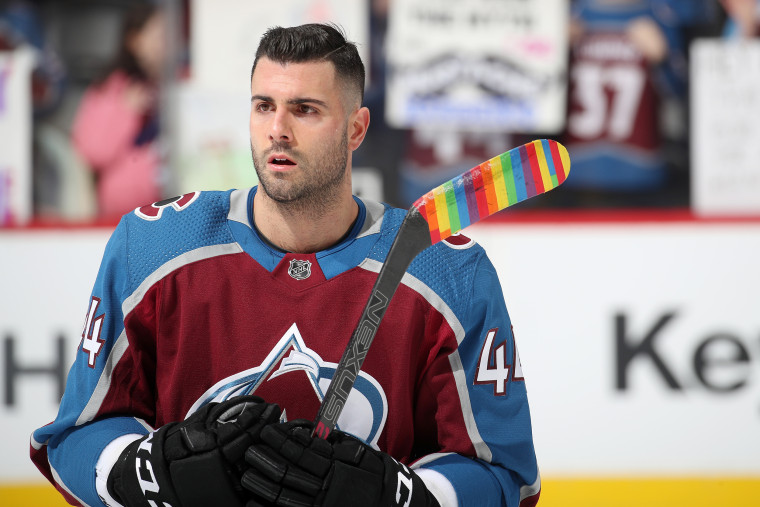 Kurt Weaver, the chief operations officer of the You Can Play Project, told NBC News that the leaguewide memo went to clubs Thursday. You Can Play is a partner of the NHL and its "Hockey Is for Everyone" campaign, aimed at stomping out homophobia and spreading the game to underrepresented groups.
Weaver said league officials confirmed to him that teams will be barred from having players wear Pride sweaters or have rainbow tape on their sticks.
"When you start to take away what is our most visible representations, what carries the most weight in messaging, is those heroes that you see on the ice standing up for they believe and what they believe is right," Weaver said. "And removing those from the ice is a tough one."
Weaver praised years of efforts by the NHL, teams and players to fight homophobia but admitted that last week's league memo was a bitter pill to swallow.
"It's hard to reconcile that right now, with decisions like this. But I see too many great things that the clubs do, that hockey in general does. It's success after success," he said. "But that right now is clouded by a really poor decision that's going to overtake all that good work."
Jeff McLean, a spokesperson for Pride Tape, said the company is "extremely disappointed by the NHL's decision" to ban its product from on-ice activities this season. The company is looking forward to better days ahead.
"We hope the league — and teams — will again show commitment to this important symbol of combating homophobia," the company said. "Many of the players themselves have been exceptional advocates for the tape."
The recent NHL communication to clubs also left the door open for players to object to being in "close proximity" to people or groups whom they might consider to be "associated" with causes they don't support, Outsports reported.
"Players shall not be put in the position of having to demonstrate (or where they may be appearing to demonstrate) personal support for any Special Initiatives. A factor that may be considered in this regard includes, for example, whether a Player (or Players) is required to be in close proximity to any groups or individuals visibly or otherwise clearly associated with such Special Initiative(s)," the league allegedly told clubs, Outsports reported.
https://iframe.nbcnews.com/gTT1uNl?_showcaption=true&app=1
The potential "proximity" policy had Anaheim Ducks organist Lindsay Imber wondering out loud whether she could be, in theory, booted from her Honda Center nest over gender identity.
"At the executive level, we just don't have representation, and if we don't have representation up there, they don't know us," she said Tuesday. "So then the people formulating these decisions don't have this perspective, which leads to policies that are exclusionary."
The puck drops for the 2023-24 NHL regular season Tuesday with a trio of opening night games as the Nashville Predators visit the Tampa Bay Lightning, the Chicago Blackhawks go on the road to play the Pittsburgh Penguins, and the Seattle Kraken watch the Stanley Cup-champion Golden Knights hoist a championship banner in Las Vegas.